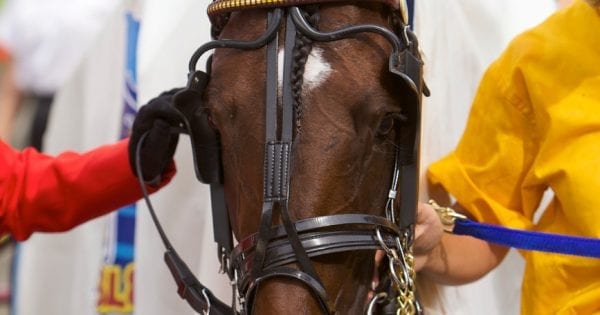 Evaluating Harrisburg Trotting Sires
A day after we profiled the pacing sires, he's a look at how the trotting sires fared at the Standardbred Horse Sales Company's yearling sale.
by Joe FitzGerald
Muscle Hill didn't present a large offering in Harrisburg — only 21 yearlings — but he made quite a splash with them. A pair topped $400,000; another three exceeded $300,000; five others beat $200,000; and all told 14, or two-thirds, topped $100,000. These are insane numbers. Moreover, three-quarters of them sold for at least $50,000, while all of them brought $25,000. And just as impressive is the fact that shares in him changed hands for a record $175,000 and $170,000 to Hanover Shoe Farms and Reijo Liljendahl, respectively.
Muscle Hill, who averaged $149,952 for the 21 sold, was up 65 per cent over last year when the political climate in Pennsylvania left buyers with sour stomachs. Only 17 were sold there, as opposed to 49 in Lexington. The situation was similar this year as 52 sold in Kentucky for an average of $114,385.
This scenario takes us back to the stretch when the great Speedy Crown roamed the earth. The correlation is shaky in that, as good as he was on the track, Speedy Crown entered the market at $2,500 and his first crop was very weak, averaging a shade over $2,500 in earnings and led in the speed column by a 2:03 pacer. But in 1977, his stock sold for an average of $76,310 to $46,295 for Super Bowl — his Cantab Hall. And by 1986 he averaged $83,253. Inflation renders the numbers meaningless, but like Muscle Hill he was moved early in his career — from PA to New York at age 12 — and it was then that he did his best work.
Speaking of Cantab Hall: he was no slouch in Harrisburg either. The 15-year-old son of Self Possessed sold twice as many as his Keystone rival and averaged $60,293 for the 41 sold. Cantab, who averaged $67,680 for 48 sold in Lexington, actually experienced a six per cent drop from last year, when he jumped 38 per cent from 2014. Muscle Hill was sucking the oxygen, and the high end dollars, out of the room.
Nine, or 22 per cent, of Cantab's offering, brought at least $100,000. Last year he sold a filly for $500,000, another for $270,000 and a colt for $300,000. Despite that, last year only 26 per cent topped $50,000, as opposed to 54 per cent this week. And 76 per cent beat $25,000 this year. In 2015 Cantab got the best of Muscle Hill in Harrisburg—no doubt for the last time.
New kid on the block Chapter Seven actually beat out Cantab Hall by almost $1,500 average to average. The apparent extender for the ill-fated Windsong's Legacy averaged $61,773 for 21 sold. Four of them topped $100,000; 15, or 68 per cent, exceeded $50,000; and 91 per cent brought at least $25,000. The eight-year-old sire of the next great hope in the trotting ranks, Walner, stands in New York for $7,500.
Kadabra sold 19 for an average of $56,684. This was actually down almost 30 per cent from last year when the political turmoil sidestepped the Ontario stallion. His $80,000 average represented a 46 per cent jump from 2014. Last year six beat $100,000, including a $260,000 colt. This year there were two, both fillies. Nine, or 47 per cent, topped $50,000 and 89 per cent brought at least $25,000. The sire of Emoticon Hanover and Caprice Hill averaged more than $82,000 for the 11 yearlings he sold in Lexington. With Muscle Mass out of the picture the next couple of years, he'll have the run of the OSS. The overall stallion leader in that program stands for $12,000 U.S.
Nineteen-year-old Credit Winner sold 23 for a $45,587 average. That's up 36 per cent from last year, when he was down 57 per cent from 2014 and down 63 per cent from 2013. The son of American Winner dropped to earth with a thud after some halcyon times. Two topped $100,000 this week; 35 per cent beat $50,000; and three-quarters of them sold for at least $25,000.
Credit Winner did much better in Lexington, where 38 averaged $59,842. He had four $100,000 plus sellers, including a $350,000 filly and another filly, out of Check Me Out, who brought $260,000. The sire of Fad Finance and Devious Man led the NYSS in both classes this year.
Andover Hall averaged $33,966 for 29 sold. One filly beat $100,000; only four of them beat $50,000; and 19 of them brought at least $25,000. Thirty-eight percent failed to top $25,000. He was up 6 per cent from last year, when he was down 26 per cent from 2014. Fourteen averaged $39,143 in Kentucky. The 17-year-old stands in PA for $8,000, down from $10,000 in 2015.
Donato Hanover sold 39 for a $32,718 average. The sire of presumptive sophomore filly champ Broadway Donna and last year's BC winner D'One saw his average drop 16 per cent from 2015. He sold 34 for an average of $40,029 in Lexington. Only two from his Pennsylvania offering topped $100,000. That amounts to a puny 5 per cent. Six, only one of whom was a colt, sold for $50,000 or more. Again, that's a weak 15 per cent. And 51 per cent failed to top $25,000. That's not a good number for a $15,000 stallion. He's always been a filly sire, but even the distaffs failed to pull their weight in Harrisburg.
Conway Hall, the number three stallion in the NYSS, averaged $30,308 for 13 sold. The 21-year-old son of Garland Lobell sold one for at least $50,000 and eight for at least $25,000. His average was up 14 per cent over 2015. He sired NYSS champ Barn Bella.
Yankee Glide, who will be relocated to Kentucky for the 2017 season, saw 19 average $29,053. A pair topped $50,000 while 47 per cent failed to beat $25,000. The 22-year-old son of Valley Victory stood in PA for $7,500 this year. He was getting $10,000 in 2015. The sire of Lagerfeld and Milligan's School sold 27 in Lexington for a $30,148 average.
Muscle Mass averaged $26,154 for 26 sold. A pair topped $50,000 while 46 per cent didn't reach $25,000. The son of Muscles Yankee is back in Ontario, where he has been very successful in the provincial program, but this group is eligible in New York. The sire of Mass Production averaged $31,688 for 16 sold in Lexington.
Muscle Mass's younger brother Muscle Massive sold 28 for an average of $18,625. Two topped $50,000 and 78 per cent failed to exceed $25,000. He sold a dozen for a $19,500 average in Kentucky. The nine-year-old's fee was $6,000 in 2014, $7,500 in 2015 and $4,000 this year. He's the sire of Matron winner Snowstorm Hanover.
Explosive Matter averaged $22,385 for 39 sold. Three, or 8 per cent, topped $50,000, while 64 per cent failed to meet the $25,000 threshold. That's not a desirable number. He's up 22 per cent from last year. The sire of Pinkman sold 15 for a $35,067 average in Kentucky. Explosive Matter stands for $7,500 in Pennsylvania.
Lucky Chucky sold 17 for a $15,353 average. Eighty-eight percent of them failed to top $25,000. The sire of NYSS champ Non Stick stands for $4,000. He was at $6,000 in 2015 and $7,500 in 2014. Chucky raced a Pennsylvania crop in 2016 but he's now back in New York.