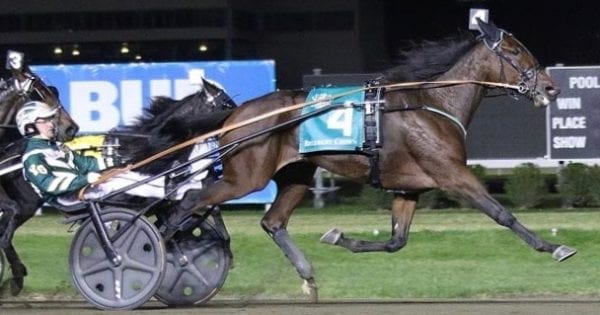 Homebred Ariana G caps a brilliant year and continues divisional dominance by Tatker, Katz and Libfeld.
by Lauren Lee
The exactor on the board paid $36.20, but it was significantly more 'grande' for Canadian-based owner/breeders Marvin Katz and Al Libfeld, who watched dominant filly Ariana G lead fellow homebred Princess Aurora across the wire in the $600,000 Breeders Crown Final for two-year-old trotting fillies.
It was the perfect outcome, but for the fact that Katz could not share the winner's circle celebration with his friend and long-time breeding partner Libfeld, who watched from home in Ontario while recuperating from a recent fall that fractured his hip and required replacement surgery.
Taking a moment off the top of his post-race interview with Hollywood Heyden, Katz paused for a shout out, "We did it tonight, Al. Get well soon," and later underscored his point by saying that his partner was "tough as nails," just like their horses.
Ariana G, a daughter of Muscle Hill—Cantab It All, is definitely one such example. After a long year on top of her game every step of the way, the season's elite filly came into the Crown final off a loss in last week's elimination.
Trainer Jimmy Takter, who celebrated his 29th Crown win with Ariana G, rolled the dice on several equipment changes after the filly proved too grabby last week to the point where Gingras believes she may have choked.
The adjustments, which included an ear hood and changes to open her bridle, worked a little too well according to winning driver Yannick Gingras, leaving Ariana G with three lengths to make up at the head of the stretch after following elimination winner Chezatter's cover for most of the mile.
"When I tipped off David's (Miller, with Chezatter) back, I didn't have a whole lot of trot. We got her to be quiet tonight and she responded maybe a little bit too well to it," he said.
"She was really quiet third over, but when I tipped her off his back, she got into another gear and I knew at that point that I was a winner," said Gingras, who received congratulations from Takter on the fly, as the trainer sidled up next to him on the track, warming up a finalist for a later race.
The margin of victory was one-and-a-quarter lengths by the 3-5 favorite over Princess Aurora and Sunshine Delight, in a time of 1:53.4.
The victory was the filly's ninth win in 11 starts this season, where she earned just under $750,000. She adds the Crown title to a host of other lucrative stakes wins this year, including the Jim Doherty Memorial, Peaceful Way Stake and Kentuckiana Stallion Management Stake.
It's been an impressive season for Ariana G — a filly appropriately named for a pop star — which Takter says will draw to a close with the Crown victory.
"This is her last for the year. We've decided and she's been racing since May, it's a long year. It's a great way to finish the year for her," said Takter, who saved some considerable praise for Princess Aurora (Cantab Hall—Vulcanize) as well.
"She's probably the horse that's in the best form out of my horses right now. She's going to continue racing, going to the Goldsmith Maid up in Canada."
For Katz, the equipment change on Ariana G was just another Takter masterstroke.
"It takes a lot of courage to make the changes he made on her, from last week to this week and racing in the Breeders Crown," he said.
"This is a great filly. It's been a long campaign and she's been right on the top from the beginning of the season and to dominate the way she has and to win the Breeders Crown, I'm so proud of her. And to have Aurora come second, it's a testament to the people we work with – Perry Soderberg and Jimmy Glass, Bobby Brady and Jimmy Takter," said Katz, who also won this division one year ago with Ariana G's equally amazing full-sister, All The Time.
"To have great, great fillies like Ariana and Princess Aurora, to breed them and have them come out of our system, I think it speaks to the program that we have developed over the years, the people that are directing it, and now we're really starting to see some results," he said.
"That's as good as it gets. If you love the sport and you love the industry and you work as hard at it as we do, this is the elite — just the top of the food chain."