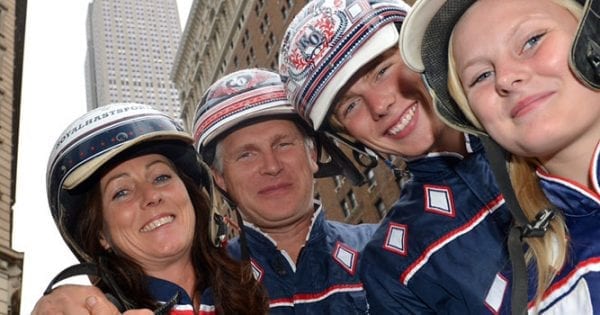 Swedish trotter Explosive de Vie will contest Saturday $1 million Yonkers International Trot on behalf of Jim and Susanne Oscarsson and their son, Kevin.
by Tom Pedulla
Susanne and Jim Oscarsson have two children, Kevin, 21, and Natalie, 16. But it often feels more like three since a needy trotter named Explosive de Vie commands so much of their daily attention.
Rarely has one horse been the product of such a family affair. Jim trains the five-year-old gelding, Susanne serves as his caretaker and Kevin will drive him as part of a field of 10 when the $1 million Yonkers International Trot is held Saturday afternoon at Yonkers Raceway.
"We do what we are best at," Susanne said. "My strongest side is to take care of horses. My husband's strongest side is to train the horses, and my son's strongest side is to drive them. I think we are a good complement for each other."
Their combined talents helped the son of Explosive Matter—Ava put behind him the wayward days of his youth and develop into a trotter worthy of joining On Track Piraten as one of two representatives of Sweden in the International.
"When he was two years old, he trained in Florida and was real crazy," Jim said. "When he was two and three years old, he was a problem kid."
Explosive de Vie was gelded after he injured himself while in his stall as a two-year-old. Jim proceeded slowly with him in his training while Susanne continues to shower him with a mother's love.
"He has so much energy. He's always happy. He loves to train," Susanne said. "He gives me a kick in my life."
Susanne has 35 years of experience as a caretaker. She met Jim 30 years ago, with their mutual love of horses helping to bring them together. Jim was born into a racing family; his father trained as well. Susanne also drove in Sweden early in her career, but she thoroughly enjoys the chance to be hands-on with a horse.
"When the horses race, you have such a feeling," she said. "I just want to scream. You work so hard."
She will surely be heard on Saturday. On his best day, Explosive de Vie can be formidable. He placed second to trotting great Nuncio in the Jubileumspokalen this year. He has cracked the top three in seven of 12 starts this season, including three victories, to earn $111,842. He is eight for 49 lifetime with 15 second-place finishes and eight third-place efforts in banking $376,921.
"He's been better for every race," Jim said.
Jim and Susanne both bring a vast amount of experience to the barn. That does not mean they will always view a situation the same way. Susanne said they have disagreements "every day" that never linger.
"He's the boss," she said.
Jim sustained a broken wrist not long ago that opened the door for Kevin to drive Explosive de Vie in the International. The Oscarssons were open to handing over the responsibilities to an American driver. The owners wanted Kevin, who has handled the reins for the last four starts.
Kevin admits to feeling a bit in awe as he prepares to compete in the $1 million contest. "The other day I saw the list of the other drivers," he said. "Just to be on the list with them is a big thing."
His task became even greater when his horse drew post 10. Explosive de Vie is listed at 12-1 on the morning line.
Kevin is doing his best to take everything in stride. He does not expect nervousness to be an issue.
"I'm not the kind of guy who gets nervous. I'm more excited," he said. "I hope to be the same on race day."
It helps that he grew up in the game. He was given his first pony when he was 8 years old. "My mom and dad have been great for me, teaching me about horses," he said. "They helped me so much."
Susanne expects Kevin to be unflappable as he works to overcome a start in the second tier. "He is like that," she said. "I am more nervous, a lot of feelings."
Jim said of his emotions when he watches Kevin in action, "I can't explain that. My heart is so fast."
In a sense, the Oscarssons believe they cannot lose. Whatever the outcome, Kevin will benefit from the experience. "The better races he drives in, the better he gets," Jim said.
Their time together in New York has been so enjoyable that they are already talking about the International next year, if they are in position to receive another invitation. They believe Explosive de Vie will respond to the half-mile oval at Yonkers extremely well because one of his strengths is his ability to handle turns. They also think he is a year away from peaking.
"I think he's going to be perfect next year," Susanne said. "He's still learning. He's a boy."
And very much a member of the family.