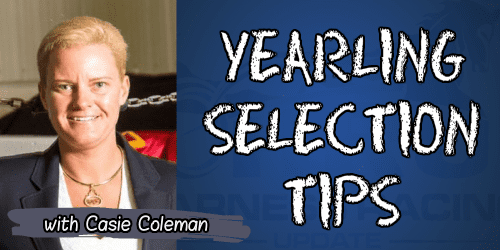 Yearling Selection Tips with Casie Coleman
by Lauren Lee
Casie Coleman isn't afraid to put a yearling through its paces during a farm visit. In fact, she's a frequent visitor during yearling season and has a very demanding checklist for a prospect to navigate before earning a spot on her shortlist at sale time.
"First thing I always do when I look at a horse is make them walk it up and down and just see if it's interfering or coming close, make sure his conformation is good or if it looks like he's toeing in or toeing out… I'll throw them out right away if they are toeing in or toeing out too much," she said.
"You want a bright eye, big nostril, big throat… I'm very, very picky, but basically good conformation. I've got to be able to get my whole fist between their jaws and their throat. I don't care if they are small or big or medium, but you want a big ass and a big shoulder. You don't want a scrawny little horse."
Beyond that, Coleman says she sticks with the farms that have been known to throw champions. She believes in good breeding, but won't overlook other problems just because of a pretty page.
"I won't buy a really well-bred horse if there's anything I don't like on it and vice versa," said Coleman, who plucked champion mare Idyllic for $13,000, despite an unbecoming pedigree.
"I will absolutely buy a horse that's bred out of some mare that no one has ever heard of, if I like everything else about the horse."