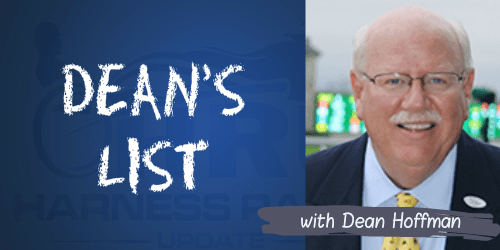 When Bret ruled the world
Remembering Bret Hanover's 1:53.3 world record at The Red Mile in 1966 through the eyes of his caretaker, Dave Willoughby.
Fifty years ago, Dave Willoughby played a central role in one of harness racing's greatest dramas.
Willoughby, now 76 and living in south Florida, was the groom of Bret Hanover, the ne plus ultra harness horse that era when the sport got widespread national media coverage and thousands packed the pari-mutuel plants to see racing.
But this drama would play out on a much smaller stage, but one far more important to the insiders in the sport. Bret Hanover was attempting to pace the fastest mile in history in front of a crowd consisting of the most important people in harness racing.
For Willoughby it was pretty much just another day at the office. Although Bret was the greatest harness hero of this halcyon decade, Willoughby takes little credit for the horse's accomplishments.
"To be truthful, Bret pretty much took care of himself," he said.
Bret was almost too good to be true. Never sick, never lame. Willoughby recalls that Bret showed symptoms of colic once at Liberty Bell but came through that crisis.
"Lucien Fontaine once asked me what kind of pre-race we used on Bret," says Willoughby. "We didn't do any of that stuff. We never even did a blood test on Bret. He never had a needle in his neck. Bret raced on hay and oats and an occasional bran mash."
Bret had spent his entire life doing everything right. He was like the quarterback of the football team who was dating the prettiest cheerleader. He was the high-priced yearling of 1963 at $50,000, then justified that price by going unbeaten in 24 starts as a two-year-old. He was the first juvenile ever voted Horse of the Year.

He picked up in 1965 where he left off, bowling over his foes like a freight train. A national sports publication featured Bret with a story headlined "Can't Anyone Beat This Horse?"
It sure didn't seem that anyone could, but then the inevitable occurred. At the Illinois State Fair in mid-August, pilot Jim Dennis and Adios Vic let Bret set the fractions and then unleashed a lethal homestretch kick that carried them to victory.
Two weeks later, Adios Vic defeated Bret in two of the three heats of the Horseman Futurity at Indianapolis and Bret went home without the trophy for the first time.
Bret didn't like getting beaten and he swept the rest of his 1965 starts, including world record miles in the Little Brown Jug. He earned Horse of the Year honors again, and took a winter vacation before returning to the races as a four-year-old.
Bret dropped a decision to Cardigan Bay in the well-promoted "Pace of the Century" at Yonkers in 1966. A rivalry developed, but Cardy never again beat Bret.
Bret was often roped off to avoid being pestered by fans before a race, but Willoughby welcomed visitors because he set up a little table to sell Bret's old shoes.
"A track official complimented me on my initiative," Willoughby recalls with a chuckle. "But they didn't want me selling Bret's shoes when the track had an open house for the public."
Dave says that rumors started that he would go to blacksmith's shops and pick up discarded shoes and sell them as being pulled off Bret.
"That's not true," he says. "I sold maybe five or six of his shoes, and they were all authentic."
(By the way, Bret was shod in front in a flat shoe with a crease in the toe. Behind he wore a half-swedge with it squared off a bit to prevent cross-firing. If you have "authentic" Bret shoes that don't match that description, perhaps they are not so authentic.)
In the summer of 1966, trainer/driver Frank Ervin thought that the three-quarter mile track at Vernon Downs would be ideal for breaking the 1:54.3 world record of Adios Butler. They tried it in a race with a rabbit to set a fast pace, but failed. Later Bret took the world record in a 1:54 time trial at Vernon.
Still, Ervin thought Bret might go faster if given the right conditions at Lexington that fall. But conditions at Lexington are dicey at best in early October. The two previous Kentucky Futurities had been contested in overcoat weather.
Still, Ervin slated Bret for a time trial on Futurity Day in 1966. He had trained Bret in 1:56.2 earlier in the week, but was critical of the track, calling the mile oval "the red mess."
There was a lot at stake in showcasing Bret on Futurity Day because it always attracts many of the leading breeders and owners in harness racing. These are the people who could be reasonably expected to book mares to him in 1967. What if Bret flopped in his record attempt?
He was slated to stand at nearby Castleton Farm and certainly Frances Van Lennep, the owner of Castleton, and her husband Fred, didn't want that embarrassment.
Futurity Day in 1966 came up less than perfect, so Ervin waited until late in the day when he knew from experience that the winds would calm. Governor Armbro won the Kentucky Futurity, but his best time was 2:00.2.
Still, proof positive that the track was fast enough for records came when Howard Beissinger hustled the three-year-old pacing filly Tarport Lib to victory in 1:56.2.
That mile made Tarport Lib the fastest female in harness racing history, shattering the 28-year-old standard held jointly at 1:56.3/4 by the trotter Rosalind and the pacer Her Ladyship.
(After the victory, Beissinger called Tarport Lib's absent owner to say that he now owned the fastest female in history. "What did she pay?" he was asked. The volatile Beissinger predictably exploded like Vesuvius.)
Before Bret's time trial, Ervin consulted with track manager Walter Gibbons and they even rode around the track together to make sure the surface was fit for a supreme effort.
Ervin had driven countless time trials in his career, and believed that it was to get to the half-mile marker a little than an even pace. To beat 1:54, an evenly-rated half would be in 57 seconds. Ervin felt his front half had to be faster.
As the shadows lengthened across the track in late afternoon, Ervin scored Bret down and then turned his hobbled hero for a trip into the history books.
("I wasn't nervous," recalls Willoughby. "I might have been if I'd been driving him, but I had confidence things would be okay.")
Bret hit the quarter in :27.4. He continued to roll down the backstretch and tripped the half-mile timer at :55.2.
He was well ahead of the record pace, but could he sustain it? Horses simply didn't pace consecutive quarters under 28 seconds in that era.
Bret his the three-quarter mark in 1:24.
Now his task was clearly defined: a final quarter faster than 30 seconds would set a new record.
But Bret was, after all, only flesh and blood. The effort took a toll. Ervin urged him through the homestretch of the famed track. Horsemen gathered on the outside of the track shouted their encouragement.
Bret hit the timer in 1:53.3
He'd done it! He'd gone where no harness horse had ever gone.
At the start of 1966, Adios Butler's mile of 1:54.3 six seasons early was the speed standard. In one season, Bret had lowered it a full second.
Alas, Bret Hanover's racing career had an unhappy ending when he was beaten in the American Pacing Classic by True Duane, but he went to Castleton Farm as the fastest and richest harness horse in history.
How Dave met Bret
"Dave, meet Bret."
Dave Willoughby had never seen Bret Hanover until just before the 1965 Little Brown Jug. He'd rubbed horses for Frank Ervin and Howard Beissinger in the early 1960s before Uncle Sam drafted him and sent him off to Korea.
Ervin's assistant Art Hult called Willoughby just before the '65 Jug and asked Dave if he would come to Delaware to take over Bret's care.
Bret smashed all existing world records in winning one of the most memorable Jugs ever. Reporters swarmed Willoughby after the race asking about Bret's habits, his background, his training routine, and on and on. Willoughby answered all questions patiently.
One reporter asked, "How long have you been taking care of Bret Hanover?"
Willoughby looked at his watch, and said, "About six hours."