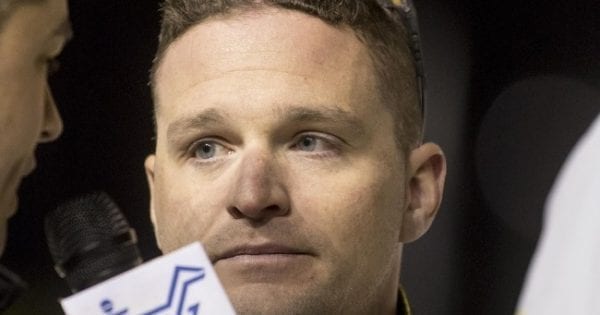 A look at how some of the top drivers stack up in their stats compared to a year ago.
by Joe FitzGerald
Let's take a look at how some of the top drivers are faring in comparison to last year, as we head for the Delaware, OH and Lexington meets. We'll compare their stats on Sept. 12, 2016 with those from the same date last year.
TRENDING UP
Yannick Gingras, who is headed to tonight's final of the Maple Leaf Trot with Hannelore Hanover and just won a split of the Champlain with the Mach Three filly Blameitonthenight, leads the driver earnings list with four fewer wins but almost $484,000 more in the money column than a year ago.
David Miller just jumped over Tim Tetrick and into the two spot on this list. He took the winter off and hence is sitting on 349 fewer drives than he had in early September of 2015, but Miller, who won lucrative PASS finals with Broadway Donna and Cufflink Hanover at The Meadows Saturday afternoon, is seven wins and $613,000 ahead of last year's pace. This is remarkable.
Tim Tetrick, the leading driver at Harrah's, is ahead of last year by 90 wins and $96,000. He was second to Gingras a year ago this time and finished 2015 in third behind Miller.
Scott Zeron, who won the Hambletonian with Marion Marauder, has advanced from 13th on the earning's list a year ago to fifth today. He only has eight more wins but his bankroll is $1.4 million larger.
Brett Miller had a slow start to the year, with a working trip Down Under being one factor. He was at number 40 in mid-April. However, after steering Always B Miki to a world record win in the Ewart, Brett is up to number six. He was 10th this time last year. Another member of the less is more crew, Miller has accumulated more than $300,000 more on 167 fewer drives and 13 fewer wins.
Dash leader Aaron Merriman is 16 wins ahead of his award winning 2015 pace, and his money is up by $387,000. He's number two at Northfield and number three at The Meadows.
Matt Kakaley continues to move up the ladder. The number two driver at Pocono, he was 14th a year ago and is in eighth place today, with 33 more wins and
$962,000 more in earnings. Kakaley is number two on the NYSS circuit.
Chris Page is another driver who continues to rise. The leading driver at the just concluded Scioto meet, Page, who was at 21 a year ago, is now at number 12. His win total is 104 higher; his money is up by $1.3 million and his UDRS has gone from 0.252 to 0.291. Chris won two of the $250,000 Ohio SS finals at Northfield the week before last.
Sylvain Filion went from 18th on the list a year ago to 13th today. The leading driver on the WEG circuit has just two more wins but his money is up by $434,000. Filion's UDRS is up to 0.302 from 0.288.
Mark MacDonald has gone from number 23 in September, 2015 to number 14. The number three driver in the NYSS and number five at Yonkers, MacDonald just crossed the $4 million threshold. He's up 59 wins and more than $925,000 over this time last year.
Josh Sutton, who took three $250,000 Ohio SS finals, went from 28 to 15. His win total is down 15, but his earnings are up more than $1.1 million. He was number two at the Scioto meet.
Trace Tetrick, who is winning 21 per cent of his starts at Hoosier Park, where he's the leading driver, has advanced from 25 to 17. Freaky Feet Pete hasn't been up to matching strides with Miki and Wiggle, but Trace has earned $925,000 more on an extra 45 wins.
Ronnie Wrenn Jr., who is third in the dash race, moved up four spots to number 18. Wrenn has obviously shifted his focus from wins to money, as his starts are down by almost 300 and his wins are off by more than 100, but his cash is up by close to $600,000. His UDRS is about the same—0.373—very good for a volume driver. Wrenn is the top dog at Northfield.
Jordan Stratton, who racked up high dollar wins early on in the Matchmaker and Levy, moved up from 28 a year ago to 19. He has 50 more wins and has earned $1.1 million more. Jordan, who is number six at Yonkers, has seen his UDRS rise from 0.186 to 0.238.
Marcus Miller is at 22, up from 34 a year ago. He has won 70 more races and his earnings have jumped almost $840,000. His UDRS has jumped from 0.183 to 0.213.
Andrew McCarthy is at 24, up from 29 a year ago. He has 44 more wins and $267,000 more in earnings. His UDRS went from 0.217 to 0.229.
And John DeLong is at 25, after being out of the top 50 at this point a year ago. He finished 2015 at number 49. DeLong currently has 70 more wins than he had in all of 2015 and $522,000 more than his earnings totaled for all of last year. His UDRS is 0.311, up from 0.263 at the close of 2015. He's number two at Hoosier Park, where he's winning at a 20% clip.

TRENDING DOWN
Jason Bartlett, who led the earning's list up until July, when Tim Tetrick took over, has 66 more wins than he had one year ago but he's lighter by $695,000. He's gone from fourth to sixth in the standings.
Corey Callahan, who missed time early in the year, hasn't been able to catch up to last year's pace. Having 292 fewer drives tells the tale. Not a bad year by any standard with $5.1 million earned thus far. Corey, who was fifth at this point in 2015, is currently in ninth. He's short 155 wins and $1.9 million.
Presumptive Hall of Famer Brian Sears is not having a great year. While he won the Meadowlands Pace with Control The Moment, he only got four drives out of that arrangement prior to the colt being retired. And overall, Sears hasn't been very active on the Grand Circuit. He is ranked second at Yonkers Raceway but sixteenth among NYSS drivers. And it doesn't help that BAM has been out for most of the season. Sears is short 44 wins and $2.1 million.
George Napolitano Jr., who took most of the winter off, is second in the dash race, but his numbers are down. He has driven in 24 more races than he had on September 12, 2016, but his win total is down by 65 and his money is off by more than $880,000. George is the leading driver at Pocono and number two at Harrah's.
George Brennan, two-time driver of the year, has fallen from ninth to 16th with 63 fewer wins and $1.3 million less on 94 fewer drives. His UDRS is down from 0.271 to 0.258.
Dave Palone, the all-time dash champ, is at number 20, down from 15 a year ago. Palone has two more wins and is short $260,000. His UDRS is off a little, but still a very good 0.362. He is number one at The Meadows.
Dan Dube rocketed out of the gate last year at Yonkers; he was second to Corey Callahan on the money list three months into the season. And he was still eighth by September 12, but he's at 21 this year, with 49 fewer wins and $1.6 million fewer dollars. His UDRS is down to 0.238 from 0.270. Dube is number four at Yonkers, where the top four drivers are off $695,000, $2.1 million, $1.3 million and $1.6 million from last September.
Jim Morrill Jr., the leading driver in the NYSS — again — with $1.3 million earned in that program, is at number 23. He was number 12 last September. Morrill won 39 more races this year but he's short $1.4 million. His UDRS rose from an impressive 0.383 to 0.405. He's the only driver in the top 50 with a UDRS over four.