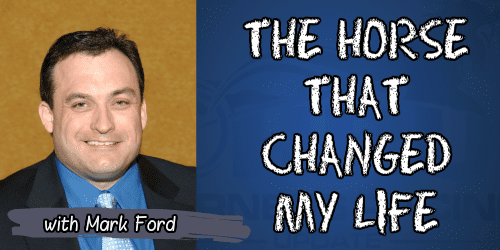 The Horse That Changed My Life: Mark Ford
by Dave Briggs
Mark Ford is perhaps best known for campaigning $4.2-million winning pacer Gallo Blue Chip, but he says "there would never have been a Gallo Blue Chip without Six Day War," a horse the trainer said was responsible for unequivocally changing his life.
Ford was just 23 in May of 1994 when he scraped together $12,000 — virtually every dollar he had — and risked it all to purchase Six Day War, a double-gaited son of Nihilator out of Pampered Lady.
"I'm not going to say we weren't going to eat the next day, but we were going to have to decide what we were going to eat," Ford said, adding that Six Day War was the horse that determined whether he would continue to have a career in harness racing or be forced to find a different line of work.

"It was either stay or not stay. We got him straightened out and he was, in reality, nothing more than a 20 claimer, but he put a lot of money on the table at the right time for a 22- or 23-year-old guy just getting started," Ford said.
Six Day War earned more than $400,000 on the pace and nearly $90,000 on the trot in his career and Ford was on his way. Today, apart from training the winners of more than $61 million lifetime, Ford is also the president of the SBOA of New Jersey and owns the Mark Ford Training Centre in Middleton, NY.
"He was not my first horse, but he was one of the first ones. He's really the one that got us rolling," Ford said of Six Day War. "He turned one into two and two into four and four into six. I'm quite sure there wouldn't have been a Gallo Blue Chip without Six Day War."