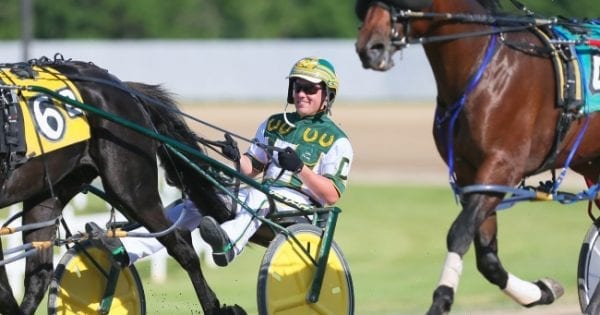 Rising star in the Midwestern sky
Wisconsin native John De Long is having a banner year and sits second in the Hoosier Park driver standings just a few years after he contemplated leaving the business.
by James Platz
John De Long is riding a hot streak in Indiana. The 27-year-old Wisconsin native is one of the brightest young driving talents in the Midwest, and currently sits second in the driver's standings at Hoosier Park Racing & Casino. But the trainer and catch-driver nearly walked away from it all, willing to leave a business he dearly loved.
"I actually felt that if last year didn't work out I might get out of the business. If I didn't think I was progressing or having a good year, I was going to make a change," De Long said. "I just thought last summer was trial and error. But it worked out great and here we are now."
While he had raced sparingly in Indiana during the 2014 season, De Long committed to Hoosier Park full-time in 2015. He finished fourth in the standings, reining in 146 winners and $1.97 million in purse earnings. He did so while conceding at least 300 drives to the three men that ranked ahead of him. It was a gamble that paid off for the third-generation horseman looking to put down roots in a jurisdiction that offered more stability than Illinois.
"Illinois and Wisconsin are home to me. I'm a home person, and I wish I could have stayed, but I had to try something different," he said.
Graduating from high school in 2007, De Long's parents tried to point him in a direction other than racing. But his love of horses won out. He spent the summer at Prairie Meadows before racing at Running Aces in the spring of '08.
"My parents really wanted me to go to college. I actually went for the winter semester and we got into the last week of January and that was it," said De Long. "I didn't really want to go any more. So I decided I wanted to train horses. My dad was a little hesitant at first, but he was supportive after we got going and got rolling."
Cutting his teeth on the fair circuit at the age of 16, the young driver was ready to make the most of his opportunities at Running Aces. He earned the driving title during the inaugural meet, steering 67 winners at the Minnesota track. De Long would finish second in the standings the next season, and before long, he was splitting time between Running Aces and the Chicago circuit.
"I raced four nights a week in Chicago and three or four days a week at Running Aces," he said. "I double dipped for a couple of years. It wore me out. It was a lot of work, but it's paid off in the end."
The connections the driver made in Minnesota and Illinois served him well when he made the transition to Indiana. He had the opportunity to drive two-year-old Homicide Hunter in limited starts at Hoosier Park in 2014 for Illinois-based trainer Curt Grummel. The trotter hit the board in eight of 10 seasonal starts, winning three times. Last season, De Long was in the bike as Homicide Hunter grabbed headlines as a sophomore, winning 16 straight starts and banking more than $475,000 for breeder and owner Patrick Graham. Sold to Crawford Farms before his four-year-old season, Homicide Hunter is a world champion, recently trotting in 1:50.1 at Mohegan Sun at Pocono Downs.
"He makes you look good when you win 16 in a row," De Long said with a laugh. "I'm not surprised with how he is racing this year because he's a good, good horse. He's got more heart than two or three horses combined can have. He's a very, very tough horse."

De Long also made connections with Indiana-based trainers including Trent Stohler, who used him on all of his horses by season's end. When fellow competitor Ed Hensley left Indiana to return to Florida last summer, De Long picked up the barn of Roger Welch, who trained horses for the driver's uncle and cousin, Bo and Pat De Long. The stable included freshman trotter, Bridge To Jesse's, who captured the $220,000 Indiana Sires Stakes Super Final and was named freshman trotting colt of the year in Indiana.
"It's pretty special, and I'm very thankful," the horseman said of his recent success. "I lucked out catching Bridge To Jesse's."
Last season De Long guided 230 horses to the winner's circle. To date, he has already collected 276 wins, just a few shy of his personal best for a year, and has a UDRS of .306. At Hoosier Park his 213 winners trail only Trace Tetrick's 255 victories. De Long currently ranks 17th in North America.
This season at Hoosier Park, the driver has come up big in Indiana Sires Stakes competition. He has directed Bridge To Jesse's to a pair of $75,000 final wins, but the greatest success has come with a homebred owned by his father, Jesse. After winning five of 12 starts at two, Always A Virgin filly Seventimesavirgin has been virtually unbeatable. With nine wins in 10 starts, including a 1:50.2 clocking and four $75,000 finals to her credit, the pacer is yet another talented horse with which De Long is affiliated.
"She's a freak. She's really special," he said of the homebred, which he also trains as part of the 10-horse family stable he is managing. "People have asked about the Breeders Crown, but we want to keep her local. She has a big stake here later in the fall (U.S.S. Indianapolis) where she'll have a chance to face some of the better fillies."
De Long is enjoying his Indiana experience. He is stabled at a farm three miles from Hoosier Park, and he has bought a house and plans to race in Ohio when Indiana is dark. He's loving what he's doing, even if he considered giving it all up had things not worked out.
"Horses are where my heart is; there is nothing else I've wanted to do, and I hope to do it for a long time," he said. "Everybody dreams of being the leading driver at the Meadowlands. I'm a Midwestern guy; I just want to make a living racing horses."
Natural Herbie's season cut short
Millionaire trotter Natural Herbie was scratched from his Aug. 27 start at Hoosier Park Racing & Casino, and now the six-year-old will be sidelined the remainder of 2016 with a torn suspensory. According to owner, trainer and driver Verlin Yoder, the son of Here Comes Herbie likely sustained the injury in his last start, a third-place effort in the $21,000 Invitational trot held August 20 at Hoosier Park.
"I think it happened two weeks ago. The conditions were sloppy and it showed up six days later in an ultrasound," Yoder said of the tear sustained to the trotter's left hind leg. "We knew something wasn't right and we just couldn't get on top of it."
A winner in five of 19 starts in 2016, Natural Herbie had earned $126,820 for Yoder while eclipsing $1 million earlier in the season. He had missed a check only once this season, and has collected 32 victories in 85 career starts.
"It's depressing. He had a big September coming up," Yoder said, referring to key stakes races for the trotter, including the Centaur Stakes on his home track. "We've put 50 other horses through the barn since we got him. You don't find horses like this every day."
The trainer said that Natural Herbie will receive another ultrasound today (Saturday) to further assess the damage. He is hoping for the best diagnosis possible.
"Will he need six months to recover? Will he need eight months? We don't know," he said. "You've got to get up every morning and do the work, but you've also got to have a lot of luck in this business. Hopefully he can come back."