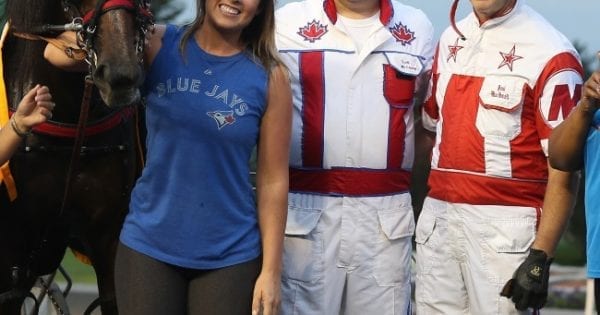 Fifteen years after Bettors Delight brought Scott McEneny to the top of the sport, the trainer is relishing a resurgence thanks to a group of precocious youngsters that includes a pair of talented Bettors Delight offspring.
by Lauren Lee
It's been 15 years now since trainer Scott McEneny felt those goose bumps on his arm.
Down the backside at The Red Mile, a second quarter in :26 flat and on top of the field by 15 lengths, he watched his horse Bettors Delight wage war with longtime foe Real Desire in an epic battle still well-remembered to this day.
It was a time when it was impossible to not experience those tiny physical manifestations of excitement, but certainly wasn't the only instance in a year that saw Bettors Delight also win the North America Cup, Little Brown Jug and more than $1.7 million in purses.
"I started thinking of it more this year, you know, the fact that time really flies. It just means I'm getting older, I guess," said McEneny, with a laugh, acknowledging the passage of time is quite evident when he remembers his now teenage daughter was just a newborn at the time of his Cup victory.
The Ontario-based trainer is also finding a few reminders in his barn these days, training a precocious pair of Bettors Delight's offspring along with several other promising two-year-olds, who have collectively pushed McEneny's training percentage to a stellar .385 this season, winning 23 times in just 84 starts.
Bettors Up, a $15,000 purchase in Lexington, has already returned five wins in six career starts and more than $125,000 in earnings, thanks to some nice work in the Pennsylvania Sires Stakes and Eternal Camnation final.
McEneny and his wife, Michelle, spotted her during some downtime at the sale in the video tent. They typically look at all the Bettors Delights, but she especially caught his eye with a knockout page and an amazing video.

"She just stood right out. So we went to look at her and she's very small, like very small, but very correct as well… I didn't get into the bidding until about $11,000 and we got her for $15,000 and the only reason was her size.
"The little mare is still not very big. She wears a very small, like 53-inch hobble, but you can ask any driver… Tim Tetrick said after he drove her last week, 'She sure doesn't pace like one that's got a 53-inch hobble.' She just covers the ground, she's got a big heart and she just wants to go forward."
With Bettors Dream (Bettors Delight—Enduring Dream), another talented two-year-old, it wasn't his size that kept his price down to $45,000, but rather the absence of familial two-year-old speed.
"He had five other siblings and none of them raced at two, but this colt just looked like he could race at two," said McEneny, who co-owns the gelding with John Fielding and Domenic Chiaravalle, and noted that many of his brothers and sisters made up for lost time in later years, including two siblings making over $400,000.
With his father's stocky build, only on a much larger frame, Bettors Dream has broken his siblings' two-year-old jinx, winning three times in four starts in 2016 with an eye towards the upcoming Metro Pace at Mohawk. Tonight the colt will start from post eight in the third of three $40,000 Metro Pace eliminations at Mohawk with Tetrick in the sulky. The $685,000 Metro final is Sept. 2.
"So far, I'm crossing my fingers. He's paid up into the Metro and then we don't have anything until the Governors Cup because we didn't stake him very heavily this year, just for that reason. I think he could be a heck of a nice three-year-old, too, and we're still hoping we can win some of these big races coming up," McEneny said.
When asked if he saw two-year-old success in his crystal ball for either Bettors Up or Bettors Dream based on their training, McEneny lets out a hearty "No" amid laughter.
"That's one thing about the Bettors Delights – and I've told anyone that's ever asked — I say, 'You keep training them until they are in a race bike and behind the gate because most of them aren't special trainers,'" he said.
"I have never quit with any of them, unless they broke down. I don't care how lazy they are or whatever they do. I just keep going with them until I can at least get them to the races and a couple of starts because usually they step up. That's the way [Bettors Delight] was when he was two. I wasn't sure he'd even win a maiden race at two when he trained down, until I got him behind the gate. But he just got faster and faster and the rest is history," McEneny said, of Bettors Delight, who was inducted into the Canadian Horse Racing Hall of Fame in 2007 and the U.S. Hall in 2013.
For McEneny, part of the fun of this season has been sharing the success of Bettors Up and Streakavana, a Big Jim gelding who is fast becoming an Ontario Sire Stakes star with close to $100,000 in earnings, with owners Brad Grant and Teresa Davidson — the children of the late John Grant, who owned Bettors Delight throughout his career and was also inducted into the Canadian Horse Racing Hall of Fame as a builder.
"It's been great. I worked with John Grant for 12 years and I've known them all for a long, long time," he said.
Streakavana was purchased by Grant and Davidson after his first start, which had caught the eye of McEneny who quickly called the previous owner with an offer to buy.
"He's got better and better each week. I wish he was paid up into the Metro, but he's not, because I think he would have a helluva shot in there."
If that weren't enough to be excited about, there is also an Angus Hall trotting colt named Tycoon Seelster, who he thinks will be a headturner in the upcoming months, as well as the interestingly-named trotting filly Stuck In My Spanks.
"She's been a great filly training down, but she has a little bit of a temper. She had a break in her last race, 30 lengths back at the quarter pole, and she still won. She trotted her last three quarters in 1:25 for a two-year-old, which is pretty unreal. She's going to step up here, I think. If she gets her mind together she could be a force in the Peaceful Way.
All told, the success of the youngsters has been a bit of a renaissance for McEneny, which has energized the trainer following some forgettable years.
"A few years ago, with everything going on (in Ontario), I was ready to get out," he said.
"But then Brad, Teresa and I got together and bought a few over the last couple of years. We had a little luck last year and bought a few more… I don't have a very big stable, but I had 10 babies and nine of them qualified.
"So it just makes you want to go to work in the morning, let's put it that way."