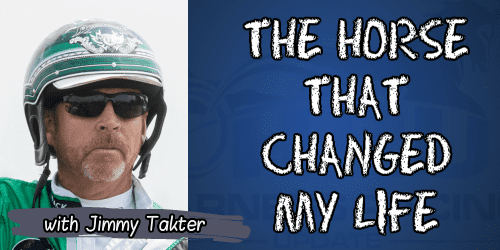 The Horse That Changed My Life: Jimmy Takter
by Dave Briggs
Given the long list of champions campaigned by Jimmy Takter, one expects the trainer could tab any number of them as being the horse that changed his life. The incomparable trotting mare Moni Maker brought Takter global harness racing fame, but she is not the horse the trainer named as his game-changer.
"Everybody would probably expect me to say Moni Maker, but I think it is Mr Lavec," Takter said recently of the son of Speedy Somolli—Kramer Samba that earned just shy of $1 million racing in North America in 1993 and 1994, just before Moni Maker arrived on the scene.
"Timing and financially, he meant a lot," Takter said. "He got me a little bit into the game. I drove him all his career both in Europe and here."
Mr Lavec was bred by Takter's fellow Swede Johan Dieden and owned, in part, by Dieden throughout his career. Takter praised Dieden as being a major reason Mr Lavec was a life-changer.
"It was a great owner that had him and he took care of me financially very well. (Mr Lavec) probably meant the most," Takter said. "He was second in the (1994) Hambletonian. Victory Dream was maybe a touch better than him, but by the same token, my horse had a little tendency in that time, in August, to get allergies. He got them in the Derby in Sweden, too. I was second then, too. He is a lovely horse. Great horse."
Mr Lavec, now 25, has stood his entire stallion career at Tara Hills Stud in Port Perry, ON. Recently, Tara Hill owner David Heffering said Mr Lavec was a game-changer for the farm, too.
"Mr Lavec was the first big time horse we had… He is this big, dark horse. A strong horse, gorgeous horse," Heffering said. "He has French bloodlines in him. He was something different and we clicked. He never produced that Hambletonian winner, but Ontario was a good spot for him at the time because the (Ontario) Sires Stakes program was just starting to get rolling. I think we had 15 years of full books to that horse."
The trotter sired the winners of more than $41 million. He is in good health, and living in luxury at Tara Hills in their immaculate stallion barn with access to his own paddock.
It is a fitting retirement for a horse that was critical to a Hall of Fame trainer's success.