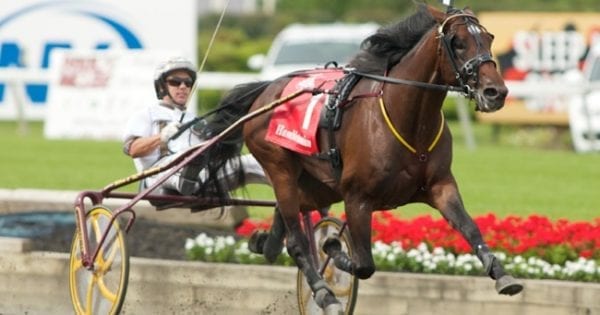 The Curmudgeon's Baker's Dozen – greatest male trotters
My list of the greatest male trotters I've seen race.
by The Curmudgeon
I write this from my hotel room in Dublin Ireland, a few days before the Vincent Delaney Memorial pace on Sunday (Aug. 14). It's kind of dreary and cold outside and I feel a cold coming on, so I thought it was prudent to remain inside before the multiple events prior to the race come up, beginning tomorrow.
The subject of this story is a baker's dozen of the best male trotters I have seen.
The group is restricted to North American-bred trotters who raced the majority of their races in North America. I didn't think that it would be fair to include horses that spent most of their races offshore. Some of those certainly belong on this list, but I haven't seen them race much, nor do I have enough knowledge of their careers to do them justice.
One other caveat, although I never saw either Greyhound or Scott Frost race, I did see them in the flesh while they were in retirement, so I am taking the liberty including them.
As usual, there are several distinguished horses that deserve honorable mention but did not make the list.
They are in alphabetical order: American Winner, Arch Madness, Darn Safe, Deweycheatumnhowe, Father Patrick, Glidemaster, Kadabra, Malabar Man, Mr Muscleman, Muscles Yankee, Napoletano, Pine Chip, Prakas, San Pail, Self Possessed, Speedy Somolli, Trixton, Sugarcane Hanover, Valley Victory and Windsong's Legacy. There are doubtless others that I've missed. My apologies to the connections of those horses.
1. Muscle Hill — Quite simply the greatest trotter that I've ever seen, colt or filly, home grown or foreign. Other than one start at two where he was raced conservatively, he was undefeated. Not only was he undefeated but in all his races after that one loss, he was virtually untouchable. Nobody ever came close to him and he was never really urged. There's no telling how fast he might have gone if he had been threatened or if he had raced beyond the age of three.
2. Greyhound — A horse for the ages. One of whom legends have been written. In many cases, these legends were absolutely true. Next to the legendary Dan Patch, he was probably the one horse that garnered the most publicity of any horse in the history of the breed. He established many world records, a few of which still stand today.
3. Scott Frost — Described by the immortal Joe O'Brien as "The greatest trotter I've ever sat behind" — and Jiggling Jesus sat behind many a great one. In his time, he was virtually invincible. He, like most of these horses, was well ahead of his time.
4. Nevele Pride — One of only three horses to be Horse of the Year at two, three and four. He retired holding multiple speed and earnings records. He overcame his nasty disposition to become a perfect racehorse on the racetrack. He was feared in a different manner, both on and off the track.
5. Mack Lobell — Not much more can be said about the immortal Mack who left us this year. A great horse and multiple classics winner both in the United States and overseas. One of two horses on this list trained by Chuck Sylvester.
6. Speedy Scot — An incredible trotter and almost as incredible as a sire. If he left the gate on the trot, he was virtually unbeatable. If he had only sired Speedy Crown, that would have made him a sire for the ages.
7. Super Bowl — One of three Stanley Dancer trainees on this list. A Triple Crown Winner himself who became a sensational sire. One remembers a lot of things about many horses. The one abiding memory I have of Super Bowl is his Kentucky Futurity win, when in the first heat he finished with one flat tire and in the second het, the other one.
8. Speedy Crown — Just a good two-year-old, Speedy Crown went on to become a great three year old and Free For All trotter. He is arguably the most influential trotting sire ever.
9. Donato Hanover — Almost undefeated at both two and three. He was easily the dominant trotter both those years.
10. Savoir — Leonard Buck's pride and joy. Savoir was an excellent horse every year that he raced. Mr. Buck felt that he was the ultimate in his many years of breeding horses. His greatest disappointment was having to geld Savoir as a two-year-old because a twisted testicle threatened his life. One of only two geldings on this list.
11. Ayres — For pure speed, maybe one of the very greatest ever. His problem was that as a two-year-old his speed became uncontrollable. At two, he equaled the ALL AGE world record of 2.00.1h. He actually broke it because he started from the second tier and trotted in 1.59.3h. In the second heat of that race, he decided that he had enough and ran off into the drawgate. John Simpson, Sr., his trainer, immediately stopped with him. He decided to start all over at three. This strategy led to him becoming a Triple Crown winner.
12. Su Mac Lad — The second gelding and the third Stanley Dancer trainee on this list. A relatively obscurely Illinois-bred horse. He was at either the top or close to the top of the free-for-all ranks every year that he raced for Mr. Dancer.
13. Nuncio — One of the most professional and consistent trotters these eyes have ever seen. The story on this horse appears to be far from completely written. He has never finished worse than third in four years of racing. He has never made a break. He appears to be on the verge of possibly becoming one of the few horses to win the Elitlopp and quite possibly the Prix d'Amerique.