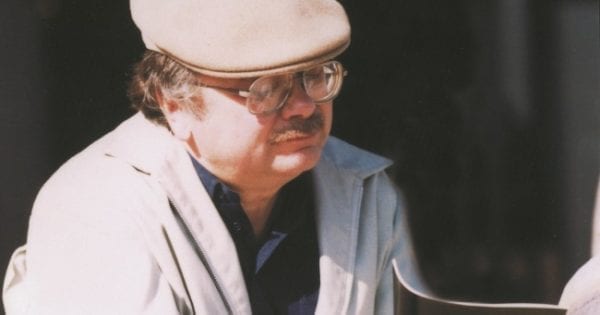 (Editor's note: Next Wednesday (Aug. 3), the late writer, publisher and larger-than-life character Bruce Johnston will be officially inducted into the Canadian Horse Racing Hall of Fame in just the Hall's third class of communicators. Gary Foerster, Johnston's former partner in The Canadian Sportsman magazine remembers the man known as BJ)
I remember it as if it were yesterday.
On Wed., May 5, 1993, I was putting the finishing touches to the latest edition of The Canadian Sportsman. As usual, that process involved Bruce Johnston's weekly column, Short Turns. As Bruce couldn't type and by his own admission had terrible handwriting, it was always down to the deadline wire when BJ's words of wisdom finally hit the page.
After putting the paper to bed that day, Bruce was off to a golf course near Cambridge, ON to play with his buddies Bill Wellwood and Ray Bednarz. I was headed to a Toronto Maple Leafs playoff game (yes readers, there was a time when the Leafs did engage in playoff hockey) with my friend Dick White.
"Well, aren't we quite the pair," BJ said chewing on his cigar. "Just a couple of high rollers we are — taking off work early to go play with the boys.
"Keep smiling," he said as he walked out the door.
Those were the last words he ever spoke to me. Later that afternoon, BJ passed away on the golf course after suffering a massive heart attack at the age of 59.
Hardly a day goes by when I don't think of him.
It took me a long time to deal with the grief of losing my friend, business partner and mentor. But, as much as I still miss him, now I remember him with a smile. And when I get together with any of BJ's friends, it's only a matter of minutes before the BJ stories roll out — and believe me, there are plenty of them — and everyone is laughing it up.
Can you think of a better way to be remembered?
One of my favorite BJ stories comes from his longtime and diminutive (BJ said that's the nice word for "really short") friend Stan Chauvin. BJ and Stan were both very competitive and they were teammates — that's important to remember — on their local baseball team. Neither were shy about pointing out the other's athletic foibles and during one game they got into a heated discussion about Bruce's lack of prowess (in Stan's opinion) on the pitcher's mound.
Stan told BJ that he was packing a few extra pounds and rather indelicately suggested that was hurting his play.
"I'll tell you this much Chauvin," BJ shot back, "I can always get thinner, but you'll never get any taller!"
Stan recalls, "that's the one thing about Bruce, he always used his 'A' stuff."
BJ loved Kentucky, especially the horse sales and The Red Mile. Whenever he traveled there, he would take a camera with him. This was before the days of digital photography and because BJ was a bit of a mechanical klutz, he would never re-load the camera with new film. So a roll of 36 pictures would have to do for the entire trip.
BJ was at Castleton Farm the day Niatross arrived to stand stud for his first season. He captured the great pacer during his first romp through one of the famed Castleton stallion paddocks. After publishing the photo in The Sportsman, a letter arrived a few days later from Lou Guida, eloquent in his praise of the black and white photo saying it "caught this great horse in all his majesty." Guida ordered several copies of the photo.
After that, whenever I griped about having to put more film in the camera, BJ snapped, "Yeah, and how many damn pictures did Lou Guida order from you?"
It's been nearly a quarter-century since BJ's passing and it is only fitting that his name be placed among those in the Hall of Fame. Because he left us much too soon, the world was robbed of BJ's uncommon wit and humor, often delivered by BJ's alter-ego Lance Loser in Short Turns. There's no better way to remember BJ than by his own words… here's a few selected from his columns:
Training Reports (March, 1983)
One of the most popular features of our spring editions are the training reports of two-year-olds. Dave Perkins of the Toronto Star recently complained that harness racing would be a lot more interesting if drivers and trainers were more frank, that is, simply acknowledged a bad drive or bad horse.
That may be so, but the whole two-year-old industry is fueled by optimism, not frankness! It's necessary sometimes to translate what the trainers mean:
Trainer: "This is a nice colt. A bit headstrong at times, with lots of spirit."
Translation: "The S.O.B. jumped the rail and ran away in downtown Kingston before we brought him down with a tranquilizer dart."
Trainer: "This filly is a bit growthy and immature. We may turn her out and let her fulfill her promise."
Translation: "I'd hate like hell to hold her for ransom."
Trainer: "Those two colts owned by Mr. X have a lot of talent. I'd hate to ruin them by pushing them too hard this year."
Translation: "Let's not discourage Mr. X. He's loaded and could get us a nice race horse this spring."
Language (November, 1983)
Hundreds of yearlings have been pulled out of their stalls, feet and tails lifted, prodded, measured and poked over the last two months. It's important to note some phrases that are used by buyers and consignors. These phrases must be vague enough not to insult the consignors and have enough truth to leave the buyer with a clear conscience. The old favorites "nice individual" and "that's a racy looking dude" are still popular.
One that impressed us in Toronto was "the dam had a lot more speed than she ever showed."
Was she shy?
Remember the old comeback when shown an ugly kid by a proud parent: "Now, there's a baby!"
Lilacs Bloom in Tippytoes
Stuck for fast-breaking news our correspondent made his annual pilgrimage to Tippytoes, Ontario last week to check out Lance Loser. Last fall, Lance was contemplating reconciliation with Agnes but had deserted the standardbred business.
Sportsman: Are you and Agnes getting back together?
Lance: No sir. We bunked together over the winter but she left with a Great Lakes sailor from Goderich. He was driving a truck for the winter and dropped into the annual Ground Hog Day Dance. Agnes fell in love and took off in the cab of his transport truck. I guess I'm a victim of "Seaman Transportation". They won't let them over the border anyway, that's USTA territory.
Lance Sets Sale
It was a quiet last week until the phone rang with a collect call from Tippytoes. Lance, who looked like a spent force when Agnes split, is back in action.
Sportsman: Lance, sounds like things are good again.
Lance: Yeah, things have turned around since I met FiFi this spring. It's like I've been born again.
Sportsman: How did you hook up with FiFi?
Lance: FiFi Laflesh, my companion, was a table dancer from Baie Comeau and working the local linoleum festival when we met. I gave her a bite of my Snickers bar, between dances, and she said it was the nicest thing anyone had ever done for her. One thing led to another and our hearts have been trotting team-to-pole ever since.
Christmas In Tippytoes
Lance Loser in his Christmas card reports, "Everything fine here. FiFi has been taking ballet lessons. It shocked the boys at the Christmas Rotary Stag when she danced Swan Lake. Training another colt, one of these years I'll qualify one. Here's my year-end poem:
All Hail to 1989
It's cold and it's damp in my old Tippytoes,
As I sit on the sulky, my fingers is froze.
The snow and the sleet splash up in my face,
The horse hits the trot and it's bred to pace.
His harness is tattered and his leg looks funny,
But I can't quit this job, 'cause I sure need the money!"
Rest easy, BJ. We're still smiling.