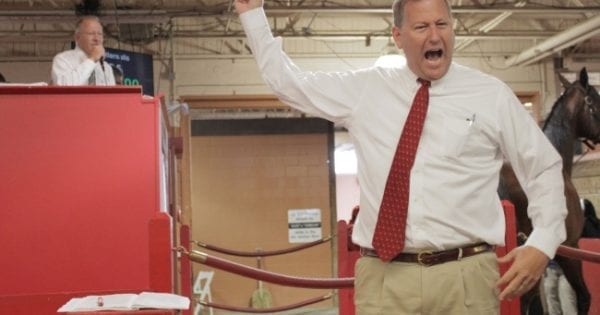 Prime Opportunity: Tattersalls Summer Mixed Sale Preview
For anyone looking for a racehorse, Sunday's Tattersalls Summer Mixed Sale at the Meadowlands will offer plenty of young horses currently racing.
by Dave Briggs
The two biggest consignors to the Tattersalls Summer Mixed Sale set for Sunday (July 31) in the paddock at the Meadowlands Racetrack said this week that anyone in the market for a racehorse would do well to attend the sale.
"If somebody is looking for racehorses, they need to come to this sale," said Northwood Bloodstock's Bob Boni, who will have a consignment of nearly 60 horses on offer. "With the racehorse market the way it is, I just think there is opportunity for people to come and find something that if it doesn't fit here, it's going to fit somewhere.
"The biggest thing I can say is there are a lot of horses that are racing. The vast majority of them are racing."
Sale manager David Reid, whose Preferred Equine Marketing will offer the largest consignment at some 100 head, agreed. He said the appeal is that the vast majority of the horses to be sold are young and have raced.
"Of the 149 horses in the main catalog, 49 of them are two-year-olds, 36 of those have started and we have close to a dozen winners out of the two-year-olds," Reid said.
"There are 47 horses that are racing between (Wednesday) and Saturday night. There are several horses that have won since being catalogued… The horses are racing at all size tracks, all different venues and a lot of the young horses that are racing, especially the three-year-olds, they have a lot of conditions left. I think the statement 'There's something for everyone and every venue' has never been truer. There's just a real cross-section of horses, pacers and trotters, that are going to be offered."
About 175 standardbreds — about 150 in the main catalogue minus the outs, plus another 25, or so, in the supplement — are expected to go through the ring beginning Sunday at noon, sharp.
More information can be found at the following links: 
- for the sale main page click here
- for a pdf of the main catalogue click here
- for a pdf of the supplemental catalogue click here
- for a sortable roster click here
- for the outs list click here
- for updated race lines click here
"People should just pay attention to the races the next few days because a lot of these horses are racing and somebody could take a new record. There should be updates. There's a lot of nice, young prospects" Reid said, adding the www.tattersallsredmile.com website will have updated race lines today (Friday) and further updates as they become available.
Wearing his Preferred hat, Reid pointed out a number of horses from his consignment, including Winning Linc (hip 118) who is in the $150,000 Anthony Abbatiello Classic Saturday at the Meadowlands.
"It drew a short field, but the horse is improving every start and he won his last start at the Meadowlands in :51.3. He's just a lightly-raced three-year-old," Reid said. "Then hip number 75, Eternal Ring, is racing down at the $100,000 Delaware Breeders Final.
"Then we've got a couple two-year-olds that are racing at The Meadows, hip number 25, House Always Wins, is racing in the Arden, and hip number 45, Traceuse Hanover is also racing in the Arden.
"Then hip number 99, Place To Rocknroll, is another lightly-raced, green filly, who has shown promise quickly. She's going to race in the D'Altrui on Saturday night at the Meadowlands. It's a non-betting race.
"Hip number 126, Hillsonator made a miscue his last start, but, prior to that, he's been racing very well up at Mohawk and he's made over $100,000 this year. A horse that might be a little bit of a sleeper is hip number 133 Paparazzi Hanover. He's been racing well, pacing in :50, :51 and change and he's just a four-year-old. He's got about $150,000 made lifetime and he's a horse that could go in a lot of different venues."
Boni also mentioned a number of horses from Northwood's consignment.
"In no particular order, we have a very nice horse in the supplement, Dedi's Dragon (hip 223). He's a horse that's made a fair amount of money this year. He's made about $60,000 this year. I think he's made $800,000 lifetime. Horses like that show they're just going to race well wherever they go. I use that as an example," Boni said.
"Another filly that we have in that supplement, which people may not have seen is Seaside Illusion. It's a Muscle Hill out of Seaside. That's a big pedigree. First foal of a mare. While she may not have done all that much on the racetrack, it's a huge, huge pedigree, so people have a chance to do some good there.
"I don't think there's anything wrong with saying they may not be quite what the people that purchased them were looking for, but that doesn't mean they're not going to be okay for another racing program."
"A change of scenery is good for horses and people," Reid said. "The owners of the horses that are selling them, they're looking to go in a different direction, or there may be some partnerships that are aiming for the sky, they're just going to turn the page, reload and raise some capital for the upcoming yearling sales. A lot of times, someone's loss is another person's gain. There have been lots of success stories that have happened in cases like this.
"I think we have a lot of nice horses to offer that really do fit every venue. People should do their homework and get in here and look at the horses. More importantly, people from outside the tri-state area, the Metropolitan New York area, there's a lot of horses that will fit the bill at other racetracks, for sure. I think a lot of these horses could fit on the Mohawk circuit. I strongly encourage all my Canadian friends to get looking, because there's definitely an opportunity for everyone."