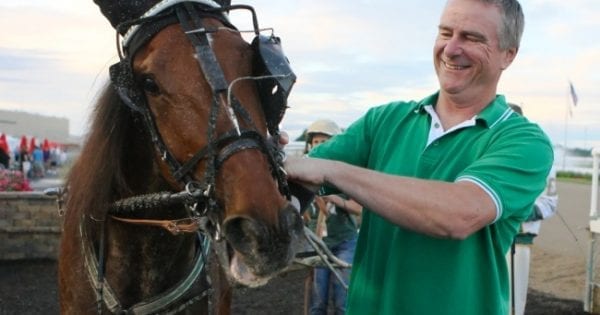 The shotgun marriage between casinos and horse racing often leaves racing neglected, but in Indiana, Centaur is investing heavily in the sport at Hoosier Park and Indiana Grand and embracing the game as an important part of its total entertainment package.
by James Platz
The racing landscape is changing. The metamorphosis has been underway for some time. It's a battle of the haves and have-nots: venues with casinos and those seeking to add them. Merely having a casino on the grounds, however, does not solve all racing woes. Operators have been knocked for treating racing as a line item, tolerated but not embraced. And the decoupling headlines from Florida earlier this year certainly didn't help to dispel that notion.
In Indiana, Centaur, owner of Hoosier Park Racing & Casino and thoroughbred facility Indiana Grand, is approaching horse racing with a different perspective. Management is taking an active role in promoting the sport and industry. The goal is to create a win-win situation where together new heights are reached.
"I think it's understood that all of these pieces fit together, and we're not going to do a second-rate job on any part of the business that we operate," said Jim Brown, Centaur president & COO. "If you look at it, racing brought us to the table. Racing brought a casino to Hoosier Park. And racing brought a casino to Indiana Grand."
In June 2008, Hoosier Park became one of the coveted tracks with a racino when Centaur opened the doors to a 92,000 square-foot facility. The casino, and revenue set aside for the racing industry, has become a catalyst for Indiana's improved breeding and racing.
Brown talks passionately about standardbred racing in Indiana. It is more than a line item in his view; it's a critical piece of the entertainment experience at the Anderson facility. When he refers to those "pieces" fitting together, it's the combination of racing, gaming, dining and entertainment. Friday night (July 22) for instance, patrons coming out for the Kenny Rogers concert could have enjoyed a great meal in the clubhouse while taking in a full card of racing beforehand. That's three opportunities for the facility to shine.
"We look at our business as a multi-faceted business, particularly racing, gaming and entertainment. If you look at the fan side, we want to provide them the best experience possible," Brown said. "Whether it's racing, gaming, dining or entertainment. We want, as a team, to be the best that we can be and provide the best that is available."
That desire to be the best takes shape on the racing side in many ways. First, Centaur has invested millions in capital projects focused on elevating racing with the hopes that it can become the best in the nation. The projects are a mix of improvements meant for fans as well as horsemen racing in Central Indiana. The company partnered with the state's horseman's association to bring the Breeders Crown to Hoosier Park in 2017. They have added Trakus, are broadcasting racing in high definition, and added a passing lane. With chairman and CEO Rod Ratcliff as the driving force, Centaur has aggressively worked to show harness racing in the best light, and the efforts have been noticed by those in and outside Indiana.
"When compared to other racetracks they go out of their way to accommodate horsemen. They don't mess around; they get things done," said Roger Welch, a longtime Illinois horseman stabled at Hoosier Park for the first time this season. "I can't speak highly enough of Centaur and Hoosier Park. I've been around other tracks and talk to my friends that race in other states. The horsemen don't have this kind of relationship with track owners."
Showing racing in its best light and teaming with the horsemen is paying off. Over the last four years, the Hoosier Park racing product has enjoyed significant gains in the simulcast area. This year Brown says handle is up 15 per cent over last year's business levels. Last week, the Hoosier Park signal was picked up by the Las Vegas sports books for the first time in five years. The signal is also exported to Australia. It's no secret that conducting racing is not a profitable venture, but Brown views it as an important cog to not only the facility and the entertainment options available to patrons, but Indiana's burgeoning standardbred industry.
"Right now, from a profitability standpoint, we don't make money particularly in racing, but we don't make a profit in housekeeping. That doesn't mean we're going to let our facilities be dirty. We may not make a profit in food and beverage, but we're still going to provide the best food and beverage product possible to our customers. From a business standpoint, it's the intangibles rather than a financial statement," he explained. "The rising tide raises all boats. We're all on these boats together. There has always been an interest and a passion in forwarding and contributing to the improvement of the sport overall, but specifically in the state of Indiana. It's something that is a responsibility that we have, but it's one we take on joyously and really want to move Indiana racing to the top of the national scene."
Harness racing's "Big Three" of Always B Miki, Freaky Feet Pete and Wiggle It Jiggleit have helped the tide rise, bringing significant attention to the Indiana breeding program. And while Hoosier Park benefits from that added attention, management is also working on grassroots efforts to cultivate new racing fans. The First Turn Stable is the latest in a series of progressive ideas aimed at creating an experience that will keep fans coming back. Hoosier Park publicly offered 50 fractional ownership shares in a racehorse earlier this year for $250 apiece. This group of owners will experience the excitement of racing throughout the season in a risk-free endeavor. Should their horse finish the season in the red, the owners are not on the hook for the shortfall. If the stable turns a profit, it will be split among the owners. Again, management is focused less on balance sheets and fiduciary responsibility and more on providing a memorable experience.
"We look at the big picture, but we also look at the smaller picture. There are components that can be put in place to help improve racing from a fan perspective," Brown noted. "First Turn Stable is an opportunity to allow someone to become a first-time owner of a horse. Maybe that turns into owning a horse on their own, or owning multiple horses. We want to continue to help grow the industry. We want to promote and contribute to a sport that's given a lot to us and to see that industry and sport become what our hopes, dreams and visions wanted it to be."