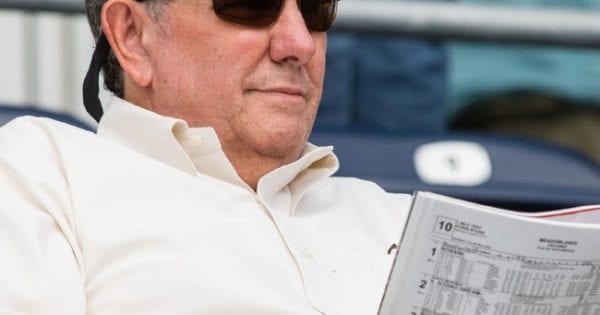 Gural hands Faraldo "lifetime ban"
Jeff Gural, the owner of the Meadowlands Racetrack, Vernon and Tioga Downs, said Standardbred Owners Association (SOA) of New York president Joe Faraldo is no longer welcome to race at the three tracks.
by Dave Briggs
Jeff Gural said via email Saturday that he has handed Joe Faraldo a lifetime ban from racing at Gural's three racetracks — the Meadowlands Racetrack in New Jersey and Tioga and Vernon Downs in New York.
"(Faraldo) has a lifetime ban. Last night (Friday) he entered two horses in the Billings that were trained by Richie Banca who is not allowed to participate at my tracks," Gural wrote. "(Faraldo) put himself down as the trainer and looking at the program it was obvious that when he raced in New Jersey he put himself down as trainer and when the horse raced the next week in New York, Banca was back down (as trainer)… I thought this was a serious violation of our policies regarding drug trainers."
When contacted, Faraldo initially referred to an email he wrote to others and asked it be published verbatim. It reads as follows:
"The horse I own Lucky Fan, racing at Vernon, just had its entry refused. So now not only am I prohibited from racing there, but so are my horses or any I own in partnership. In addition, because Gural did not get the law passed to let him race his horses — which he and the directors at Vernon personally own — in overnights, the following edict was put in place: No horse will be permitted to race or qualify if said horse is stabled at any track where the state recognized horsemen's association joined in the opposition to that proposed law.
"The law prohibiting beneficial owners of a racetrack or race secretaries from racing horses they own at their tracks came about many years ago because of abuses by a New York track owner years ago. Some of those abuses are very subtle and almost impossible to pick up, even to the discerning eye."
Gural stressed the ban just applies to Faraldo, not others in New York that lobbied against a proposed New York State law that recently was not approved. The law, if passed, would have allowed Gural to race his horses in overnights at his own tracks (stakes are allowed).
"I can't race at either (Tioga or Vernon)," Gural said. "The law would have only affected Vernon and Tioga and was subject to having an agreement with the horsemen's association. It allowed them to revoke the privilege at any time. It was supported by the horsemen at both Vernon and Tioga and was opposed by the other horsemen's associations in New York on the grounds that integrity is very important.
"I breed in New York and own quite a few New York-breds. I have three trainers that I use that are stabled at Vernon and they have to ship two or three hours to race unless it is a stake… As a result, I no longer will allow horses stabled at other New York tracks to qualify at my three tracks. If they are at a training center or farm they are welcome and they are welcome to race at my three tracks if they are not on our list of banned trainers."
Faraldo later added to his initial comments on the matter in a follow-up email.
"When Mr. Gural makes all the decisions in this game as arbitrarily as his temper may dictate on any given day, we are all in serious trouble," Faraldo wrote. "Mr. Gural has placed himself as judge and jury over people's rights in this game and has done so in a very hypocritical fashion. That has been documented. My horses train via a swimming pool and many times when amateurs race at different venues sometimes the owner/amateur driver is down as trainer. I didn't take the entry twice, the Meadowlands did. The truth is because Mr. Gural can't get away with some ethical breach by taking horsemen's money via racing his own horses some BS excuse must be found to justify further arbitrary action. That justification came after the New York State Legislature would (not) enact a provision allowing him to race his own horses at his two New York tracks. A provision affecting (Yonkers owner) Tim Rooney and others without objection for many, many years."
Gural wrote that Faraldo, "had all of the leaders of the horsemen groups write a letter opposing (the law that would have allowed Gural to race in overnights at his tracks) on the grounds that it would threaten the integrity of the sport. Interesting since integrity doesn't seem all that important at Yonkers with all of the trainers (the Meadowlands has) banned racing there and doing quite well including Banca… (Faraldo) is lecturing me on integrity. Everyone is afraid of him."