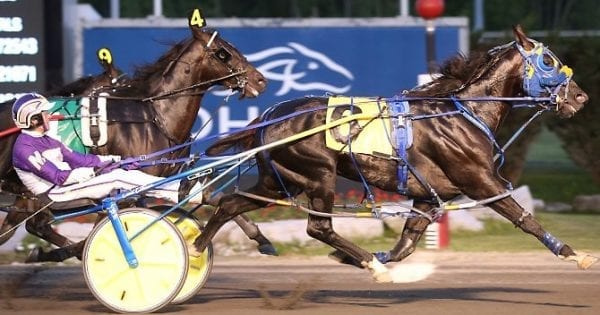 ---
Eliminations for the 33rd edition of the Pepsi North America Cup at Mohawk Saturday featured wins by Betting Line and Boston Red Rocks.
---
by Dave Briggs
Watching from home in New Jersey, trainer Steve Elliott said he was mildly surprised his talented pupil Boston Red Rocks won the second of two $50,000 (Cdn) Pepsi North America Cup eliminations Saturday (June 11) at Mohawk so easily off a last quarter in :27.3.
"I thought there would be a lot more of them on the wire going those kind of fractions, but the other division seemed like it was a lot tougher," Elliott said. "Not to disrespect anybody's horses, but it looked like the other group was stacked."
Heavily favored Boston Red Rocks (3-5), the Dan Patch Award winner as the 2015 two-year-old pacing colt of the year, won his elimination by a half-length over Big Top Hanover in 1:50.3. Michaels Victory was third, Magnum J was fourth and Manhattan Beach grabbed the final ticket into next Saturday's (June 18) $1 million final for sophomore pacing colts.
Boston Red Rocks, a son of Rocknroll Hanover—McGibson bred by Andray Farm of Punxsutawney, PA, was driven to victory by Tim Tetrick for owners Peter Blood of Pompano Beach, FL and Rick Berks of Boca Raton, FL.
In the first elimination, 8-5 second betting choice Betting Line won by three-quarters of a length over Lyons Snyder in 1:49.1. A surging Racing Hill made a break in deep stretch, but finished third and was kept up by the judges. Favorite Control The Moment was fourth and Beast Mode squeaked into the final with a fifth-place finish.
Betting Line, an unaltered son of Bettor's Delight out of Heather's Western bred by Fair Winds Farm Inc. of Cream Ridge, NJ, is trained and owned, in part, by Casie Coleman of Cambridge, ON. She shares the colt with Ross Warriner of Burlington, ON, Christine Calhoun of Chatham, ON and Mac Nichol of Burlington.
Coleman told WEG's Mark McKelvie that she changed Betting Line's shoes after he won his $57,750 Somebeachsomewhere division last Saturday's (June 4) at Mohawk.
"He has one major problem. He has a splint that's bothered him ever since he was a baby. I put aluminum up front and I think it was stinging him more than anything (last week)," Coleman said. "Normally, you want aluminum on this track, but this horse needs steel. Sportswriter won (the 2010 Cup) with steel shoes, so we're going to try to do it again."
Betting Line was driven to victory by David Miller, who was sitting in the colt's sulky for the first time.
"I was really impressed with him. He went an awesome, first-over trip and never gave up until he got to the wire," Miller said. "| definitely didn't like our trip. I thought maybe I might be able to pick up some cover, but he felt strong the whole way and he kept digging through the stretch."
The Pepsi North America Cup is one of the few major races Miller has yet to win.
"I've been going after this for a long time and it looks like I've got a good shot here," he said.
Though Coleman changed Betting Line's shoes, Elliott said Boston Red Rocks is equipped "the same as he was last year. He got taller. He didn't fill out quite as much as we wanted him to, but he got taller and lankier. He's a bigger horse, but he's still growing into himself."
"I'm a firm believer in this horse," Tetrick said in the winner's circle. "I know he's a nice horse. Every time he got beat, he got beat by a head, a nose. He got beat, but he raced good enough to win.
"He's a little lazy and he kind of loses focus sometimes and you got to stay after him, but he got the job done. He finds ways to win so that's what I like about him."
The connections of both Betting Line and Boston Red Rocks earned the right to pick their post for the final. The rest of the field will be drawn at a press conference on Tuesday at Mohawk.
Saturday night, Tetrick will be looking for his third NA Cup victory and second straight. He won last year's Cup with Wakizashi Hanover and the 2013 edition with Captaintreacherous.
Elliott won the 2009 NA Cup with Well Said.
Boston Red Rocks has already raced four straight weeks having contested New Jersey Sires Stakes events at the Meadowlands on May 21 (first), May 28 (third) and June 4 (second).
"It concerns me with all these starts right in a row. You'd like to have a week off somewhere, but the schedule just didn't call for it," Elliott said.
"The one thing I know is he won't embarrass us. He's a nice horse and he won't embarrass us."