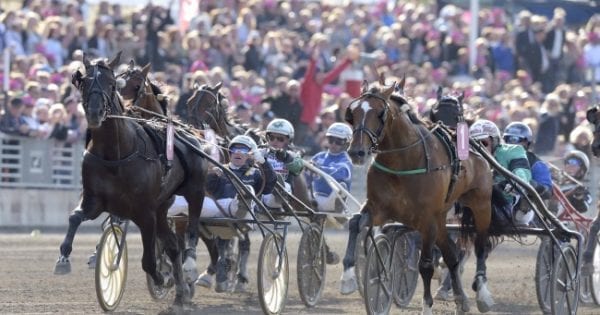 U.S.-bred trotters finished first and second in the Elitlopp final as Nuncio edged Resolve on Sunday at Solvalla.
by Joakim Lindqvist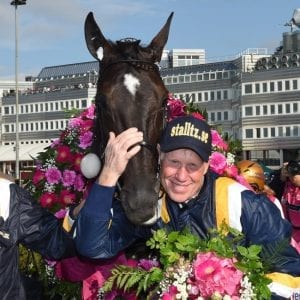 The "dark dream" Nuncio — a five-year-old, ever-growing star from the United States — won the 2016 Elitlopp Sunday at Solvalla Racetrack near Stockholm despite sitting outside the leader without cover most of the mile.
Nuncio, driven by Örjan Kihlström, took the lead with 100 meters to go, and though severely challenged by his U.S. counterpart Resolve and trainer/driver Åke Svanstedt in the stretch, Nuncio's win was a safe one. Resolve finished a quarter-of-a-length back in second.
During the final of the Elitlopp, Nuncio's owner and trainer Stefan Melander stood alone on the backstretch and met up with his trotter in the winner's circle.
"I was too tense and too much a coward to stand at the wire," Melander said. "I knew Nuncio would be more eager in the final, but I didn't reckon he would win outside the leader. But what can I say? Nuncio knows he's the best… and he is."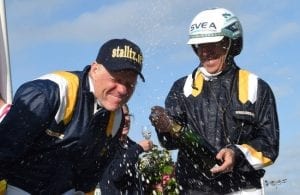 After Nuncio raced in the United States at ages, two and three, earning more than $1.9 million under the tutelage of first Jim Oscarsson and then Jimmy Takter, Melander took the son of Andover Hall—Nicole Isabelle to Sweden in 2015 and continued Nuncio's success.
Nuncio finished third in last year's Elitlopp with a breath-taking performance and was the horse on the lips of most people Sunday at Solvalla.
"Everybody likes him, and it's a relief that I didn't disappoint them," said Kihlström. "Nuncio has a hell of an engine, and he can race fast for a long time."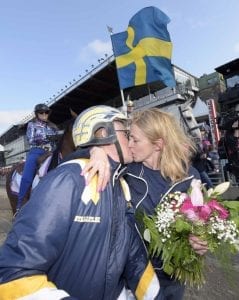 It was the third Elitlopp victory for Kihlström. Resolve's driver Åke Svanstedt, who returned to Solvalla for the first time since 2013, was denied his third Elitlopp victory by a slim margin.
His trotter Resolve got bad cover in his elimination, but came three wide on his own in the final turn, finishing second to the winner, the French star Timoko with driver Björn Goop, who afterwords said: "Timoko is better than ever, but we are going to meet a certain Nuncio."
In the final of The Elitlopp, and in the very same manner, Resolve had to do the tough work in the final turn, fighting for victory down the homestretch, getting close to Nuncio, but without time and room to claim victory.
Svanstedt appeared to be pleased with Resolve's performances and set off for a boat-trip to the archipelago Sunday evening.
"If Resolve had better cover in the elimination, he might've challenged Timoko, and got a better post in the final, and then I wonder," said Resolve's groom Lukas Wallin. "I can't say that Resolve would have beaten Nuncio, but Resolve is also a terribly good horse, which he showed today. I was surprised that he couldn't go for the lead in his elimination, but the car let them off at a lower pace here (than in the United States)."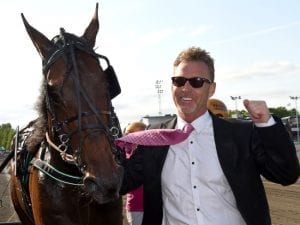 Nuncio finished second in his elimination where he couldn't reach French star Un Mec d'Heripre. The latter got post one in the final, took the lead, and star driver Joseph Verbeeck began to look over his shoulder at Nuncio on the outside, 600 meters to go. Was he confident – or worried? They looked really strong in the lead in the final turn, but had to give in, finishing a close third.
In the final, Timoko and Goop shadowed Nuncio to the maximum, finishing fourth.
On the Elitlopp undercard, Pinkman, last year's Hambletonian winner, won The Fyraåringseliten (Elite race for four-year-olds) for trainer Jimmy Takter and driver Yannick Gingras. After a fast first quarter, they grabbed the lead, and won by a head over former U.S.-rival and Takter trainee Uncle Lasse. In the history of the Elitlopp, seven Hambletonian winners have raced at Solvalla on Elitlopp Weekend. Pinkman is the first not to be in the big race. On Sunday, he earned $60,240.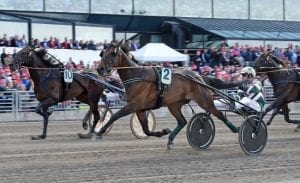 Both Takter and Gingras were overwhelmed by the weekend's racing feast at Solvalla.
"I've been in this for a long time and I've had a lot of successes, I'm glad to have that joyful feeling back when I'm here. To be here is an experience in a lifetime, a unique place to be. Pinkman now got the experience of being here, and another year is in favor for him — and that might take him to The Elitlopp 2017," Takter said, standing with Gingras, on a podium, and drawing applause from 28,896 devoted patrons.
This year's Elitlopp was broadcasted to 20 countries.