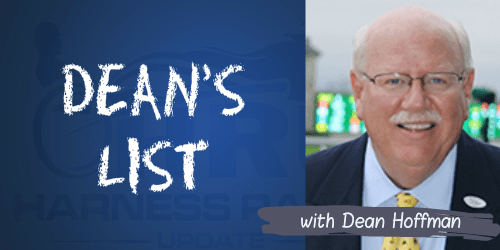 The Elitlopp-winning trotter bred by Russell Williams has extensive ties to Hanover Shoe Farms.
Everyone who knows Russell Williams rejoiced when Nuncio won the Elitlopp on Sunday in Sweden.
Trainer Stefan Melander and driver Orjan Kihlstrom were saluted, too, but Russell Williams certainly celebrated as the breeder of Nuncio.
Russell Williams is one of the most respected and admired individuals in harness racing and he's achieved that status despite keeping a low profile in the sport. Williams has been a faithful, albeit low-profile supporter, in making sure that horses beyond their racing or breeding days have a comfortable retirement. For his efforts in this area, everyone in harness racing should be grateful.
He comes to his affinity for harness racing legitimately as his grandfather Lawrence B. Sheppard was the mastermind behind the creation of Hanover Shoe Farms, and was responsible for guiding it to a dominant position in harness racing since its inception 90 years ago. It's only natural that Russell is a major principal — officially he serves as the chairman — of Hanover Shoe Farms.
Williams also maintains a select broodmare band of his own, separate from his interests in the sprawling Hanover bevy of matrons.
Let's quickly trace the pedigree of Nuncio, starting with his fifth dam Mimi Hanover. She was a 1945 daughter of Dean Hanover, the all-time favorite horse of Lawrence Sheppard. Dean Hanover earned that status by trotting to a world record for three-year-olds of 1:58.1/2 in 1937 with Sheppard's 11-year-old daughter driving in a time trial.
(That feat still boggles the imagination. Can you imagine an 11-year-old girl today climbing in the sulky and time-trialing Southwind Frank in 1:50 or faster?)
Mimi Hanover had two colts by Rodney that would leave an impact on trotting. Her 1954 foal was Speedster, a colt whose juvenile mark of 2:17.4h seems laughable now. But he improved with age and finished 3-3 in his division of the '57 Hambletonian. One of the most memorable traits of Speedster is that he raced with any hind shin protection — boots or bandages — whatsoever.
Mimi Hanover's 1961 foal was Speedy Rodney, gifted with high speed, but certainly not with a flawless gait. But when he was good, he was very, very good. He was 4-8 in his Hambletonian behind Ayres but later became a terror at times on the twice-arounds such as Yonkers and Historic in New York state, setting a 1:58.3h world record for trotters.
Speedster hit a home run in his first crop by siring the behemoth Speedy Scot and that male line was carried forth by Speedy Crown and Valley Victory.
Speedy Rodney sired a speedball Hambletonian winner in Green Speed, but this branch went no further.
Sandwiched between Speedster and Speedy Rodney, Mimi Hanover had a filly named Candid by Lusty Song, the brilliantly fast 1950 Hambletonian winner plagued by bad feet and a proclivity for pacing.
Candid's first two foals were daughters by Rodney. The first, Candid Rodney, was one of the best of her era, earning over $100,000 in the mid-1960s.
Her younger sister, Crystal Rodney, never earned a penny but became a reliable broodmare at Hanover Shoe Farms. Her initial offering was Crain Hanover, a darn good gelding in his day. He was among those who chased Lindy's Pride without luck in the 1968-69 stakes.
Crystal Rodney's penultimate foal, arriving when she was 21 in 1983, was Cristi Hanover. She was sired by Florida Pro, a stallion that certainly didn't step up many Hanover broodmares. Cristi Hanover was no exception. She earned $112 on the track.
Cristi Hanover didn't date the most successful boys on the block, having foals by Prakas, Giant Victory, and later Dancer's Victory. She had two daughters by other stallions, however, that made an impact.
The first was Cynara Hanover by Super Bowl, owned by Russell Williams. She won the Review Stake for sophomore trotting fillies in 1995 for trainer/driver Bob Roberts, getting a 1:57.2 mark that day. She was a solid if not spectacular Grand Circuit filly.
With the exception of HR's Millers Gold, a Donerail gelding with earnings of $221,724, the foals of Cynara Hanover have not been exceptional. Her sixth foal Nicole Isabelle certainly fits that description. She raced only as a three-year-old in 2008, won once in 18 starts and banked $11,547. Her mark was 2:01.1f.
The family wasn't producing champions, but Williams had not lost faith. He wanted to keep Nicole Isabelle as a broodmare. His first stallion selection was Andover Hall, which made sense since Williams had experienced success in breeding his Lindy Lane mare Weather Bird to Andover Hall and getting the $800,000 Clerk Magistrate.
(Before we get to Nuncio himself, let's go back to the second daughter of Crystal Rodney that made a major impact on harness racing. She was a 1998 filly named Cressida Hanover by Mr Lavec and her first foal was the 2006 Triple Crown winner Glidemaster.)
Yet, Williams retained Nicole Isabelle as broodmare and was rewarded when her first foal was Nuncio. Williams wasn't exactly rewarded financially when he sold Nuncio because the youngster went for just $7,000.We suspect that Williams will be rewarded far more generously this year when her yearling colt by Cantab Hall sells.
Williams must surely take pride in the fact that Nuncio has a true Hanover Shoe Farms pedigree. His sire Andover Hall stands at the Pennsylvania farm and the sires of his first three dams — Lindy Lane, Super Bowl, and Florida Pro — were also Hanover stallions.
Nuncio was a model of consistency during his two seasons at the races in North America. He made 27 starts over two seasons with 16 wins, 10 seconds and a third. Any trainer or owner would feel blessed to have such a horse.
Nuncio beat the champion Father Patrick in their first encounter in July, 2013 but Father Patrick usually had the upper hand. Trainer Jim Oscarsson paired Nuncio with driver John Campbell and no trotter could possibly ask for more.
The Andover Hall colt seemed to have a little hitch in his gitalong when trotting, but he was foolproof on the track.
Moved to trainer Jimmy Takter as a three-year-old, Nuncio came up a bit short to stablemate Trixton in the Hambletonian as favorite Father Patrick jumped at the gate.
But Nuncio got wound up winning two legs of the Triple Crown that year, first by powering past Father Patrick in the stretch at Lexington and then by winning the Yonkers Trot.
As a four-year-old last season in the hands of Swedish trainer/photographer Stefan Melander, Nuncio became a superstar and earned the highest honor on Sunday winning Sweden's greatest race. And breeder Russell Williams was at Solvalla on Sunday cheering his baby to victory.