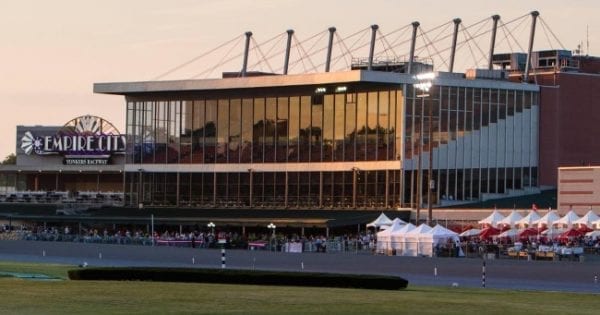 Commingling with France just the beginning
Yonkers is actively trying to add Sweden and then Australia, New Zealand and perhaps even Asia to the countries that bet into a common pool on the New York City track.
by Tom Pedulla
With the May 24 advent of commingled wagering with France on designated trotting races at Yonkers Raceway, hopes are high for other breakthroughs domestically and abroad.
Bob Galterio, chief operating officer at Yonkers, revealed that a cooperative effort with Sweden, where interest in harness racing is keen, is high on his list of priorities.
"We're looking at Sweden," Galterio said. "We have some upcoming discussions with Swedish officials about doing something there."
Joe Faraldo, president of the Standardbred Owners Association of New York, said he hopes that the May 31 meeting in Sweden to discuss possible simulcasting to that country will be productive after previous efforts failed. He noted that the return of the $1 million Yonkers International Trot last season after a 20-year absence created strong interest in Sweden as well as in Norway and Denmark.
"I think maybe there is more of a willingness to talk and maybe we can bring them in," Faraldo said, looking ahead to the meeting in Sweden.
Australia and New Zealand also are viewed as fertile ground.
"It's a great market," said Alex Dadoyan, executive director of the Standardbred Owners Association of New York. "They send a lot of horses here and we have a lot of horsemen from Down Under."
Australia already accepts some simulcasting from Yonkers. "It's something we're looking to grow," Dadoyan said. "We definitely have hopes for down the road, but it's not imminent. There are other priorities for them right now. I think at some point it will happen eventually. I can't really predict when."
Asia also is of interest. "A lot of money is wagered there," Faraldo said.
Faraldo's attitude is that almost everything needs to be in play. "We're looking to grow the global market," he said. "This is business, and Yonkers is open for business."
Officials at Yonkers and France's Pari Mutuel Urbain engaged in several weeks of testing to make sure that the technology would support the commingling of win and show pools only. The place bet does not exist in France.
"There are certain things to overcome when you're 6,000 miles away," Galterio said.
But they believe they have cleared all hurdles as they prepare for commingling that will involve 20 cards and 111 races. Thirteen of those will feature Tuesday matinees, six will occur on Sunday, and another on Saturday, Oct. 15, with the International Trot as the centerpiece.
The agreement with the PMU, which extends through the end of the year, will be evaluated on an annual basis. At the least, this is a significant experiment for an industry that would welcome a lift in any form.
"It would be a good example of how technically you could do it," Galterio said.
He also acknowledged that it remains to be seen how much of an impact commingling will have on wagering. He conceded that it may be difficult to persuade other countries to follow France's lead. Yonkers first began simulcasting to France in November, 2014.
"It still has to do with governing bodies and how much they are willing to take out of their pools to send to some other country," Galterio said.
Commingling with France creates the possibility of heftier returns for those who regularly wager on races at Yonkers. And there is the hope that it might rekindle interest in those who looked elsewhere to wager after becoming discouraged by payouts that are often low at the half-mile oval. Trotting races being simulcast to France — pacers do not appeal to the French — are contested beyond a mile for the sake of that fan base.
"It could have a real positive impact on horseplayers here in America," Dadoyan said. "All things being equal, a bigger pool is better than a smaller pool. This has the potential to open up opportunities for people who follow the races at Yonkers."
He cited as an example the differing views on the mare Bee A Magician when she competed in the International Trot last year at Yonkers as part of its effort to draw more attention overseas to its larger program.
Bee A Magician, a popular horse locally, was listed as the morning-line favorite for the talent-laden International. Bettors at Yonkers made her a heavy favorite by the time the field lined up behind the starting gate. In fact, she offered such a minimal return that it was hard to justify betting her to win against such high-caliber competition, an element that may well have discouraged serious handicappers.
In France, meanwhile, horseplayers wagering through the PMU took a very different view of Bee A Magician. They saw her as an also-ran and ultimately proved to be correct. Had the pools been commingled, those in the U.S. who were dissuaded by Bee A Magician's poor odds locally might well have been persuaded to play, fattening the handle.
Everyone involved noted that there are many unknowns with commingling and how horseplayers everywhere will respond. They also warn it is not a panacea for the sport, even if simulcasting and commingling can be expanded. The vast time difference remains an issue that simply cannot be overcome on a regular basis.
Dadoyan said of commingling with France, "It's not changing the world, no. But it's certainly a positive step. It will be interesting to see how it affects the bettor here. If pools are doubled or tripled and there is more value than in the past, maybe it would encourage more people to follow the races. And that's what everyone is trying to do, get more people engaged."