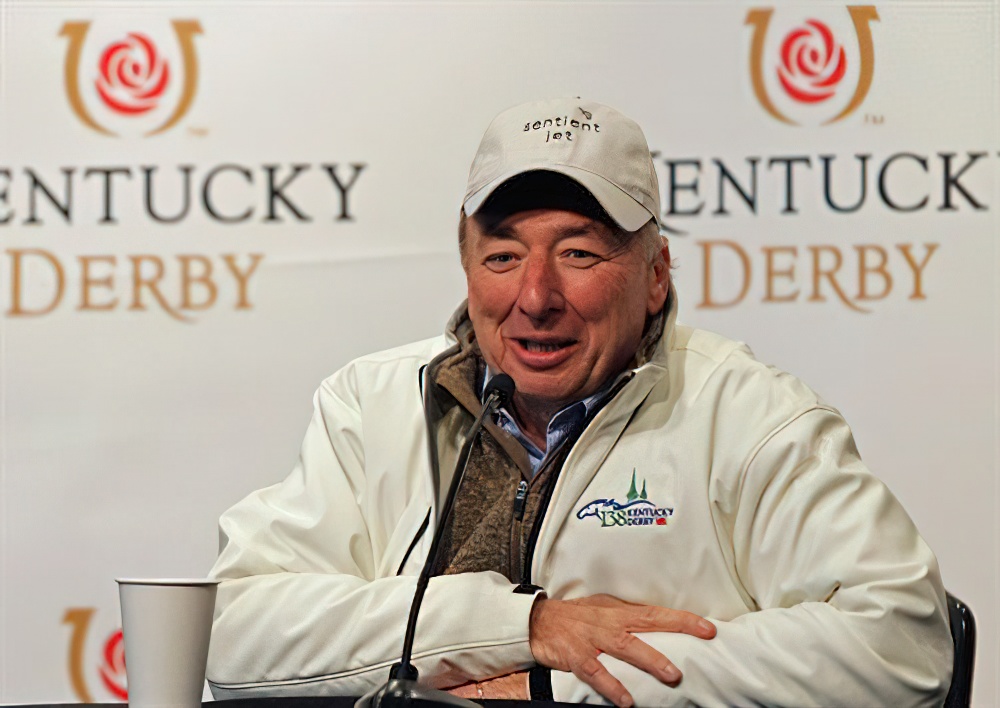 From Harness Racing to Two-Time Derby Winner
Long before he made his fortune and twice won the Kentucky Derby, owner Paul Reddam hung out at his hometown track, Windsor Raceway, and owned standardbreds at Greenwood while studying at the University of Toronto.
by Bob Duff
** Edited excerpts from a feature originally published in June 21, 2012 issue of The Canadian Sportsman.
Some 37 years before winning yesterday's Kentucky Derby with Nyquist, owner Paul Reddam's first foray into horse racing involved a standardbred acquired while he was a student at the University of Toronto.
"The first horse that I owned a piece of was in 1979 when I was still living in Toronto," Reddam said. "I was part of a claim of a horse, a standardbred at Greenwood."
The horse was a pacer called Bred Hanover, but his lines didn't live up to his name.
"Not that well," the Windsor, ON-born Reddam said when asked how the horse fared on the racetrack.
Was he the least bit deterred about future investment into the sport?
"No," Reddam said emphatically. "When you get the bug, you get the bug."
Reddam became the face of horse racing in 2012 after his three-year-old colt I'll Have Another captured the Kentucky Derby and Preakness Stakes before the colt was scratched the day before the Belmont Stakes due to a tendon injury in his left front leg resulted in the horse being retired to stud.
Saturday (May 7) at Churchill Downs, the same connections that gave the world I'll Have Another — Reddam, plus trainer Doug O'Neill and jockey Mario Gutierrez — delivered a second Derby triumph when favored Nyquist (2-1) remained undefeated in eight lifetime starts. Nyquist finished one-and-a-quarter lengths ahead of second choice Exaggerator (5-1).
Reddam owns a PhD in philosophy, and when you think about it, could there be better sources to try and seek answers to the ups and downs of horse racing than the works of Plato, Aristotle and Descartes?
After I'll Have Another won the Derby, Reddam quoted the German philosopher Ludwig Wittgenstein. "Ludwig Wittgenstein said, 'After all the philosophical problems have been solved, nothing of importance will have been accomplished,'" Reddam said. "So we got into horse racing."
Actually, he was into horse racing long before Reddam turned to philosophizing.
"I used to go to Windsor Raceway when I was in high school," Reddam said. "My friend Carlo Fisco was a groom at Windsor and I got to know a couple of the drivers and trainers."
The route Reddam originally chose for his life was far removed from the excitement and risk of horse racing. After graduating from the University of Windsor with a bachelor's degree in psychology, he left the city to study philosophy at the University of Toronto.
"I got my master's (degree) at Toronto and started my doctorate there," Reddam said. "One of my professors was also teaching at USC and I went out there for a visit in the winter of 1979. He said to me, 'Why don't you study out here?' Well, winter in Southern California is a lot nicer than winter in Toronto, so it didn't take much convincing to get me to stay."
California became and remains Reddam's home. He lives in Sunset Beach, CA with his wife Zillah and stepdaughter Chanel and, for a time, taught philosophy at Cal-State L.A.
Then, this professor of logic made what many would view as a very illogical choice: He gave up his teaching career. "I messed around a bit with syndicating standardbreds and then went into the mortgage business," Reddam said.
He started a mortgage loan company called SL Funding with his father John, who still calls Windsor home. After they sold that business, in 1995 Paul started up DiTech.com, an Internet mortgage company. Four years later, he sold that company to General Motors for more than $200 million. Today, he serves as president of CashCall, a finance lending company based in Fountain Valley, CA that has faced a number of lawsuits in recent years for allegedly violating consumer protection laws.
Reddam, 60, got into the thoroughbred racing game in 1988, claiming a thoroughbred named Ocean Warrior.
Besides his interests in thoroughbred racing, Reddam also once campaigned a thriving stable of harness racing horses.
Today, he's completely out of the harness game, though, for years, he raced standardbreds at Windsor Raceway with trainer Randy Fulmer.
Throughout I'll Have Another's journey, Reddam was a positive source of energy for horse racing, giving much of his time to promoting the game. "I think that I have a responsibility to not be a jerk," Reddam said of his role during their magical run that ended so disappointingly. "Hopefully, that comes somewhat naturally, though some would disagree.
"If the horse were to have won (the Triple Crown), of course it's a big national story and spotlight. I would like to cast what we do in a positive and fair light. I hope that to the extent that I'm supposed to be the ambassador, that I can fill that role."
Even when they announced the end of the dream, there was a positive for the sport in that it displayed to outsiders that even with such a monumental opportunity in front of them, I'll Have Another's team still put the horse's welfare ahead of their chance to become legendary.
The true heartbreak for Reddam during his Triple Crown run was that he wasn't able to share it with two of the people closest to him – his mother Grace and brother Peter, both of whom passed away before Paul's moment of glory arrived.
Peter Reddam, a Windsor dentist who also owned standardbreds that raced at Windsor, died nearly eight years ago after a brief bout with cancer. "He was someone I could talk about the horses with, what our strategy should be," Paul said. "What do you think of this horse, or that horse? He was quite an influence.
"My brother and my mother were both huge racing fans. My dad used to tell me how my mother would see one of our races on TV, and she would be so excited, she would just bounce up and down almost to the ceiling. I thought that was a lot of hyperbole. I was visiting them years ago and was home when we were racing one. I saw it and I couldn't believe it.
"It's in one way sad that they're not here to see this, but in another way, naturally I think they're looking down on it."
As far as not winning the Triple Crown, naturally, Reddam is philosophical about the loss, noting that it had been his lifetime dream to win the Kentucky Derby, so in that sense, he's actually ahead of the game.
"I've just kind of tried to deal with the present," Reddam said. "Even winning the Kentucky Derby doesn't totally seem real in a certain way. I've had to go home and watch the race a few times and say, 'Oh yeah, that did happen.'
"I am very fortunate to have been in this position."
Today, he is even more fortunate as a two-time Derby winner.