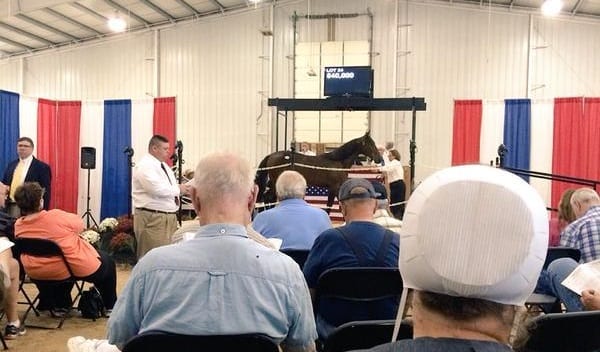 Ohio Selected Jug Sale Up 6.5 Percent
By Bill Finley
Photo by Jessica Schroeder (@HrnssRcngJess)
SUNBURY, OH – Picking up where it left off last year, the Ohio Selected Jug Sale proved to be a winner again yesterday as it showed a 6.5 percent increase off of the big numbers it posted in 2014.
Thanks to the advent of casino gaming at the Ohio tracks, the sale was brought back last year after a four-year hiatus and it exceeded all expectations, with horses selling for six figures and the average topping $16,000. With a bigger supply (there were 262 horses in the catalogue) and with some feeling it would be almost impossible to top last year's sale, some were mildly pessimistic entering Jug Sale 2015. But it turns out that there was nothing to be worried about as the average price rose 6.5 percent to $17,347.
"We ended up selling two for over $100,000 and sold a lot of horses in the 25 to 50 price range, so I was really pleased," sales manager Randy Manges said. "The middle was real strong. I am relieved, but not surprised. I thought and hoped we'd be up a little bit. I knew we weren't going to be up a lot and we weren't, but I was real pleased with the sale. I am always pleased with a sale when the middle is strong and the middle here was strong."
The sale topper was Hip 219, a Big Bad John colt named Dancin Rebel. A half-brother to millionaire Dancin Yankee, he brought $112,000 and was purchased by Melanie Wrenn. The colt was sold by Walnut Hall Limited, Agent.
Placing second was the Dejarmbro colt Stormy Kromer, who sold for $100,000. The buyer was Peter Wrenn and the consignor was Winterwood Farm, Agent.
"I had a couple of people, partners from Michigan, and we decided to jump in and buy some nice babies," Wrenn said. "This was one of our better picks, so we decided to go in on it. Honestly, I was hoping I would get the colt for 65-75, but I knew also that some other people were looking at the horse. I was hesitating toward the end. I almost didn't make the last bid."
Among sires, the stars were the pride of Hickory Lane Farm, Dejarmbro and McArdle. McArdle led all pacing sires in terms of average price per yearling and Dejarmbro led all trotting sires in that category among horses that were represented by at least five horses in the sale.
"I thought the sale held up real good, especially toward the end," said Hickory Lane's Kevin Greenfield. "I was very happy with my sale. The McArdles were outstanding. We've all worked hard, including my staff, to get to this point and I am pleased with the results. It's been a work in progress, but I am very pleased with what happened today.
"With McArdle, people knew this stallion is the real deal. He's been a great value to people in Ohio and it might be time to me to raise his stud fee. He's been one of those unsung heroes for a long time. He's had 20, 25 foals a year (before he arrived in Ohio) and was going up against Somebeachsomewhere, Well Said, Art Major and he has had colts and fillies that have beaten them. I think everybody realizes what he can do."