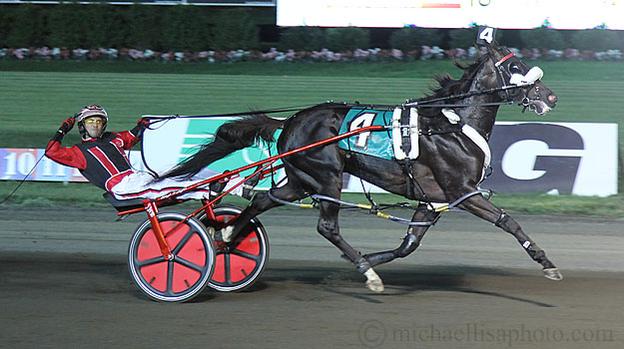 There's No Wiggle Room to This Debate: He's the Best
By Bill Finley
EAST RUTHERFORD, NJ – Another race. Another chapter. Another success story.
The Wiggle It Jiggleit victory tour made a stop in the swamps of New Jersey last night and the result was the biggest win to date in the career of this remarkable, over-achieving gelding. With Montrell Teague driving for his father, owner George Teague Jr., Wiggle It Jiggleit won last night's Crawford Farms Meadowlands Pace by 1 3/4 lengths over Dude's The Man.
The winning time was 1:47.4 and he paid $2.80.
"This was unbelievable," Montrell Teague said. "I've been waiting to get a big race like this under my belt. We tried to do it with Custard The Dragon, but it didn't work out. To do this for dad and my family, it's unbelievable."
It was a raucous and emotional scene in the winner's circle as the Teague entourage numbered a good 40 people, most of them wearing red Wiggle It Jiggleit t-shirts. Montrell Teague celebrated by pumping his fist a couple of times as his horse crossed the wire and then he jumped on the back of Wiggle Its's groom for a piggyback ride.
The horse is so good right now he makes things look easy.
As the field of ten left off the gate in the $706,000 race, Pace elim winner In The Arsenal sprinted to the lead. Montrell Teague allowed his horse to settle briefly before sprinting to the front before the first quarter mile. The driver backed down the pace and dared his rivals to come after him. With Tim Tetrick driving, Wakizashi Hanover, the only horse to ever beat Wiggle It, drew alongside on the far turn, and it appeared that the Meadowlands Pace was going to turn into a horse-race.
Instead, Wiggle It Jiggleit looked his rival in the eye and said adios amigo.
"When I was backing down the fractions like that I wasn't too worried," Montrell Teague said. "I was dictating the whole pace and I was going to back things down as much as I could. In the last turn I waited a little bit and popped the earplugs and he took off like a rocket."
George Teague said Wiggle It Jiggleit is even better now that he has made an equipment change. After the gelding lost in the North America Cup, Montrell Teague told his father that the horse was having problems seeing his rivals. They went with cut-out blinkers that allowed him to better see any opposition that might arise in the stretch.
"I dropped the ball," George Teague said. "He never should have lost the North America Cup. Montrell felt that in Canada he didn't have a shot at seeing that other horse. It took a little convincing on my part. We didn't change anything for the Hempt elims, but then we made the change for the final and he raced super at Pocono."
But all that is ancient history. The horse George Teague has said is better than Somebeachsomewhere is now 15 for 16 in his career and is clearly the star of one of the sport's marquee divisions, the 3-year-old male pacers.
"Every time this horse gets on the track my heart pounds like a drum," the elder Teague said. "I have raced (Meadowlands Pace winner) Southwind Lynx, Total Truth and Rainbow Blue and no horse has ever made me feel the way this one does."
Wakizashi Hanover finished third. Artspeak was sixth and In The Arsenal faded to finish eighth.
It's already been a long year for Wiggle It, who has come a long way from the days when he was pounding soft competition in the winter at the Meadowlands. But Teague said he has seen no signs of fatigue from the son of Mr Wiggles and he plans on continuing on. He confirmed last night that he will supplement the horse into the Cane Pace on August 8th at the Meadowlands. With last night's win he also became eligible to be supplemented to the Little Brown Jug. Teague said that as long as the horse is healthy come September he very much would like to go to Delaware, Ohio.
"He'll race in as many races as I can race him in," Teague said. "We're not going to run from any horse or any size track. We hope to go to Delaware, Ohio, where some didn't go because they were scared they would draw bad and scared of everything else. People might think that because he's a gelding I think differently with him. I don't. I just think he's a great horse and a horse like that should go to all the big races and compete against the very best."
The win moved Wiggle It Jiggleit's career earnings to $985,242 and the 1:47.4 was the fastest time of his career. The winning trainer was Clyde Francis, who shares the training duties with George Teague.