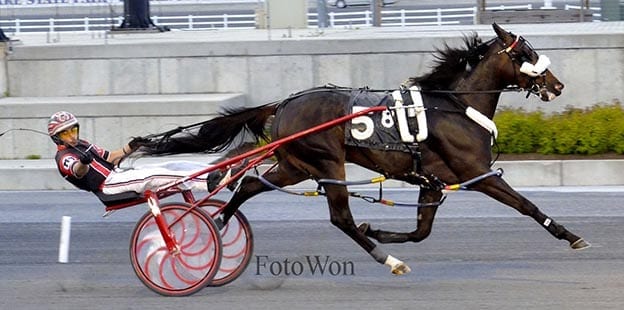 Teague on Wiggle It Jiggleit: Just Win, Baby
For all of his accomplishments, all of the hype and the comparisons to some of the greatest pacers ever, there's still one thing that Wiggle It Jiggleit has never done: record a sensationally fast mile.
Will it happen tonight in the Crawford Farms Meadowlands Pace? Owner George Teague Jr. really doesn't care if it does or not.
"I'm looking forward to racing for $700,000, not having a fast race," Teague said. "That's irrelevant to me. It's lot of fun if you can set records. But records don't feel nearly as good as money."
Wiggle It Jiggleit has a career mark of 1:48.2, set in the Hempt final at Pocono. That's not bad, but it doesn't compare to the world race record of 1:46.4, which was set by several horses. In fact, last year's Meadowlands Pace was won in 1:46.4 by He's Watching.
"If the opportunity comes (to set a record), sure I'd like that," Teague added. "But he's not staked to anything at Lexington, and that's where a lot of these real fast times come from. And he's usually the one that has to do the heavy lifting. Nobody is carrying him down there. If he ever gets a chance and gets the trip and someone cuts it out of there I am sure he's capable of doing it under the right circumstances."
Teague is more concerned with having his gelding last through the end of stakes season, a tall order considering that he started his year in January. While he wants to win every race, he's not sure a scorching mile will help his horse last.
"We are trying to do something that I'm not sure any other horse has done, gone from January through November and stay at the top level. So I'm going for the money not the records," he said.
Can he stay this good for that long?
"That's what makes this horse very unique and very special from some of the good ones I've had before," Teague said. "He's as fresh as the day he started racing in January and he had to start training in November to be ready in January. He's been going for a long time already, but when you see him in the stall he'll be bouncing around and feeling good. That's a big tribute to (driver) Montrell (Teague). Sometimes his wins, they look like training miles. He's not over-stressed. He's absolutely made for this. He looks as good as he ever has and is as sound as he's ever been. Not a single physical issue has popped up."
After the Meadowlands Pace elims, Teague said he thought his horse was better than the great Somebeachsomewhere. That may long remain a subject of debate, but a win tonight would no doubt bolster Teague's argument as The Meadowlands Pace is the only race Somebeachsomewhere ever lost. He was defeated in 2008 by Art Official. (Teague won the Pace in 2007 with Southwind Lynx).
It would seem that all Wiggle It Jiggleit has to do tonight is deliver his usual effort as he's already beaten most everyone in the field a bunch of times. Yet, Teague has never taken his opponents lightly and he went out of his way earlier this week to give credit to Artspeak.
"I saw Artspeak get parked in the North America Cup and go a huge mile and then I saw him come back and win the Hempt elims," Teague said. "And then he finished second to us (in the Hempt final) and everyone is writing him off. There are four or five horses in this race that deserve a lot of credit. One is Artspeak and I don't understand why everyone is jumping off his bandwagon. He didn't race his best last week and I'm sure there's a reason why."
This will be the sixth straight week that Wiggle It Jiggleit will have had a race, but he will get a short break afterward. Teague said he will either supplement into the Aug. 8 Cane at the Meadowlands or go in the Aug. 14 Carl Milstein Memorial at Northfield Park. With a Cane or Meadowlands Pace win he can supplement into the Little Brown Jug.
"I would love to go to the Little Brown Jug with him," Teague said. "I don't think a half-mile would faze him at all and I think it would be good for the sport."