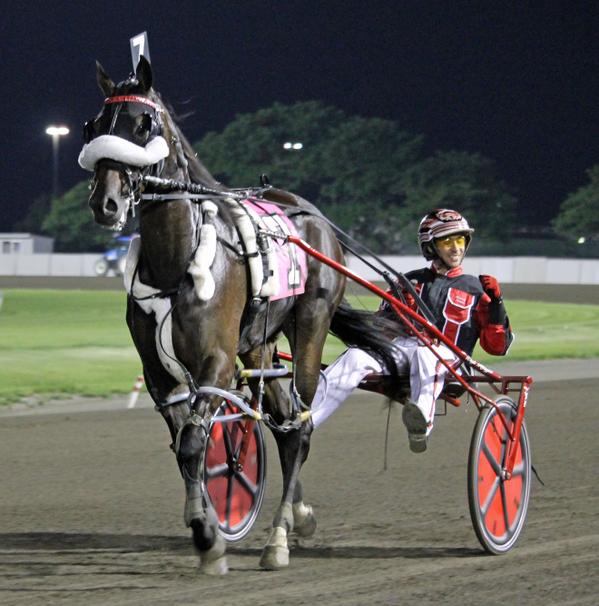 Another Big Win For Wiggle It as Teague Says His Gelding is Better Than Somebeachsomewhere
By Bill Finley
Giwner Photo
EAST RUTHERFORD, NJ – It's not bragging if you can back it up.
From Day One, owner George Teague Jr. has told anyone who will listen that his Wiggle It Jiggleit is a very special horse, the best he has ever trained. He was saying it way back when Wiggle It was merely winning small wintertime stakes, but the 3-year-old gelding has more than proven his connections right. But after last night's impressive win in a Crawford Farms Meadowlands Pace elimination race, Teague took his praise to the very highest level.
"I think he's got a step on (Somebeachsomewhere)," Teague said. "Don't print that. Then again, print it. I don't care. Compare the lines of those two, see which ones look the best. Somebeachsomewhere is the only one I've ever seen that might be as good as him. (Wiggle It Jiggleit) is the best horse I've ever had and the best horse I've ever seen race."
While this was just an elimination race and the time (1:48.4) was short of sensational, Wiggle It Jiggleit put in one of the very best efforts of his career. The horse normally storms off the gate, but on this night driver Montrell Teague elected to take him back to sixth in the seven-horse field. It at first seemed like a risky move, especially after he followed a dull 65-1 shot in Lyons Levi Lewis and was forced to go three-wide on the turn, but Wiggle It exploded in the stretch to win by a length over his North America Cup conqueror Wakizashi Hanover.
"I was looking at the program earlier and it kind of looked like the ones on the inside weren't going to leave as much, but the ones right beside me, they were going to float out there and try follow me," Montrell Teague said. "So I figured I'd try to switch it up on them and make them do another tactic. He can do it either way. That's one of the things that makes him a step ahead of a couple of the others."
Wakizashi Hanover was second, 4 1/4 lengths in front of Rock N' Roll World. The Iowa sensation Roland N Rock was last in his first career defeat and did not make the final.
Wiggle It Jiggleit will be heavily favored next week in the $706,000 final of the Crawford Farms Meadowlands Pace and , despite the confidence he has in his horse, George Teague is not going to take anything for granted.
"I feel good (about the final)," he said. "It never pays to get overconfident, but, look, if I said I wasn't confident I'd be lying to you. I've been confident in him since Day One. But there'll be good horses in there. In the Arsenal was very good tonight and Wakizashi Hanover was giant. He raced super."
Trained by Kelvin Harrison, In the Arsenal snapped a three-race losing streak to win the first of two elimination races. Aggressively driven by Brian Sears, he immediately went to the front and faced surprisingly little pressure. He coasted home to win by 1 ½ lengths over Dealt A Winner.
"He did everything he had to do and the easier we can make it, the better off we are," Sears said. The horse has been good all year. He's a sweetheart. I have no complaints. Each week he comes out and he's wringing his head, he's feeling good and that's all you can ask."
It will be trainer Kelvin Harrison's first Meadowlands Pace start in 23 years when he was third with Direct Flight, favored over Western Hanover.
"He's very competitive with anything on a mile track, but he's really slick on a half mile and as you can see he can get around any track," said Harrison. "After that quarter in 27.1 I knew they had to come and get him and I didn't think
they could him from there. He's an easy keeper he doesn't need to train hard. Just give him a week and stay nice and healthy and we'll go from there."
Artspeak was made the 1-2 favorite, but could do no better than fourth.
The field for the Crawford Farms Meadowlands Pace:
Post | Horse | Morning Line Odds
1. | Lyons Levi Lewis | 30-1
2. | Dude's The Man | 30-1
3. | Artspeak | 6-1
4. | Wiggle It Jiggleit | 4-5
5. | Rock N' Roll World | 50-1
6. | In The Arsenal | 3-1
7. | Revenge Shark | 30-1
8. | Dealt A Winner | 20-1
9. | Wakizashi Hanover | 4-1
10. | Badiou Hanover | 50-1