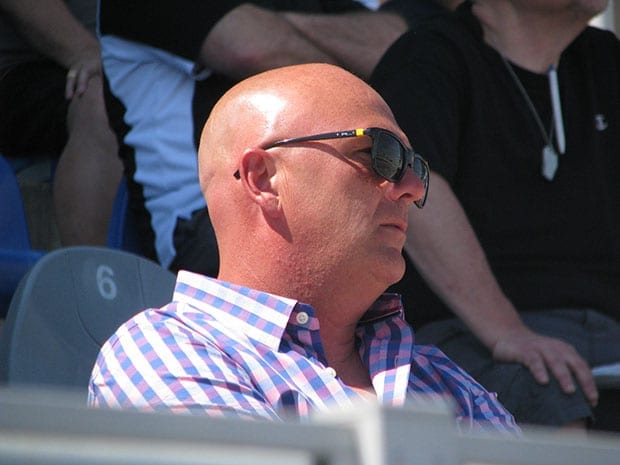 By Bill Finley
The owners of the mares Classic Martine and Frau Blucher have been informed that their horses will not be allowed to participate in any races at tracks owned by Jeff Gural unless they remove the horse from Chris Oakes' stable. The ownership groups, which, in both cases, include Oakes' wife Sue, have refused to do so.
Up until this year, Oakes was banned from overnight races at the Gural tracks but was allowed to participate in races that involved staking payments. But when Oakes was hit with a positive for the Class 3 drug Tripelennamine late last year by the Pennsylvania Harness Commission Gural extended the ban to all races.
Howard Taylor, the attorney representing Oakes and his owners, is basing his argument for a reversal of the decision on his belief that Gural makes up his rules as he goes along. He said two examples of that are his decision to allow Bob Bongiorno to race at the Meadowlands and the fact that Oakes-trainee Luck Be Withyou has been allowed to compete in the Graduate Series at the Gural-owned tracks, which are Vernon Downs, Tioga Downs and the Meadowlands.
"The inconsistency is unbelievable," Taylor said. "These are two great mares and he won't let them race. How do you pick and choose what horses can race and which ones cannot? Could it be that Jeff owns a horse in that class?"
Gural was the co-owner of top trotting mare Perfect Alliance, who has since been retired.
Gural countered that the only reason Luck Be Withyou, who is owned by John Craig, was allowed to race in the Graduate is because the racing office mistakenly accepted the entry.
"My race office people just missed it," Gural said. "I picked it up and asked the racing office what happened. They said that they had just made a mistake, just missed it. I thought it would look foolish to go back and tell the owner that he had to change trainers after we had already allowed Chris Oakes to race the horse. I basically made a decision that we screwed up and once we screwed up the best thing to do was to move on and allow that horse to race. I'm sorry we made a mistake and allowed the first horse to race but that doesn't mean I have to allow all the horses to race."
Taylor also argued that trainer Bob Bongiorno, who also had a positive in Pennsylvania, was being treated differently than Oakes. Gural has not banned Bongiorno, saying that he will not take any action against the trainer while his case is on appeal to the Pennsylvania commission. Oakes' suspension, Taylor notes, is also under appeal.
"I find it curious that Mr. Gural would then take this position with Chris Oakes that he has stated," Taylor wrote in a letter to attorney Marvin Newberg, who is representing Gural in the matter. "Mr. Oakes has also filed an appeal in Pennsylvania for a positive that is equally benign to that issued to Mr. Bongiorno. It is clear that either Mr. Bongiorno IS receiving special treatment, or in the alternative that Mr. Oakes is being singled out for reasons not made clear."
"I have taken a lot of criticism about the the Bongiorno case," Gural admitted. "I met with Boingiorno and I asked (investigator) Brice (Cote) to investigate, as well, and we came to the conclusion that we would wait until after the appeal has run its course to make a decision. It's interesting how much criticism I have received and maybe that's because his daughter works for us and his son drives at our tracks, and I understand that. I can assure your Mr. Bongiorno is not going to get any special treatment and if he loses his appeal he can expect not to be allowed to participate at the Meadowlands for a while."
With there being few lucrative opportunities out there for older trotting mares, the Gural ban could prove to be costly for the Oakes horses. They will not be allowed to compete in such rich races as the Aug. 8, $175,000 Fresh Yankee at the Meadowlands, the Aug. 21, $175,000 Muscle Hill at Vernon Downs and the TVG series races.
Taylor said he would do whatever it takes to get the two Oakes trotters cleared to race at Gural's tracks.
"I believe that I do have grounds for a lawsuit as Chris has been allowed to race pay-ins at all Gural tracks," Taylor said. "I don't believe that Gural can justify his position in court and am willing to test the waters."
Gural continues to argue that the sport must clean up its act in order to prosper and pointed to the case of Traceur Hanover to help make his point. After the horse won a Breeders Crown race last year at the Meadowlands he tested positive for cobalt for trainer Corey Johnson. Since the incident the horse was turned over to trainer Normand Bardier Jr. and has been unplaced in all three starts this year.
"Nobody is commenting on Traceur Hanover," Gural said. "He was the 2-year-old Breeders Crown champion when he tested positive for cobalt after winning that race and with a new trainer and, I assume not using cobalt and whatever else they might have been using, seems to be a pretty mediocre horse. Our position is the correct one. It's not fair that this horse won the Breeders Crown and, now, mysteriously is uncompetitive.
"People can say whatever they want. The reality is I can't fill our races. It would be a lot easier to let the drug guys race and a lot of people say I should. It's costing me a lot of money to have these short fields, but I feel that any owner who feels it's ok to put God knows what in their horses in order to win a race has no place in this sport."