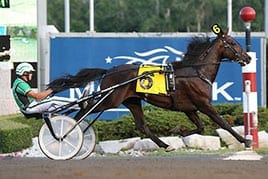 Returning to the racetrack after being sidelined with an ulcer, Sebastian K is the biggest name among the many who will qualify this morning at the Meadowlands. Eighteen qualifiers are scheduled, 15 of them for 2-year-olds.
Nothing has gone right for the Swedish import this year. He was scheduled to qualify earlier this year but had a setback when coming down with an ulcer. He has not started since Nov. 29.
"With his stomach everything looks fine," assistant trainer Bernie Noren said. "He is much better now."
Noren said the 9-year-old by Korean will have just one qualifier, a formula that worked to perfection last year as he won his first pari-mutuel start, an elim for the Cutler Memorial in 1:50.1.
"He just needs one qualifier," Noren said.
"He's been training hard at home and he's an older horse. Qualifiers are overrated."
Noren said the stable will decided on Sebastian K's racing schedule after the qualifier and listed the two possibilities for his first start as the June 26 TVG Trot at the Meadowlands or a July 4 Invitational at Pocono.
Sebastian K is the fastest trotter in history with a mark of 1:49. Noren is so encouraged with the way he has been training that he feels he will go even faster this year.
"He's trained much better than he did last year," he said. "I expect him to be as good as he was last year if not better. He looks better this year than he did last year. Hopefully, we can break that 49 record. I really hope he goes in under 49 this year."