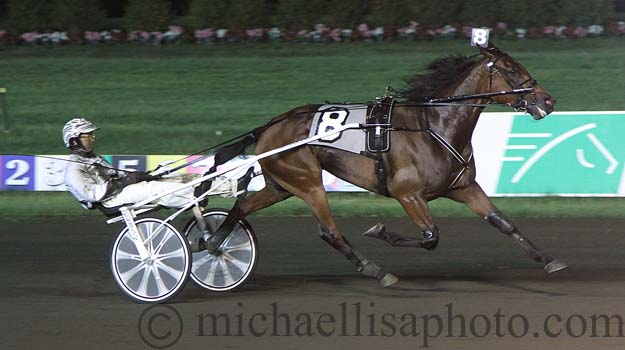 By Bill Finley
All the elements are in place not just for a good race but a great race. Today's $150,000 Maxie Lee Memorial at Chester includes a Hambletonian winner, a Horse of the Year, last year's champion 3-year-old male trotter, last year's champion older trotting mare and more. But most are billing it as a showdown between Bee A Magician and Father Patrick, and with good reason. The two have never met, one is a female, one is a male, and both are super horses.
Bee A Magician, the 2013 Horse of the Year, will likely be the favorite, something that was unthinkable in a race of this caliber after she won just four of 17 starts last year. But she's come back firing on all cylinders at age five and is 3 for 3, with all her victories this year coming against males.
"She's not only tight, but she's on her game," trainer Nifty Norman said. "I think she's going to get a lot of respect."
Bee A Magician is coming off a two-length win in the Cutler last week at the Meadowlands, where she beat the Elitlopp bound Wind Of the North. It was still another sign that this is not the same horse that lost 13 races last year.
"I don't know if it was the traveling or what the year before took out of her," Norman said. "The bottom line is I think the expectations were what hurt her the most. She was so good at three and everyone expected her to do it again. Physically she just wasn't as strong last year as she is now."
Having drawn post three, inside of Father Patrick (post five), Bee A Magician, who will be driven by Brian Sears, figures to be able to dictate how the race plays out on the track. Norman believes that could be a big advantage.
"I think so, it is a plus," he said. "The three is probably the optimum draw at Chester. The draw is a big deal there. The inside is definitely not the best draw, but where she is, just off the rail, is a good spot and Brian will get to dictate what he wants to do from there. I am sure Yannick (Gingras) will be on the move with Father Patrick and maybe Classic Martine will be also or someone else. There will be some action early, but Brian will be able to do what he wants to do."
While Bee A Magician has been busy beating up on the boys, Father Patrick has not only been training but breeding, a rare dual duty for a top U.S. horse. He has had three qualifiers this year and trainer Jimmy Takter said his horse will have his mind on his business, not on his sex life.
But the fact that this will be Father Patrick's first start this year could be another advantage for the mare, Bee A Magician.
"On paper, yes you would say so, that she has that advantage over him," Norman said. "But you know how Jimmy is. He will have that horse right on his toes. But there's nothing like racing to get horse tight and ready."
Norman emphasized that no one should overlook the other mare in the race, Classic Martine. She, and not Bee A Magician, won her divisional Dan Patch Award last year with nine wins from 18 starts. She's two for three this year with a win last out against males in an Open at Pocono.
"I think she is getting overlooked," Norman said. "Basically, we couldn't deal with her last year and there's no reason to think she won't be tough again."
The field also includes Lindy's Tru Grit, DW's NY Yank, 2012 Hambletonian winner Market Share, Melady's Monet and Bourbon Bay. The Chester card also includes the Jerry Taylor Invitational for older male pacers and the Betsy Ross Invitational for older female pacers.