Nancy Johansson says that all systems are go for the 2015 season as her reigning Horse of the Year JK She'salady is getting ready to kick off her 3-year-old campaign.
She took the first step toward what figures to be many trips to the winner's circle this year when she won a qualifier yesterday morning at the Meadowlands in 1:53.3. (See page 2 story)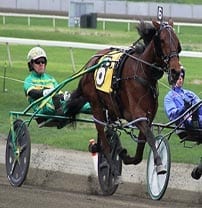 "She trained in 1:54 at the Meadowlands last Saturday morning," Johansson said earlier this week, before yesterday's qualifier. "She handled it very well and ate all four pounds of her feed."
Johansson says that she plans to get two qualifiers into the sophomore pacing lass before dropping her in a pari-mutuel race, either at Tioga or the Meadowlands in late May.
"Perfect" is the word to describe for the filly's first season as she mowed down her rivals in a dozen races, but Johansson realizes that the slate is clean in 2015. She's been raised in the racing business and realizes that anything can happen when the starter says "Go."
"This is a very good group of fillies and there might be some that matured a lot over the winter," she concedes.
Johansson is aware of the pressure that goes with having an unbeaten horse.
"I focus on winning races, not losing races," she emphasizes. "It's our job to keep her fit, sound, and healthy. But everyone knows you need a little luck, too."
JK She'salady did not begin her freshman season with perfection. She was third and second, respectively, in her first two non-betting baby races, beaten by Bedroom Confessions.
When JK She'salady made her pari-mutuel debut, things changed. Sent off at 4-1 on July 5 at the Meadowlands, she came from off the pace to nip Bedroom Confessions in 1:53.1 with her final quarter clocked in :26.3.
Two weeks later the two fillies tangled again and Johansson's filly was even more impressive. Once again she came from off the pace with a final quarter clocked in as astonishing :26 to again beat Bedroom Confessions.
From that point on in 2015, no other pacer got closer than a length to her at the finish. Her female foes fell like autumn leaves.
In her third start in the Geers at Tioga in early August, she sat fifth, almost seven lengths back at the half in :58.4. Then driver Yannick Gingras pointed her to the front end and JK She'salady paced a back half right at 54 seconds to win in 1:54.
The bay filly loved Mohawk, winning the Eternal Camnation and the elim and final of the She's a Great Lady by a total of 18-1/2 lengths.
Johansson also marvels at her champ's Breeders Crown elim and final in November when she picked up a new driver in Tim Tetrick and defeated Sassa Hanover.
"Sassa Hanover is a really good filly," Johansson says. "My filly came first up and wore her down in the elim and then Sassa Hanover tried to come first up against her in the final but Jk She'salady won both times."
(Sassa Hanover was in the same qualifier yesterday as JK She'salady and finished sixth) Johansson says that the queen of pacing lasses is "a bit o a diva" and always wants to be the leader of the pack when she's on the track.
This season the champ's trainer is aiming her at the major Grand Circuit events and doesn't plans to start the filly in any half-mile tracks in New York Sires stakes. She is also not staked to the Jugette.
JK Sheslady is not the first unbeaten 2-year-old to reign as Horse of the Year. That honor also belongs to Bret Hanover and Niatross.
Bret Hanover is still the poster child in this exclusive category as he won 24 races without a loss as a juvenile in 1964. In early 1965 he resumed his winning ways and a national sports magazine, which then cared about harness racing, featured Bret win an article titled, "Can't Anyone Beat This Horse?"
Adios Vic answered that affirmatively after Bret's streak has been extended to 35 straight wins. Nothing was unlucky about 13 starts for Niatross that season as he won all of his freshman races and was voted Horse of the Year in 1979. He fell from the ranks of the unbeaten—-quite literally— the following season at Saratoga when he went over the inside hub rail. Niatross rebounded to win the Meadowlands Pace, Jug, and usher in a new era of speed with a 1:49.1 time trial at Lexington.
In 1986, Jate Lobell went unbeaten in his 15 starts as a 2-year-old. Trainer-driver Mark O'Mara felt the pressure as he prepped the compact youngster for his sophomore season in 1987. After all, Jate's 1:53 romp over a rain-splashed surface at The Red Mile was heralded by no less than Delvin Miller as one of the greatest efforts ever by a freshman pacer. The harness racing world was expecting unbelievable deeds from Jate in 1987.
"Horses get a lot bigger from age 2 to 3," said O'Mara later, and he was referring to reputation, not physical growth.
O'Mara knew that unbeaten horses attain an aura and that many people hold unrealistic expectations for such rare individuals.
"When Jate was a 2-year-old, we just took it one race at a time," recalls O'Mara. "We later realized that it would be nice to keep him unbeaten. Before his 3-year-old season, Jate was expected to be anything and everything. That pressure did weigh on me to some degree, but Joe McCluskey, Jate's owner, was really good about things. Still, as we started the 1987 season, we were holding our breath a bit."
Jate won 19 in a row before his streak came to an end when Run The Table upset him at the Meadowlands. Then Jate got revenge by winning the $500,000 New Jersey Classic.
Jate Lobell had a wonderful 3-year-old season, winning more than $1.6 million and compiling a 15-7-2 slate in 25 tries. He was named champion sophomore colt pacer of the year. It was season that most trainers and drivers would count as a career highlight. But Jate Lobell still got beaten 10 times along the way.
JK She'salady starts the 2015 season with a target on her back, but she also starts with a fighting spirit and a first-class team to manage her. She is certainly not about to relinquish her throne without a fight.