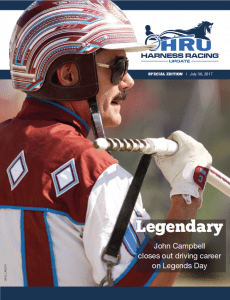 Welcome to Harness Racing Update, a harness racing publication that provides thorough and provocative coverage of the sport. HRU is dedicated to following the sport like no one else is, with comprehensive North American coverage delivered to you within hours of the horses crossing the finish line.
Our goal is to be the standardbred industry's leading information source for owners, breeders, drivers, trainers, racing executives and fans. HRU is published in PDF format and distributed by Internet link to industry professionals around the world, allowing them to keep up with everything that is going on in harness racing.
HRU covers the races, the sales and the industry and delivers commentary from some of the sport's most astute voices, such as Dean Towers, Dean Hoffman, Dave Briggs and Bill Finley. We stay on top of what is happening overseas. We bring you results and entries in an easy-to-follow format where all the information you need will be at your fingertips. We have expert handicapping analysis of the sport's major races. For the sport's biggest races, our on-line publication includes video replays.
Best of all, you get your news when you want it and not when the postman delivers it. Each edition arrives before your day begins. Don't start your day without it.
And, of course, Harness Racing Update is free.
Exclusive HRU subscriber content:
John Campbell – Special Edition