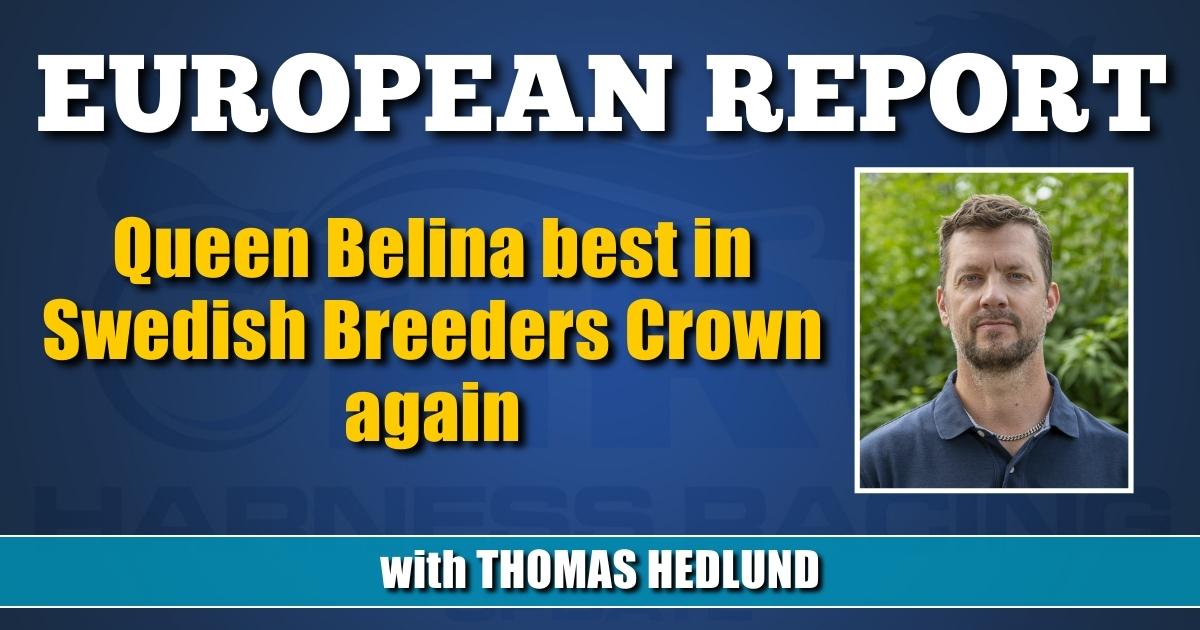 Queen Belina best in Swedish Breeders Crown again
by Thomas Hedlund
Jörgen Westholm-trained Queen Belina (Nuncio) claimed her second title in the Swedish Breeders Crown as she took a safe wire-to-wire win in the $300,000 Breeders final for 4-year-old mares on Saturday afternoon (Nov. 18) at Eskilstuna racetrack.
Queen Belina proved best among the 3-year-old fillies in the BC final last year and when trainer Westholm steered his horse in this year's race, it ended with victory. After a quick start, Westholm hit the lead with Queen Belina and the duo stayed in that position without being seriously challenged in a mile rate of 1:57.3 over 1.3 miles. Cabaret Artist had to attack three wide with one kilometer to go and held well as runner up ahead of first over trotter O'Mara Zon.
UPSET IN BC FINAL FOR 3-YEAR-OLD COLTS AND GELDINGS
Kriteriet winner Fame And Glory was the heavy favorite in the $300,000 Breeders Crown for 3-year-old colts and geldings and in mid-stretch it looked like Timo Nurmos' horse would capture another big trophy in Sweden. Fame And Glory bested leader Caviar From Mine in the last turn, but driver Björn Goop had to be very active when he realized that Stens Rubin (Readly Express) got space to sprint on the inside with 100 meters to go. Stens Rubin got his nose first at the wire and Johan Untersteiner, who had three weapons in the race, could see from beside that Erik Adielsson steered his horse to a big win in a mile rate of 1:58.1 over 1.3 miles.
Fame And Glory was beaten by a nose as second and Timo Nurmos' Nouri di Quattro was third.
HAGOORT IN TOP
Dutch trainer Paul Hagoort and driver Robin Bakker succeeded in the $150,000 Breeders Crown for 3-year-old-fillies with favorite Ester Degli Dei (Maharajah), who managed to keep the lead from post 1 which meant that Ester Degli Dei could relax on the front.
Bakker stepped on the gas at the end of the last turn and the opponents just saw the leading favorite leaving the rest of the gang. It was a 1:57.2 mile rate for Ester Degli Dei, who is bred in Italy. Oaks winner Adriatica claimed the second spot ahead of Ninetta Boko.
A FAIRYTALE FOR A FAIR DAY
An amateur trainer with rather few merits on the big stage became the happiest winner on Eskilstuna's Breeders Crown Day. Elisabeth Almheden's 4-year-old gelding A Fair Day (Maharajah) entered the $300,000 Breeders Crown final for 4-year-old colts and geldings after an impressive elimination win and from post 3 behind the gate, driver Oscar Ginman had his tactics clear: the front position.
A Fair Day opened quickly for the lead and Ginman seemed pretty confident in his position throughout the race. The home stretch became a pleasant journey for A Fair Day and Ginman and the duo landed in a mile rate of 1:55 over 1.3 miles.
Bedazzled Sox was second after a pocket trip and Game Brodde followed as third.