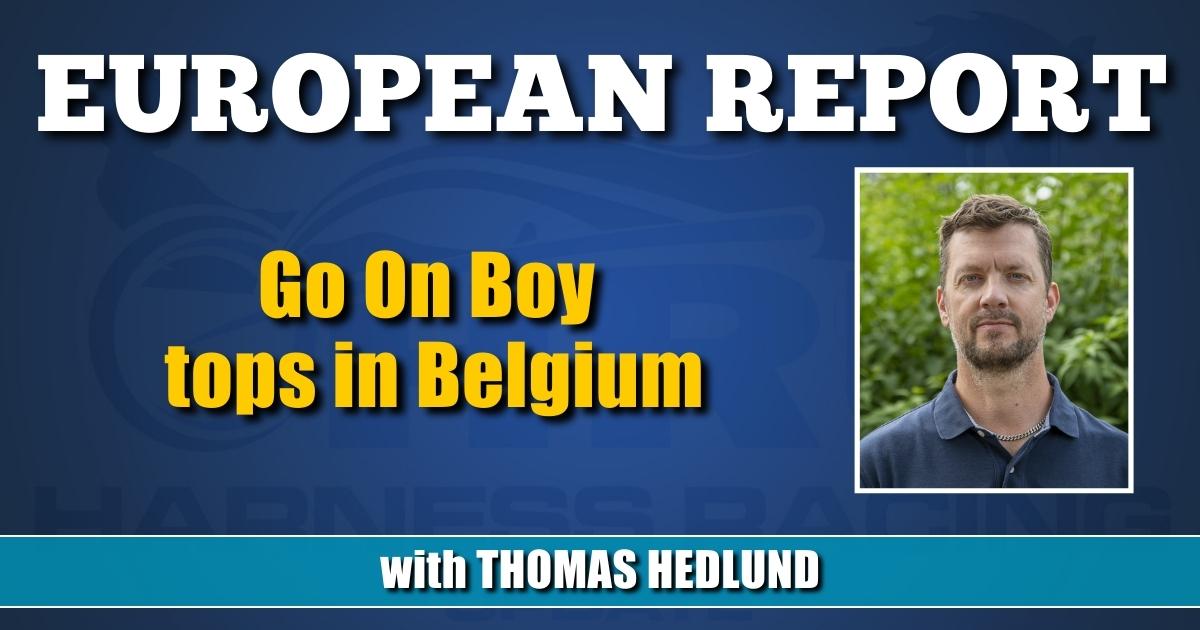 Go On Boy tops in Belgium
by Thomas Hedlund
Romain Derieux-trained Go On Boy (Password) crowned his career with a group 1 victory when the $160,000 Grand Prix de Wallonie was held in Mons, Belgium on Saturday (Sept. 23) afternoon.
The race in Belgium became a stretch battle between two French-bred trotters since first over horse Elie de Beaufour easily disarmed leader Stoletheshow mid-stretch. Go On Boy, who got cover from Elie de Beaufour with a mile to go in the 2,840 meters long event, could wait with his attack until the stretch and the two French horses battled side by side where Go On Boy had his nose first at the wire and won in a mile rate of 2:00.2.
Elie de Beaufour and Stoletheshow took the places behind the winner.
ITALIAN DERBY WINNER DIMITRI FERM BEST IN BOLOGNA
Bologna, Italy, played host to a 4-year-old race the $160,000 Gran Premio Continentale over 1.3 miles on Sunday (Sept. 24). Driver Andrea Farolfi sat behind Mauro Baroncini's Derby winner Dimitri Ferm and could use the half mile track's open stretch after a pocket trip behind leader Denver Gio.
Dimitri Ferm sprinted to a safe win in a mile rate of 1:58 and this was his second win for the season. The victory prior to Sunday's triumph came in a $15,000 race and he had not established his position as number one in the Italian 4-year-old crop, until Sunday.
Daniele Jet was runner up after a third inside trip and Diluca Mo was third.
The mares' division was a $70,000 event where Alessandro Gocciadoro totally dominated. Gocciadoro trained the four horses that ended up on top of the result list when Dali Prav (Donato Hanover) held on to victory from the lead for driver Rene Legati. Daughter As was second, Dea Grif third and Dea Sprint Bar fourth. Winner Dali Prav came home in 1:56.3.
BIG WIN FOR DUBOIS
Legendary French horseman, trainer/breeder/owner/driver, Jean-
Pierre Dubois owns 4-year-old Je M'Envole (Joyau d'Amour) who claimed a really big trophy at Vincennes on Sunday (Sept. 24) afternoon.
Monté race, the $250,000 Prix des Elites, ended in a great triumph for trainer/jockey Matthieu Mottier, who sat on the big favorite Jean Balthazar's outside with Je M'Envole and Mottier's horse proved strongest in the stretch after a speedy race where the leader hit the third quarter of a mile in 1:22.4.
Je M'Envole won in a strong mile rate of 1:53.3 over 2,175 meters, Jean Balthazar was second and Jane Aimee third.