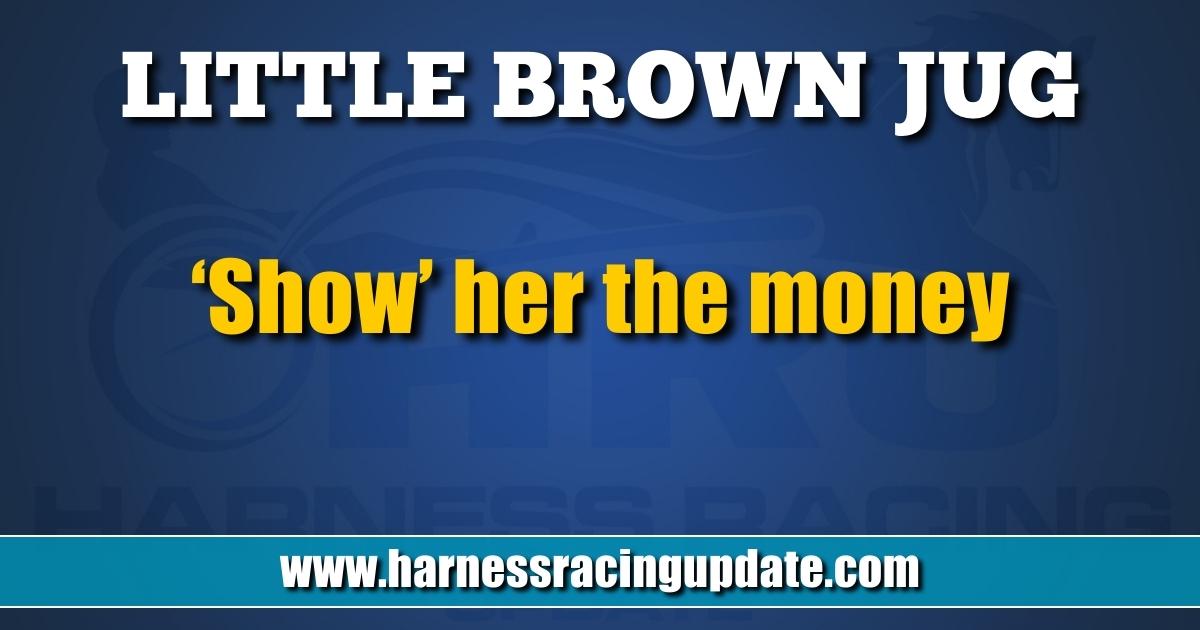 Linda Toscano trainee It's My Show wins the first $1 million Little Brown Jug.
by Nicole Kraft
Linda Toscano thought she was having a great day Wednesday (Sept. 20) when she and driver Scott Zeron combined to capture the $255,000 Jugette.
She had no idea how much better Thursday (Sept. 21) would be.
Toscano and Zeron combined forces yet again, this time joining with It's My Show to beat Seven Colors by a neck and capture the 78th Little Brown Jug, the first to ever offer a purse of $1 million.
It's My Show won in 1:49 at odds of 7-1. Ken Hanover was third.
Zeron joined Billy Haughton and David Miller as the only drivers to win the Jug and Jugette in the same year, having done so in 1974 and 2011, respectively.
The victory was Toscano's first in the Jug and made her the third trainer in history with such a double, following Haughton, who was also the trainer in 1974, and Ron Burke in 2021. She is also the third woman to win the race, following in the footsteps of Caroline Lyon and three-time winner Casie Coleman.
Toscano choked back tears as she accepted the gleaming Jug trophy, hugged her driver, and kissed her star pacer on the nose.
"This has been a pretty good week," she said with a grin. "This has been the race that's eluded me. And it's the race that I've wanted for so long."
It's My Show started his day in the third and toughest elimination heat, facing off against nemesis Cannibal, who had already beaten him twice in 2023. Cannibal topped his rival for the third straight time, beating It's My Show by nearly two lengths in 1:49.1.
Zeron was not sure they could bounce back.
"Honestly, when you lose the elimination, it almost feels like you've lost the whole day," Zeron said.
The first elimination went to Moment Is Here, driven by Tim Tetrick and trained by Bob McIntosh, with both Hall of Farmers seeking their first Jug win. Hungry Angel Boy and Blue Hunt also advanced.
David Miller appeared to take a step closer to his record-breaking sixth Jug when he steered Ken Hanover to a come-from-behind win in a stakes-record time of 1:48.4. Seven Colors and Thunder Hunter Joe also made the cut.
By finishing second, It's My Show earned post 5 in the final, and Zeron knew he had a challenge.
"Post position's everything in this race," Zeron said. "We needed some crazy things to happen in the final, and some crazy things did happen."
The craziness came from Moment Is Here and Cannibal fighting it out for the lead through the first three-quarters of the race, before both began to fade. Seven Colors sling-shotted off the final turn and looked to be on his way to victory.
Zeron, however, had other plans.
"Seven Colors had an even better trip than I did," Zeron said. "I tripped out my horse heading into the last turn, and he felt like a million dollars. I still didn't know until halfway down the stretch [what would happen].
"I had shivers down my spine when I knew I was winning."
The win caps a career year for Zeron, who captured all three of North America's million-dollar races: the Jug, the Hambletonian, and the North America Cup, which hits seven figures in Canadian funds.
It's My Show earned $450,000 for his Thursday efforts to make his lifetime bankroll more than $1.1 million for owners Richard and Joanne Young.
Jug officials dreamed of making the purse $1 million in time for the 75th anniversary in 2020, but the COVID-19 pandemic derailed many celebratory plans. That left them three years to achieve what many considered to be an essential milestone for the race many consider to be the most prestigious in pacing.
"Ten years ago, a million-dollar Jug would have been an absolute pipe dream," Jug publicity director Jay Wolf said.
Wolf said the purse funds came from sources including the Ohio Harness Horsemen's Association, race sponsors, and the state. It is part of a continuing effort, started with the passage of video lottery terminals in 2012, to make Ohio harness racing an industry leader.
"It has absolutely made Ohio the best state in the country to race in, and we're just glad we're in the heart of it," Wolf said.
The question remains whether the race can maintain its seven-figure feature, but Wolf said the commitment is there.
"The hard part is to convince people that this is a great investment in agriculture and tourism here in the state of Ohio," he said. "As soon as this race is over, we'll go to work for next year."