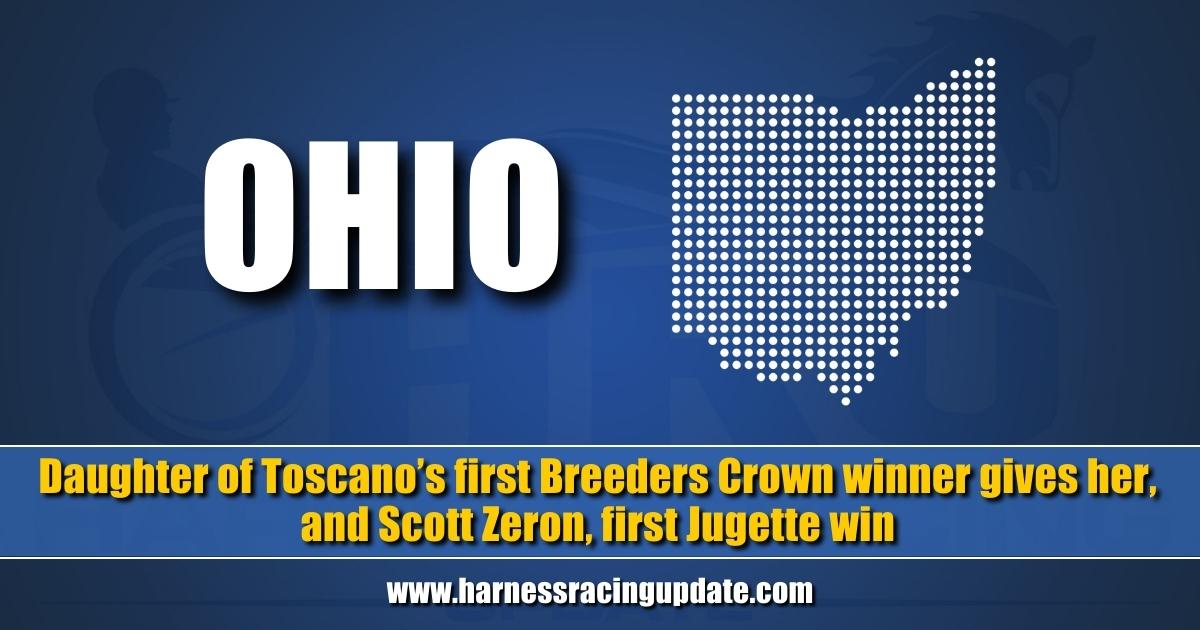 Daughter of Toscano's first Breeders Crown winner gives her, and Scott Zeron, first Jugette win
by Dave Briggs
Twenty-one years ago, 17 years before she became a Hall of Famer, trainer Linda Toscano won her first Breeders Crown with Molly Can Do It.
On Wednesday (Sept. 20) at the Delaware County Fairgrounds in Ohio, Toscano won her first Jugette with Molly Can Do It's daughter Ucandoit Blue Chip — a horse the trainer calls a complete clone of her mother.
"Molly's picture is in my office and you look at [Ucandoit Blue Chip] and it's like looking in a mirror," Toscano said.
The trainer said winning the Jugette for 3-year-old pacing fillies — which carried a total purse of $305,000 with the final going for $255,000 — was on her bucket list.
"I got beat by [a neck] in three heats with Sprig Hanover a lot of years ago," Toscano said of the 2008 Jugette. "It's one of those races that has eluded me."
Until Wednesday, thanks to two terrific steers from driver Scott Zeron.
Toscano was effusive in her praise for Zeron, who also won his first Jugette. The two have had quite a year together, that got even better on Thursday when they teamed up to win the Little Brown Jug with It's My Show.
In June, they teamed up to win the $1 million (Cdn) Pepsi North America Cup with sophomore pacing colt It's My Show. A few weeks ago, the tandem won a Pennsylvania Sires Stakes championship with Odds On Hail Mary and in June and July, they teamed up to win both the Zweig sophomore filly trot and Empire Breeders Championship with Sadie Hanover.
"Somehow, he puts them in the right place at the right time for me and he's got a clock in his head and I cannot say enough good things about the ride we've been on," Toscano said. "He does a great job for me."
On Wednesday, Zeron sat patiently in the pocket with Ucandoit Blue Chip in the final and out sprinted fellow elimination winner Zanatta (Joe Bongiorno) in the stretch to win.
When the final field was sent on their way, Zanatta protected her rail position forcing the eventual winner to sit in the pocket past the quarter in :27.4 and the half in :55.4. As the field went by the grandstand for the first time, Southwind Bella (Yannick Gingras) was the first to move, but could get no closer to the leader than third at the three-quarters in 1:22.4.
Zeron gave his cue to Ucandoit Blue Chip in the final turn and used a :27.3 last quarter to score a 1 ¾ length win in 1:50.2.
Ucandoit Blue Chip is a daughter of Keystone Velocity bred by Blue Chip Farms. She sold for $32,000 at the 2021 Standardbred Horse Sales Company's yearling sale. Ucandoit Blue Chip is the 11th foal out of Molly Can Do It. She was purchased by her owner Bill Elliott of Woodstock, ON. He still owns her solo.
"I looked at her and watched the video," Elliott said. "I went to the sale and looked at her. I remember that a gentleman from Ontario was looking at her and I said, 'You're interested in her?' He said, 'Yeah' and I said, 'You're just going to cost me money.' He asked how much I was going and I said, 'I'm buying her.' I knew she wasn't going to sell for $100,000, but I was taking her home and I knew I was buying her. I had spoken to Linda about training a couple of other horses and, when I bought her, I walked up and asked her if she'd take her and she said yes."
At the time, Toscano was trying to reduce the number of horses she trained.
"The mother is the only reason I have her because [Elliott] wandered around the sale that year and he said to me, 'Would you consider taking one?' and I said, 'Yes,'" Toscano said. "But, I've been trying these days to get my numbers down a little bit. When he said, 'I bought that filly out of Molly Can Do It, did you look at her?' and I said I did. He said, 'What do you think?' and I said that she's a clone for her mother. He goes, 'So, are you going to train her?' and I said, 'How can I not?'"
In the winner's circle, Elliott beamed. It was his first Jugette victory, too.
"It's a dream come true," Elliott said. "I've raised a horse that raced in the Jug [in 2005], a horse called With Anticipation, and I had some broodmares, but I've never raced a horse in the Jug myself. Actually, up until a month ago, I had a horse that was favored to win [the Jug] – I owned a part of Seven Colors. We sold him four or five weeks ago, otherwise I would have had one in both [races]."
As for Ucandoit Blue Chip, her owner is smitten.
"She's just beautiful, athletic," Elliott said. "It was funny, after we bought her and training down, Linda told me she didn't act like anything special. She just did what she had to do. Now, she's the same racing – she knows where the wire is. If you take a look at the races she's won, there's a lot of races where it looks like halfway through the stretch that she's first up, half-a-length back, but then all of a sudden in the last 50 feet she wins by a neck. She just knows what to do."
Toscano added, "She's starting to get stronger and she's starting to get confident in herself. She has the tactical speed and now she's finishing. This was a big feat today, so I'm thrilled with her."
Ucandoit Blue Chip now has a lifetime record of 6-3-2 in 14 starts and earnings of $372,734.