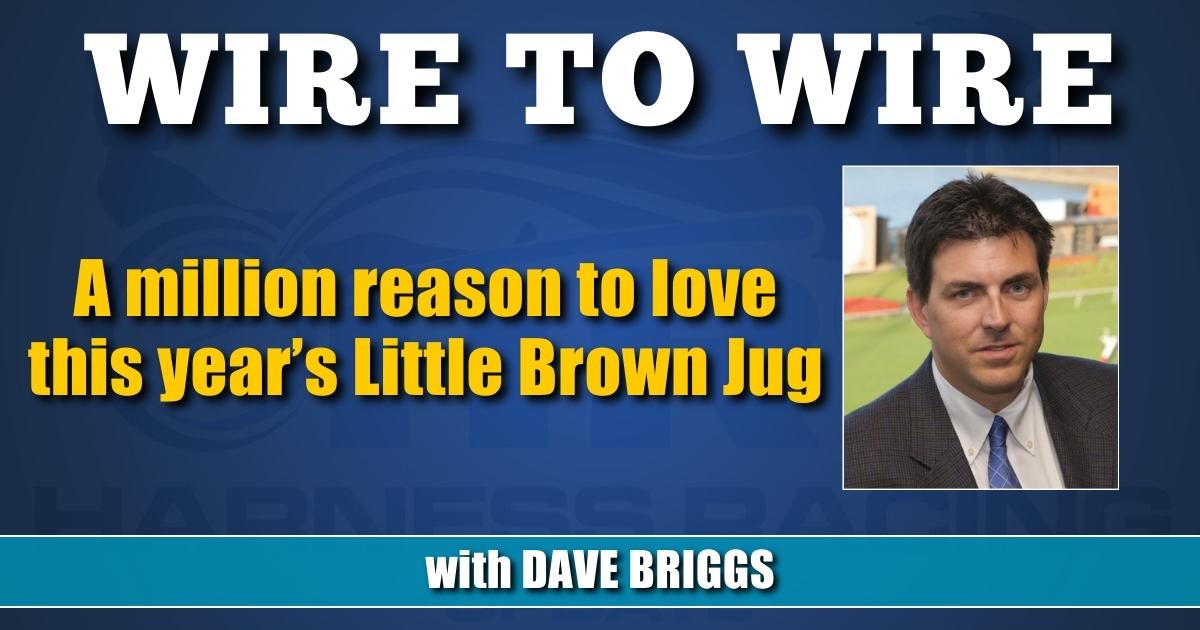 A million reason to love this year's Little Brown Jug
by Dave Briggs
Walking across the infield toward the Little Brown Jug winner's circle — her face equal parts disbelief and elation like someone that just won a million-dollar lottery — trainer Linda Toscano spotted her old boss, John Campbell, going the other way to the paddock.
"Well, how's your week going?" Campbell said grinning as he pulled Toscano into a warm hug. "I'm so happy for you."
For Toscano, who is already having a heck of a year, this was, indeed, the week of weeks.
In the span of 24 hours, she won both her first Jugette (with Ucandoit Blue Chip) on Wednesday (Sept. 20) and her first Jug (with It's My Show) on Thursday (Sept. 21).
Another first? She will always be the first trainer to win a Jug that carried a $1 million total purse ($850,000 final, three heats $50,000 apiece) in its 78 years.
The million-dollar purse is the reason Campbell, who retired from driving in 2017, was suited up for the first time since he and Foiled Again met fans at Shenandoah Downs in Virginia in 2019. Campbell has long advocated for the Jug to get to $1 million to drive entries and help sustain one of the world's greatest harness racing traditions. To celebrate the occasion, he donned the maroon, blue and white and led the post parade to a roar of approval from the Delaware faithful. They know and appreciate their history in Delaware and love their traditions.
"I love this place," Toscano said. "I love everything about this place. I say all the time that the people showing up here are showing up for racing. We play to an empty grandstand a lot, so it's kind of fun to play in front of a crowd and a crowd that likes racing."
Thursday marked the first sign in years that an event that had been showing its age like an over-loved teddy bear finally appears to be headed for refurbishment. We're all better for it.
The million-dollar purse isn't guaranteed for next year. But anyone that witnessed this year's race needs to hope to high heaven the political forces in Ohio that made this year's seven-figure purse happen can make this a more permanent arrangement. Better yet, Ohio people, contact your representatives.
After all, there were three Jug heats for the first time in 10 years and the excitement was palpable.
No more so than with Toscano who is only the third trainer to win the Jug and Jugette in the same year following Billy Haughton in 1974 with Armbro Omaha (Jug) and Handle With Care (Jugette) and Ron Burke in 2021 with Lous Pearlman (Jug) and Scarlet Hanover (Jugette).
And Toscano pulled it off — by a neck, no less — with only the kind of master trainer stroke one can pull off when your event has same-day heats. Between heats, she changed It's My Show equipment to a blind bridle.
"When the plan works, it works," she said with a laugh and shrug.
In fairness, driver Scott Zeron — celebrating his second Jug victory after 2012's win with Michael's Power — had more to do with it. He is now just the third driver to win the Jug and Jugette in the same year. Haughton did it first in '74 with the aforementioned duo. David Miller turned the trick in 2011 with Big Bad John in the Jug and Idyllic in the Jugette.
Zeron also won this year's Hambletonian with Tactical Approach, making him just the ninth person to win both classics in the same year and the first since Brian Sears did it in 2013 with Royalty For Life (Hambletonian) and Vegas Vacation (Jug).
"[Zeron] has been the best kept secret in harness racing for four years for me, but now everyone has figured out that he can really drive a horse," Toscano said. "I kind of had him all to myself. Now, I have to share."
Toscano has had six Jug horses before and admitted she was "not close" to winning.
Despite three second-place first heat finishes, her best previous finish in a final was a third in 2012 with Bettors Edge.
Coincidentally, that was the same year Zeron won his first Jug in his very first drive.
Proving this year's Jug was about karma and history and tradition — just like it should be.