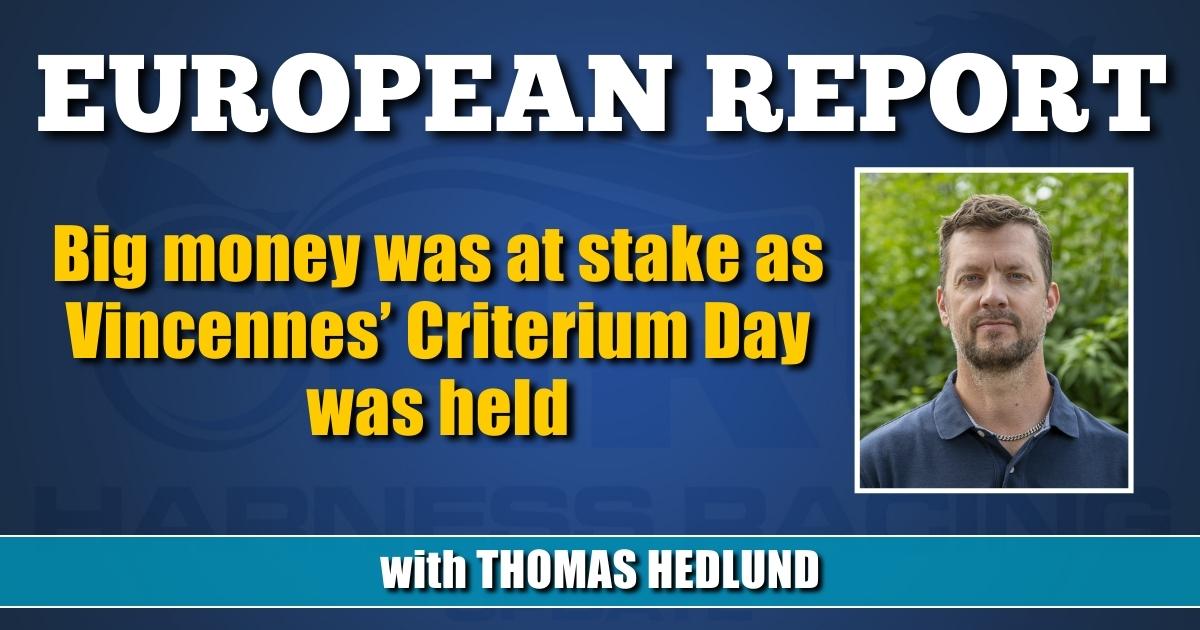 Big money was at stake as Vincennes' Criterium Day was held
by Thomas Hedlund
Paris track Vincennes had a great Sunday (Sept. 17) event as three $320,000 Criterium-races were on the menu and the spectators witnessed some spectacular races that afternoon.
The big star, Joshua Tree, trained by Jean-Michel Bazire, had to stay in the stable when the 4-year-olds battled over 2,850 meters, but the race included several other top trotters and Philippe Allaire's Just A Gigolo became the bettors' first choice as the race went on.
And Just A Gigolo was a heavy factor in the Criterium des 4 ans. Driver Franck Nivard attacked three and four wide at the uphill part of Vincennes, giving cover to Sebastien Ernault's Josh Power (Offshore Dream). Ernault gave his horse the signal for the attack at the same time as Just A Gigolo got advantage of the race and Josh Power easily disarmed the favorite, in an upset win in a mile rate of 1:56.1 over 1.7 miles.
Just A Gigolo was second and Just Love You third.
Replay here.
Philippe Allaire had the favorite even in the $320,000 Criterium des 3 ans. His Koctel du Dain has belonged in the top of the crop pretty much all the year and with two kilometers to go in Sunday's race, Koctel du Dain was in front. Sebastien Guarato-trained Krack Time Atout (Face Time Bourbon), driven by Paul Philippe Ploquin, did some work in the two-wide path and when attacks were made from behind with a half-mile to go, Krack Time Atout seemed to be a beaten horse, but it turned out that that was not the case. When Ploquin begged for some more power at the top of the stretch, Krack Time Atout answered and sprinted to a safe win in 1:56.3 over 1.6 miles.
King Opera, who overtook the first over position with 700 meters remaining, held strongly as runner up while leader Koctel du Dain finished third.
Replay here.
Favorite Idao de Tillard (Severino) was served a ground-saving trip by Clement Duvaldestin when the 5-year-olds met in the $320,000 Criterium des 5 ans. That proved to be necessary in the end and even if the big favorite did what was expected from him, the victory in Sunday's race was hardly the most impressive in his career.
The race turned out to be a high-speed story when leader Ibiki de Houelle was under pressure from Izoard Vedaquais during the race's first kilometer. The latter made a break just as he was on his way to overtake the lead and Ibiki de Houelle continued to control the show in front. Behind him, Duvaldestin saved ground with Idao de Tillard and the position first over could be taken with a half-mile to go. Idao de Tillard bested his "I-friends" but it got a bit stressful for Duvaldestin in the end, when Inmarosa gained space for the finish with 100 meters to go. Idao de Tillard held the opponents behind and won in a strong mile rate of 1:55.2 over 1.9 miles.
Inmarosa was second and It's A Dollarmaker third.
Replay here.
DERBY WINNER BEST IN NAPLES
Alessandro Gocciadoro had some strong cards in his hand when the $160,000 Gran Premio Freccia d'Europa was held in Naples on Sunday (Sept. 17) night. Gocciadoro sat behind Vernissage Grif, who got a first over trip, outside of stablemate Bepi Bi, but it was Holger Ehlert trained Bleff Dipa (Mister J.P.) who was the strongest in the stretch.
Roberto Vecchione attacked three wide at the back stretch and disarmed Gocciadoro's horses with 150 meters remaining in the 1,600 meters long event.
Ehlert's Italian Derby winner won in 1:53.3, ahead of Vernissage Grif and Zefiro d'Ete.