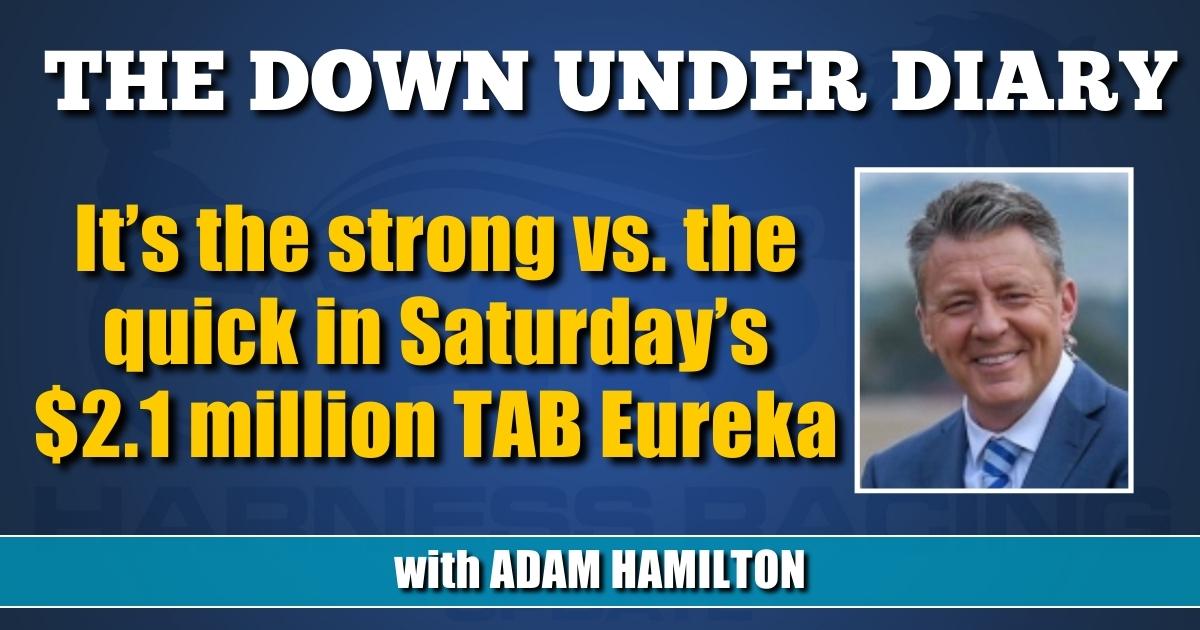 It's the strong vs. the quick in Saturday's $2.1 million TAB Eureka
by Adam Hamilton
It is the fast against the strong at the heart of the world's richest harness race.
The "fast" is Catch A Wave and the strong is Leap To Fame in Saturday night's (Sept. 2) $2.1 million TAB Eureka at Menangle.
Yes, that's a rather simplistic way of looking at the great race and there are certainly more than just the two chances, but that's the mental wrestle punters have going into it.
Catch A Wave is bred to be brilliant, being a son of explosive speed sire Captaintreacherous and his rise to prominence so far has largely been off sprint races like the Miracle Mile and Chariots Of Fire over a mile at Menangle.
But this race is 2,400m.
Catch A Wave hasn't won beyond 2,240m. His only try was the worst finish of his career when seventh in a qualifying heat of the Victoria Derby at Melton about a year ago.
Trainer Andy Gath cautioned punters not to read too much into that.
"Kate [Gath, driver] would admit it certainly wasn't one of her best drives and he still smashed the clock for his last mile," he said. "Given how well he finished it off and what time he ran for the last mile, we actually take it as a positive that he will run a staying trip.
"It's also a year ago and he's not just more mature and experienced now, he is physically much bigger and stronger. Don't get me wrong, speed is and always will be his greatest weapon, but I think suggesting he won't run a strong 2,400m is premature. The 2,400m isn't my biggest concern, put it that way."
In contrast, Leap To Fame is the "strong." He's by siring sensation Bettor's Delight, who is renowned for producing strong, tough, resilient horses as well as fast ones.
And Leap To Fame's had plenty of practice in races 2,400m or beyond. His six tries have netted four wins and two fantastic second placings. He's two-from-two over 2,400m at Menangle in a heat and final of last year's NSW Derby.
"I'm very happy the race is 2,400m, not a mile," Leap To Fame's trainer/driver Grant Dixon said. "He's fast and strong, but the further they go, the more he seems to assert himself. He goes the same over a mile or 2,400m, while some others find it harder in the staying races.
"I've always had a huge opinion of him, but it went to another level in the Queensland Derby last year. It was the first time I really had to ask him to dig deep. It was that moment where you just hope he's as good as you think and he was. He found plenty for me and I knew he was really special then."
So, does Dixon need to ensure the TAB Eureka is a truly run 2,400m?
"Yes and no," Dixon said. "I mean I do need to try and make sure a really fast horse like Catch A Wave doesn't get the chance to beat me with his speed, but I've also got to be mindful there are some other really nice horses in the race who can take advantage if I go over the top. It'll be a balancing act," he said.
Leap To Fame will start second from the outside on the front line in the 10-horse field.
"The draw isn't ideal, but he wouldn't have been in the early burn anyway," Dixon said. "He never seems to have much luck with draws, so we're sort of used to it now.
"I'll just let him balance up, hope a few of them on the inside have a bit of a burn to find their spots and then decide if I make an early move or wait and come later. If they back off, I'll get moving."
Importantly, Dixon said Leap To Fame was "right where I want him" going into the biggest race of his stellar career so far.
"He had that busy July at home [Queensland] through the three big races, but he's thrived from it," he said. "I think he's as good as I've ever had him.
"He got down here [Menangle] last Sunday and he's settled in really well. I wouldn't swap him for anything else, put it that way."
Dixon was quick to label Catch A Wave and outstanding Victorian 3-year-old The Lost Storm as the hardest to beat.
"Catch A Wave is fast and very good," he said. "He's looked the main danger ever since he won the Chariots Of Fire and Miracle Mile here earlier in the year and I've got huge respect for Andy Gath's ability to peak him when it matters.
"The Lost Storm couldn't have done much more. His Queensland Derby win was terrific and it's really a question of whether a top 3-year-old is good enough and mature enough to beat these 4-year-olds. He's got the big advantage under the preferential [barrier] draw. I'd love to have barrier 2. I've got a lot of respect for him and his trainers [Emma Stewart and Clayton Tonkin]."
The Lost Storm has won 11 of his 13 starts and Tonkin believes he should be unbeaten.
"He had some issues and just wasn't himself in the two defeats," Tonkin said. "He ran well, but he wasn't right, we probably shouldn't have run him. He's had a really good build-up for this and we're only running because he had to get a good draw.
"Don't get me wrong, we know how high the bar is set with horses like Leap To Fame and Catch A Wave, but we've also got a big opinion of our horse. We wouldn't be running him against them at this stage of his career unless we thought he was ready for it and good enough to make a real race of it with them."
Tonkin and Stewart also have the lone mare in the race, the outstanding Encipher.
"I'm thrilled she got a slot in it," Tonkin said. "She certainly deserves it. If there's to be an upset, she is the one who can cause it if she gets the right run.
"She's so tough. She'll love the 2,400m and run it right out. We've thought for a long time she could match it with the boys and she proved it by beating some serious open class boys at Melton last start."
The wildcard of the TAB Eureka is the long-time favorite Captain Ravishing, who has fallen from favor after defeats in the Chariots Of Fire and Miracle Mile earlier this year.
In a daring move, trainer Ahmed Taiba opted to take Captain Ravishing first-up into the race having not raced since that seventh in the Miracle Mile back on March 4.
"Someone said I'd get legend status if I could win the race on the preparation he's had, so hopefully that's the case," Taiba said. "His strength is his speed. I've said all along, if he's going to win the race it'll be with his speed so we've wanted to keep him fresh and sharp."