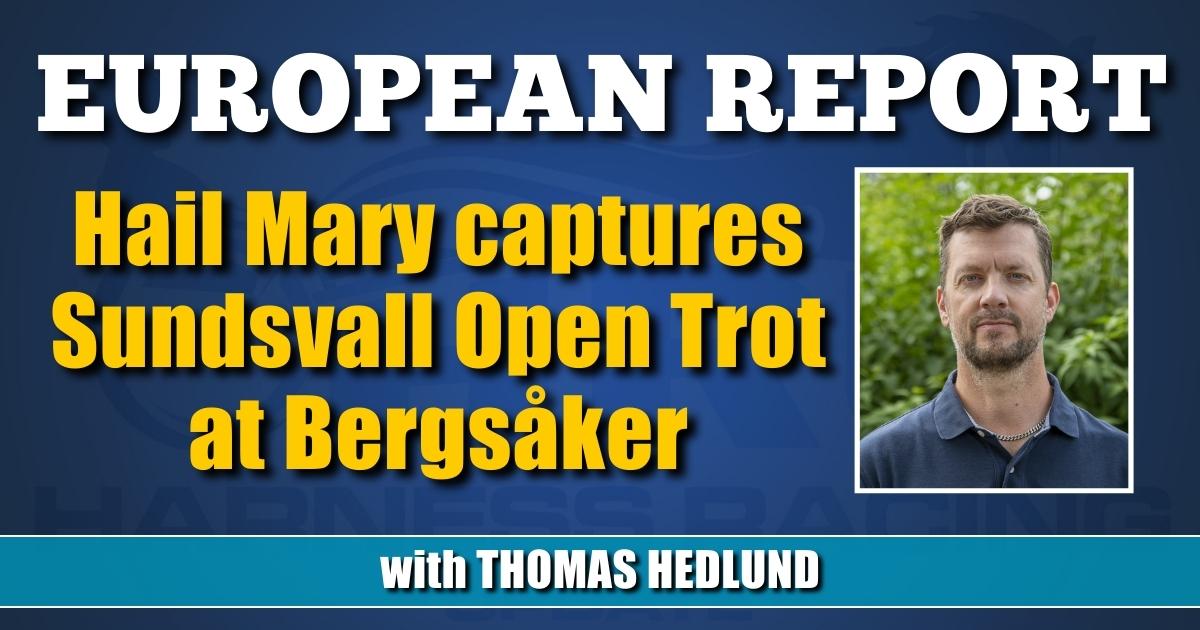 Hail Mary captures Sundsvall Open Trot at Bergsåker
by Thomas Hedlund
When the $185,000 Sundsvall Open Trot for the older elite was on the race card at Bergsåker racetrack on Saturday afternoon (Aug. 26), the expectations were high that the fans would witness an exciting show where San Moteur, Hail Mary (Googoo Gaagaa) and Borups Victory were in the lead roles.
The 2,140 meters long race turned into something else after Hail Mary hit the lead after the first quarter of a mile, with San Moteur connecting on the outside shortly thereafter.
The front duo turned into the last lap after a very slow (for this caliber of horses) first kilometer and Hail Mary's driver Örjan Kihlström upped the pace on the backstretch, trying to make it hard for favored San Moteur.
Hail Mary had everything safely under control all the way to the wire and won easily in a mile rate of 1:54.4 over 1.3 miles.
Borups Victory finished strongly from second over to be second and Missle Hill captured the bronze medal after a third over trip.
BROADWAY HALL MARE BEST IN DANISH DERBY
It is Derby weekend at Charlottenlund racetrack in Copenhagen, Denmark. On Saturday, the $155,000 Derby for 4-year-old mares was held.
Michael Lönborg drove his Broadway Hall daughter Harper to an outstanding win. After a quick opening to the front, Harper saved some energy midway into the race before Lönborg stepped on the gas pedal in the last turn and Harper left her opponents several lengths behind.
Harper won in 1:59 over 1.3 miles. Heimaey was second and Hashtag Ostedantik third.
KAPITANO DE SOURCE WON THE YEARLING CUP AT VINCENNES
Tomas Malmqvist-trained Kapitano de Source won the $155,000 Prix Arqana Trot/Yearling Cup for 3-year-olds at Vincennes on Saturday afternoon.
Kapitano de Source was served a second over trip by Eric Raffin and with a kilometer to go, Raffin opted to position his trotter first over, outside of leader Kiss Atout. In the last turn, Malmqvist's trotter had the advantage.
The victory became very safe in a mile rate of 1:59.2 over 1.6 miles. It was Kapitano de Source's fourth win in five starts this season.