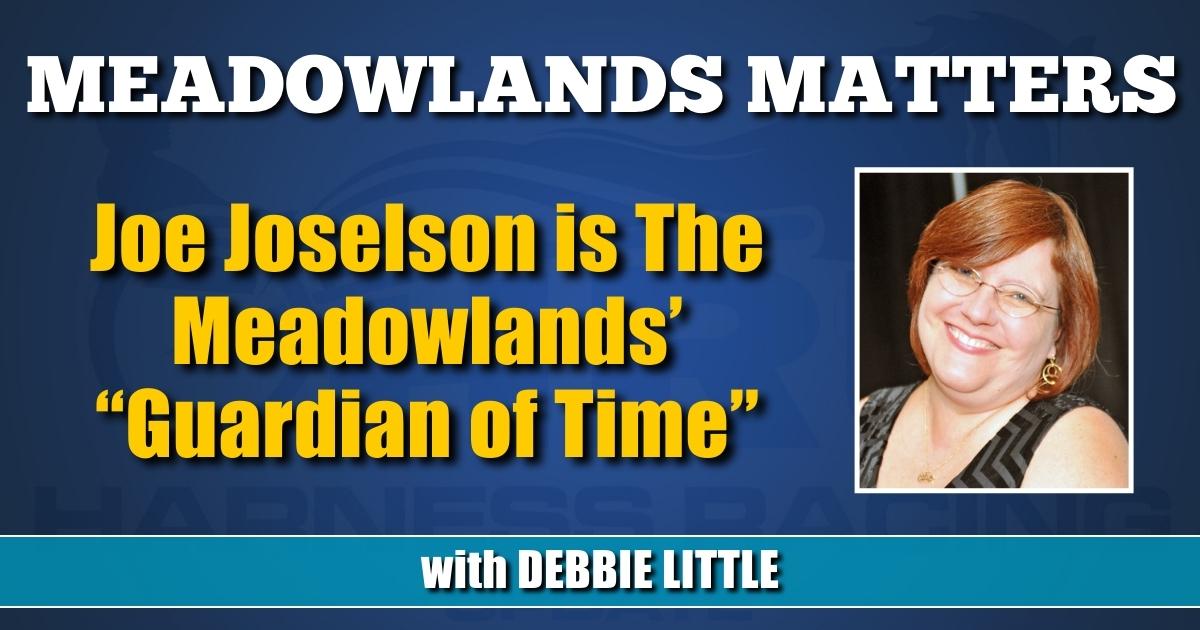 Joe Joselson is The Meadowlands' "Guardian of Time"
He traveled around the world twice on aircraft carriers while serving in the Navy, first bet at The Meadowlands at age 13 and holds the distinction of timing the fastest mile in harness racing history.
by Debbie Little
Joe Joselson has one of the most important jobs at The Meadowlands that doesn't involve being in close proximity to a horse.
The American Teletimer employee is the answer to the proverbial question: 'Does anybody know what time it is?'
Joselson, 60, practically grew up at The Meadowlands, so perhaps it was only a matter of time before he'd work there.
The then-resident of Hackensack, NJ, remembers opening night at The Big M.
"I was there in 1976," Joselson said. "I was 13."
The ability to grow facial hair was a boon to Joselson at that time.
"I had a mustache, so I looked 18," said Joselson, adding with a laugh, "The gambling age was 18, but I started gambling at 13.
"Then I was a gutsy idiot, because on my way home I would stay on the shoulder on Route 17. I only lived two miles from the track and it was much safer back then."
In addition to the horses and gambling, Joselson, like most teenagers, loved music.
"I was actually at the first concert in 1977 at Giants Stadium," he said. "Giants Stadium didn't open until '76, same time as the track. That was a great show. Six of us went in the van, one of our mothers drove us, and somebody else's mother picked us up. The concert was 10 hours long.
"I worked for Ticketron as a senior in high school. So, I got tickets to every show for five bucks.
I've been to hundreds of concerts — between MSG [Madison Square Garden] and the Nassau Coliseum — hundreds.
At 18, Joselson joined the Navy and was stationed in Florida, where his love of horses, gambling and music continued.
"I lived in Jacksonville," he said. "I was stationed there for six and a half years in the Navy and we smoked weed on Ronnie Van Zant's grave. He has a stone bench next to his grave and he wants his fans to come by and say hello.
"And if you walk 100 yards diagonally away from Ronnie Van Zandt's grave, Steve Gaines, who also died in that plane crash, is buried there. I was a big [Lynyrd] Skynyrd fan back then."
Joselson did a total of eight years in the Navy attached to an A-7 corsair, with a lot of his time spent at sea.
"I was lucky enough to go around the world twice on two different aircraft carriers," he said. "Although I've been on six and I've been to 42 countries. And I got paid to do it. It was the greatest experience of my life."
When he was on dry land, back in the Sunshine State, you would generally find him at a track.
The closest venue to the base was the Orange Park Kennel Club, but on trips to Miami to visit relatives, he'd stop in at Calder, Gulfstream, Flagler and Biscayne.
After the Navy, he found his way into the casino industry, where he was for 26 years.
"I started at the bottom as a dealer and I left at the top as the shift manager," he said.
As for how he got his gig at The Meadowlands, timing was everything.
"Kelly Putaski [program director at The Meadowlands] is a friend of mine and I bowl with him," Joselson said. "They had asked him if he knew anybody that would be interested in doing the timing. And Kelly called me because he knew on Friday and Saturday nights, I'm sitting at home betting the track on my computer.
"And he says, 'You know, they're looking for a teletimer,' and I knew nothing about that company or timing.
And I said to Kelly, 'I don't know a thing about that.' He goes, 'Don't worry about it, you get trained.'
And one thing led to another and they hired me on the spot. I came in, I got trained and bingo, bango, bongo. And now I work right next to Kelly and we still bowl together on Monday nights."
When Putaski was trying to help find someone for the timer position, he felt Joselson filled the bill.
"He pays attention to detail," Putaski said. "He's smart and likes our side of horse racing."
As part of The Meadowlands "Rules of the Game" series, Shades Demsky did a feature on Joselson showing and explaining the basics of what he does.
Joselson is happy with how the video represents his job. He also knows that people have watched it.
"I've had friends call me that I haven't talked to in 10 years and say, 'Hey, I saw you on that video on TVG [now FanDuel]," Joselson said.
Joselson knows that being in the right place at the right time led him to this job, where he's been a witness to history and is having the time of his life.
"I have Bulldog [Hanover]'s mug right here on my desk," he said. "It was me [timing the all-time fastest mile of 1:45.4] and I'm like, 'Holy crap.' And as soon as it happened, my boss calls me and congratulates me. He said 'You are now the timer of the fastest harness horse in the history of harness racing. And I don't think it's going to get broken for a while.
"I've been around horses since the '70s. So, between The Meadowlands and my dad taking me to Yonkers Raceway and Aqueduct and all of those other tracks, I love it. I absolutely love it."