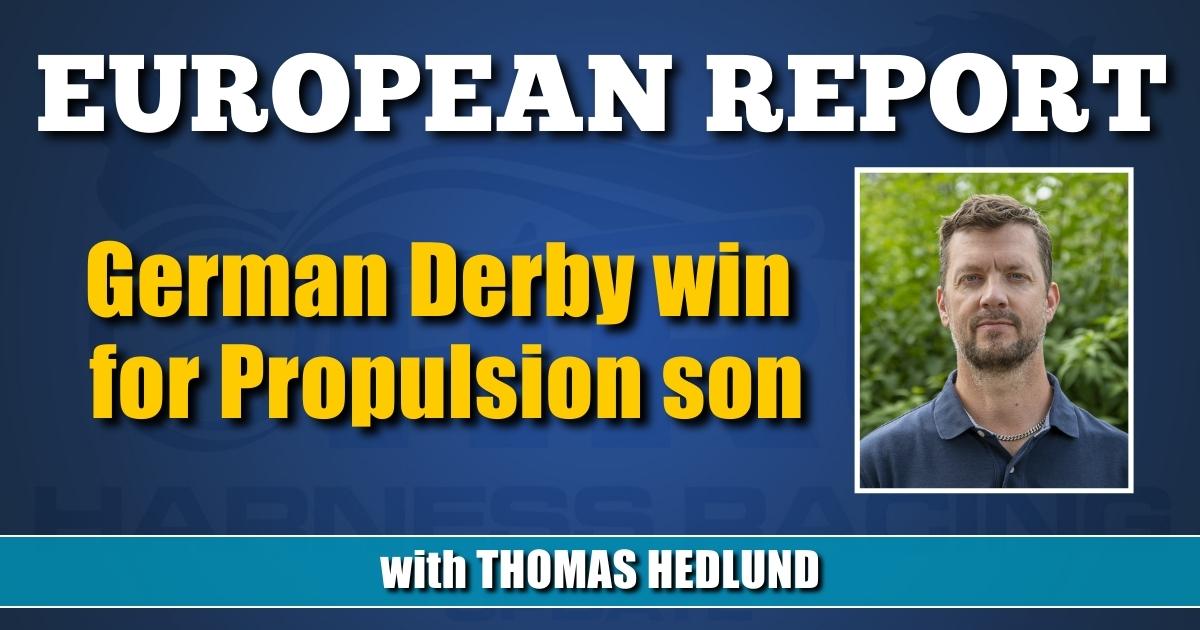 German Derby win for Propulsion son
by Thomas Hedlund
Propulsion, who began his sire career strongly in 2022 with the biggest win in the $800,000 Kriterium in Sweden (Xanthis Harvey), again showed proof of his abilities as a sire as the $290,000 German Derby for 4-year-olds was held in Berlin on Sunday (Aug. 20) afternoon.
Trainer and driver Josef Franzl had his Schampus in the Derby and the talented Propulsion son faced tough opponents in Gio Cash and Y Not Diamant and it was the former who controlled the race on the lead, while Y Not Diamant had to play most of his cards throughout the last turn when he was given the signal to attack, on the far outside for driver Robin Bakker.
Y Not Diamant looked strong at the top of the stretch but in the pocket, Franzl waited for some separation for Schampus and when the opening appeared, Schampus sprinted to a safe win in a stakes record 1:54.4 over the 1.2 miles. Y Not Diamant was the runner up, with Gio Cash third.
Schampus was Propulsion's first winner as a sire. The German-bred trotter claimed a Breeders Crown as a 2-year-old and now he has crowned his career with a Derby victory in his home country.
On Saturday (Aug. 19) afternoon, the 4-year-old mares met in $118,500 Derby in Berlin and Dutch trainer Paul Hagoort's Bold Eagle daughter Mose Eagle was strongest in the finish for driver Micha Brouwer. Brouwer found a spot fourth on the inside and then moved second over with a half mile to go.
Mose Eagle came home in a mile rate of 1:56.4 over the 1.2 miles.
NEW NAMES TO YONKERS
Alessandro Gocciadoro will cross the Atlantic Ocean with two trotters when the $1 million Yonkers International Trot is scheduled on Sept. 9. Vivid Wise As was invited earlier to the race and now it's been decided that even Gocciadoro's runner up from the Åby Stora Pris, Bengurion Jet (Maharajah), will join his stable mate in the hunt for gold in the USA.
Hierro Boko, trained by Hannu Korpi in Finland will also take a chance at Yonkers in September.
INVITED HORSES FOR THE INTERNATIONAL TROT
Horse — Country — Trainer
Get A Wish — Denmark — Bo Westergaard
Etonnant — France — Richard Westerink
Jiggy Jog S — Sweden — Åke Svanstedt
Aldebaran Zeus — Australia — Brent Liley
Vivid Wise As — Italy — Alessandro Gocciadoro
Bengurion Jet — Italy — Alessandro Gocciadoro
Hierro Boko — Finland — Hannu Korpi