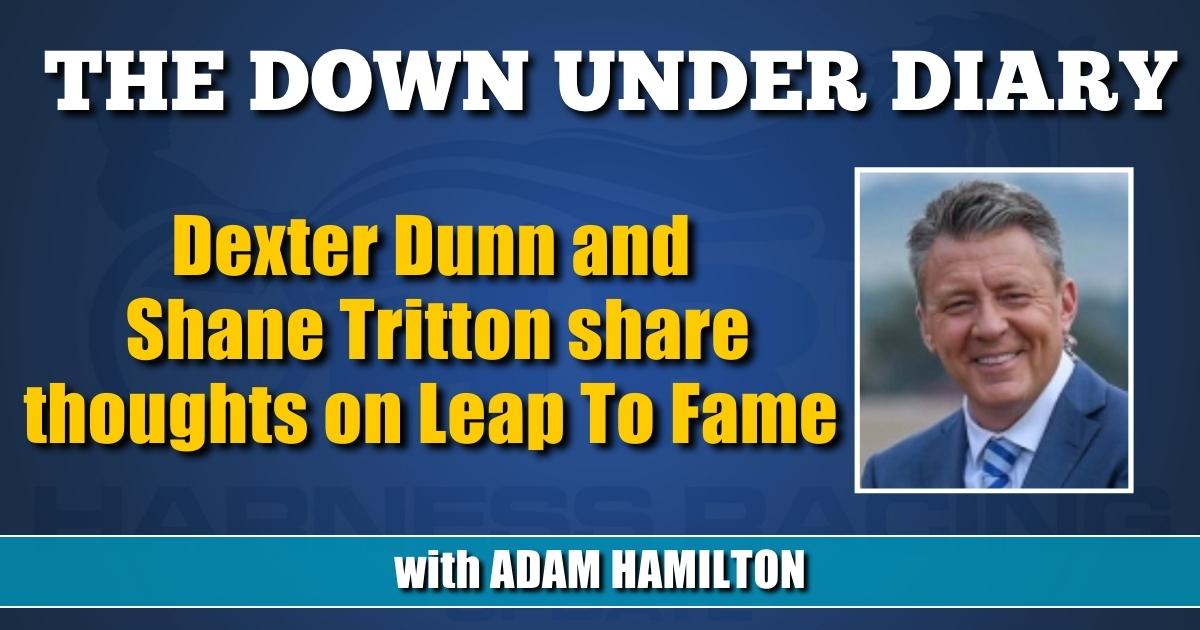 Dexter Dunn and Shane Tritton share thoughts on Leap To Fame
The expats are following the $2.1 million TAB Eureka.
by Adam Hamilton
Former Down Under stars Dexter Dunn and Shane Tritton will be watching closely as Leap To Fame headlines a stellar field in the world's richest race, the $2.1 million TAB Eureka to be held on Sept. 2.
Dunn and Tritton admit to having been captivated, like so many others, by the Queensland-based Leap To Fame, who has won 23 of his 30 starts (with five second-place finishes) and only been beaten once from 10 starts across almost the past 11 months.
Some of his wins have been so mesmerizing he has drawn comparisons with some of the greatest pacers Down Under has seen.
And he's even had some asking if Leap To Fame is the best pacer in the world right now.
A defeat in the Group 1 Blacks A Fake at Albion Park on July 22 tempered that slightly, but it's hard to know why when you dissect the performance.
Leap To Fame finished second after sitting parked in near track record time, and covered about 30m further than winner, Swayzee, who beat him by 6.2m.
But there's more, lots more.
Leap To Fame copped a flat tire with 300m left in the race. The tube came loose and wrapped around his wheel, effectively seizing it and turning it into a break.
Would he have won without that happening? Who knows, but it can't have been much help at all.
Dixon was oozing with pride and described it as the biggest race of Leap To Fame's career, a horse he has previously said has been "80 years in the making for my family, 50 years for dad [Bill] and 30 years for me."
As strong as this epic inaugural TAB Eureka field is, Leap To Fame's resume and aura have him a $1.60 favorite (for a $1 bet) even before the posts are drawn next Wednesday morning (Aug. 30).
Dunn, now firmly established as one of the top drivers in the world, said he's been watching Leap To Fame's rise with great interest from the U.S.
"He's looked like a killer at times," he said. "Every now and again you see a horse who just stops you in your tracks and Leap To Fame is one of them.
"It's not just what he's been winning, but how he's doing it. He just seems to do it so easily."
Another former Aussie making his name in the U.S. is Shane Tritton, who admits he still follows the Down Under scene very closely and with strong interest.
Tritton is even more lavish in his opinion of Leap To Fame.
"I remember having a conversation about Leap To Fame with several people in Australia when he won the Victoria Derby [October, last year]," Tritton said. "I said back then that he is without a doubt the best horse currently racing in Australia. My comment before this preparation was that he is a combination of Blacks A Fake and Our Sir Vancelot [two former Aussie greats]. That's how I felt about a year ago. To see him come back to racing the way he has this campaign is exciting to say the least.
"There have been many great horses over the past decade, but for me Leap To Fame has the potential to rewrite what the word champion means. The likes of Blacks A Fake, Im Themightyquinn, Our Sir Vancelot, Lochinvar Art and Lazarus, they all earned the right to be called champions. I'm sure Leap To Fame is on the same trajectory, and maybe, just maybe, he could be something we haven't seen before Down Under."
Tritton sees and races against loads of the best North American pacers and believes Leap To Fame would at least hold his own with any of them.
"If you're looking for a comparison to horses racing in the U.S., there are many, many very fast horses here," Tritton said. "Bulldog Hanover is the fastest horse I have ever seen and that's hands down, but if you asked me who would I rather train Bulldog or Leap To Fame… I would take Leap To Fame in a heartbeat. Horses like Leap To Fame are one-in-a-million, to be so strong, versatile and packs a champion's will to win.
"I believe Leap To Fame would be a champion no matter what part of the world he raced in and not many horses could lay claim to that. My fingers are crossed he continues to be the horse we all believe he is. Harness racing, especially Down Under, needs a champion and I believe Leap To Fame will be that."
He may have to be a champion, or very close to it, to beat the likes of Miracle Mile winner Catch A Wave, Australia's top 3-year-old The Lost Storm and mighty mare Encipher, depending on where he draws and how next Saturday's race is run.
In recent times in Australia, Ride High looked like one right out of the box, but succumbed to injury in his prime.
Then came Captain Ravishing, who, interestingly, returns from a six-month spell in the TAB Eureka. He looked like the next big thing before losing his mojo when second and seventh respectively in the Chariots Of Fire and Miracle Mile earlier this year in Sydney.
Sceptics, rightfully, want to see more of Leap To Fame before anointing him.
But he will love the big Menangle track, eat every step of the grueling and rare 2400m trip at the track and he's got an almost sublime mix of brute strength and turn of foot.
What greater stage for him to make a statement than the first running of the world's richest harness race.