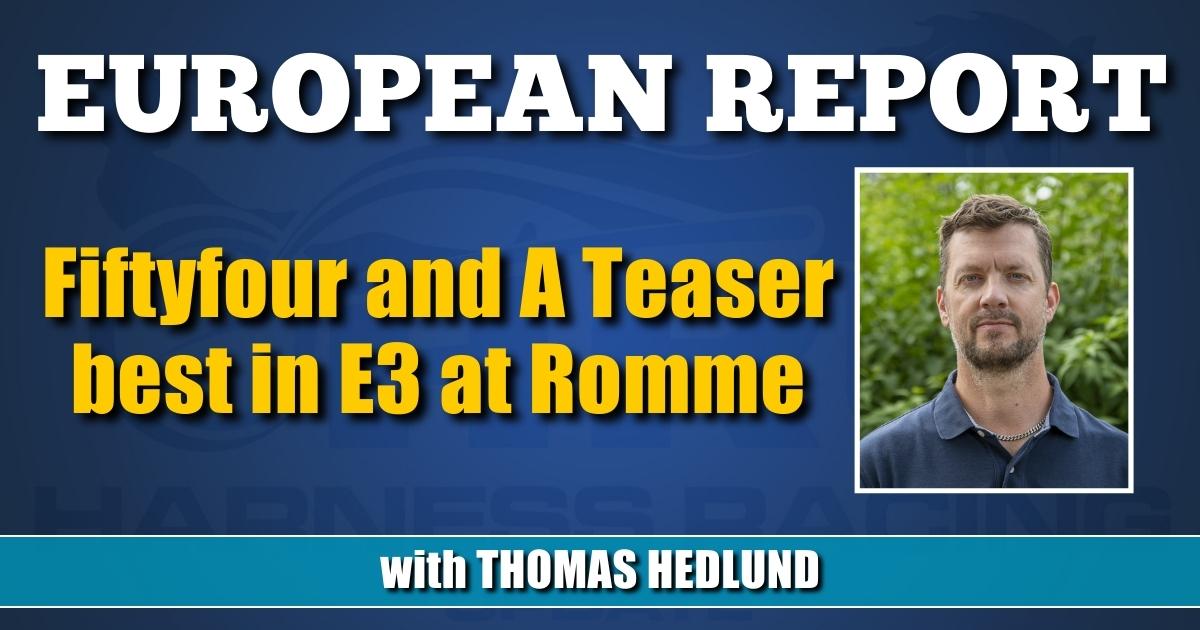 Fiftyfour and A Teaser best in E3 at Romme
by Thomas Hedlund
Romme racetrack played host to two divisions of the $190,000 E3 on Saturday (Aug. 19) afternoon and the event resulted in two upset winners.
Tomas Malmqvist-trained Fiftyfour (Fourth Dimension) showed his great capacity last year as a 2-year-old when he claimed Sweden's most prestigious freshman race, the Uppfödningslöpningen at Jägersro in November. On Saturday, a high pace favored Fiftyfour as driver Ken Ecce found a spot in fourth over.
Vegas Wania led the race with tough pressure from first choice Expo Wise As and the two front runners were out of gas when the stretch approached. Ken Ecce attacked four wide in the end of the last turn and Fiftyfour reached the wire as a winner in a stakes record of 1:53.4.
Fourth Dimension's good results as a sire were confirmed when Frank S.H. (Fourth Dimension) was runner up ahead of S.G.Dracarys (Bold Eagle).
The E3 division for fillies became a great story for Mattias Djuse, who had four contenders in the race. Erik Adielsson sat behind Djuse family's homebred A Teaser (Flocki d'Urzy) and after a perfect pocket trip, Adielsson managed to give A Teaser the right signals in the stretch. Leader Kinglet Bird (Nuncio) had to defend herself pretty much the entire last kilometer as Alessandro Gocciadoro's Esmeralda Bez put hard pressure on the outside. Mattias Djuse's Larah Westwood attacked quickly in the last turn, got advantage of the race in mid-stretch, but couldn't hold stablemate A Teaser behind her at the wire.
Jubilation for Djuse stable and A Teaser, owned by Djuse brothers parents, won in 1:54, ahead of Larah Westwood and Kinglet Bird.
ZERO WINS BUT STILL A CHAMPION
Dutch driver Rick Ebbinge defended his world title from 2019 when the World Driving Championship concluded in Berlin on Friday (Aug. 18) night, despite not winning any races on the final card.
Canadian driver Doug McNair finished strongly in the competition, with two wins during the final night.
World Driving Championship 2023
Driver – Country – Points
1. Rick Ebbinge – The Netherlands – 163
2. Doug McNair – Canada – 150
3. Hanna Huygens – Belgium – 150
4. Santtu Raitala – Finland – 145
5. Michael Nimczyk – Germany – 132
6. Pete McMullen – Australia – 130
7. Jordan Ross – USA – 118
8. Blair Orange – New Zeeland – 107
9. Miodrag Pantic – Serbia – 103
10. Rodney Gatt – Malta – 78
TOP TROTTERS SHOWED UP IN PARIS
Vincennes' Saturday (Aug. 19) race card included some really strong fields of trotters. Among many impressive winners, 5-year-old Idao de Tillard (Severino) claimed another big title in France's capital.
Clement Duvaldestin steered Idao de Tillard to the front in the $125,000 Prix Louis Jariel and the duo won in a safe mile rate of 1:54 over 1.3 miles.
When the 3-year-olds battled in the $125,000 Prix Abel Bassigny, Philippe Allaire-trained Koctel du Dain (Boccador de Simm) proved the best paired with David Thomain. Thomain pushed his horse to the front midway into the race and Koctel du Dain showed great moral as he fought well and won in a mile rate of 1:53.4 over 1.3 miles.
Jean-Michel Bazire's 4-year-old Joshua Tree (Bold Eagle) will most probably be a serious factor when the 2024 Prix d'Amérique approaches. Saturday's first-over win in the $125,000 Prix Phaeton in a mile rate of 1:54.1 indicates that Joshua Tree is ready for the really big races in the winter.
First over was also a fact for 3-year-old Kana de Beylev when the $125,000 Prix Reine du Corta for fillies was on the menu at Vincennes, but the tough trip didn't bother William Bigeon's trotter, who won in a mile rate of 1:55.4 over 1.3 miles for driver Benjamin Rochard.
In the $125,000 Prix Paul Leguerney for 4-year-old mares, Laurent Claude Abrivard-trained Just Love You (Love You) got offensive orders from driver Alexandre Abrivard with 3/4 of a mile to go and Just Love You easily disarmed leader Juliet Papa Bravo and held on to safe win in a mile rate of 1:53.4 over 1.3 miles.