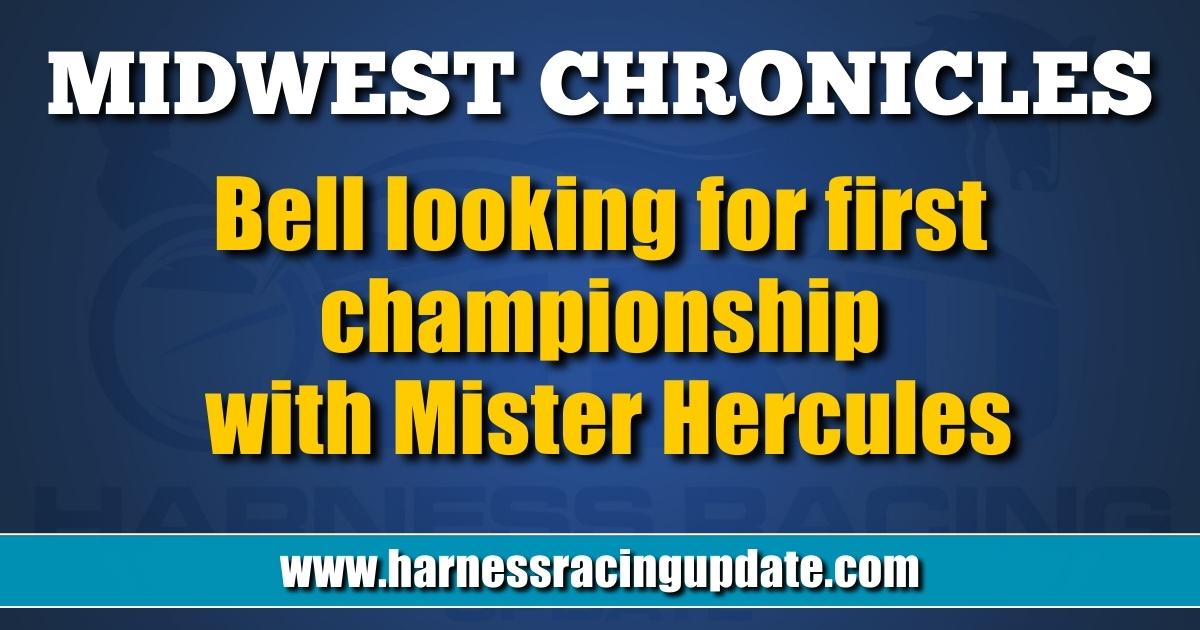 Bell looking for first championship with Mister Hercules
This afternoon, the Governor's Cup Championships will go to post at the Indiana State Fairgrounds.
by James Platz
When the horses go postward this afternoon (Aug. 16) at the Indiana State Fairgrounds in the Governor's Cup Championships, Chad Bell will find himself in uncharted territory. The longtime horseman, back from a multi-year hiatus, owns Mister Hercules, the prohibitive favorite in the freshman colt pacer division. It will be his first chance to win one of the eight $25,000 championships up for grabs on the Indiana fair circuit.
"Mister Hercules is the fourth horse that I've ever owned," Bell said. "I always just trained horses for other people. I've never owned a horse to race in it. I've never had a chance, and I've got one that can win it."
The colt, a son of Let's Drink On It out of the Grand Circuit-winning Jenna's Beach Boy mare Flip Flop Summer, has turned in an impressive season racing at fairs across the state. Lining up behind the starting gate eight times for trainer Jeremy Jones, the freshman has earned five wins, two runner-up efforts and a third-place performance. His 320 points lead all horses in the division.
Mister Hercules is particularly sharp as of late. His last three fair starts all resulted in victories, with two also producing new track records. Racing at Goshen on July 25, the colt wired the field with Jordan Ross in the bike, stopping the clock in 1:57. The time lowered the mark for freshman pacing colts by more than a full second.
"When we went to Goshen, I didn't think he would break the track record," Bell said. "We were just trying to get a win. It just happened. Jordan said he could have gone more than :57 flat."
Knowing that, the owner instructed Ross to be aggressive with the colt at Portland on Aug. 5. Intending to skip the last stop at Frankfort leading into the Governor's Cup Championships, Bell wanted to see what his colt was capable of when put to the test. The result: another track record, this time stopping the clock in 1:56.1 and knocking three-fifths of a second off the previous best.
"It kind of shocked me," Bell said. "I didn't think he would pace :56 that strong, but he did. He came out of the race good. He's just an unbelievable horse."
Growing up in Starkville, MS, Bell's father and uncle raced horses, as did others in the community. He was active in the business early, participating as a trainer and driver and making his way to Illinois and now Indiana. The 37-year-old says that he loves racing but stepped away almost seven years ago after getting married. The itch to race, however, never quite went away, and he returned two years ago. Last fall he ventured into horse ownership, something he had not done before, when he purchased three horses. Mister Hercules, cataloged as Vel Joe, was one of the acquisitions, and has turned out to be the best to date.
"When I looked at this colt, I was actually out of town," Bell said. "I looked at him on video. I was actually on vacation in Gatlinburg,," said Bell. "I thought he would probably be a $5,000 horse. So, I called a buddy of mine in Chicago and I asked him to go to that sale. I said, 'Man, go to the sale and look at No. 37 for me. If he goes for $6,000, buy him for me.'"
The sale was the Northern Indiana Yearling Speed Sale in Topeka, IN. Mister Hercules was entered as part of the Schwartz Boarding Farm consignment, and Bell didn't have to go to his limit to purchase the colt. The yearling brought $4,500.
When Bell picked up the colt following his vacation, he was pleased with what he saw in the young pacer. He was also pleased with the demeanor of Mister Hercules once he began working with him at home in Mississippi.
"He was a good, firm-built horse," he said. "Wide; great head on him, great neck. I started pouring feed and hay to him. He just started growing. I broke him by myself. He wasn't crazy, he was a calm horse the whole time. He's still a stud, but he doesn't act like a stud. I love the horse. He's a great horse."
Training over the half-mile track at home, Mister Hercules separated himself from the group.
"He was the best horse in the barn," Bell said. "We had 14 in the barn and two 3-year-olds, and he was the best one in there from day one. I would train him with 3-year-olds and he would keep up with them. I knew he was going to be a good horse from the jump. It didn't surprise me what he's doing now."
There is no pari-mutuel wagering on the Indiana fair circuit, and thus, no morning line. Otherwise, Mister Hercules would be tabbed the favorite in today's second race, set to go off at 5:15 p.m. With Ross competing overseas in the World Driving Championship, Robert Taylor is listed as driver on the colt starting from post 4 in the eight-horse field. His 1:56.1 mark is the best in the field.
"I wanted to give him that 10-day break and have him rested and strong for the Governor's Cup," Bell said. "He's a colt that you don't have to do much to him. He'll be ready to race."
Governor's Cup races will be available via livestream (here). Consolations will begin at 1 p.m., with the championships starting at 5 p.m. Programs are available on the Indiana Standardbred Association website here.