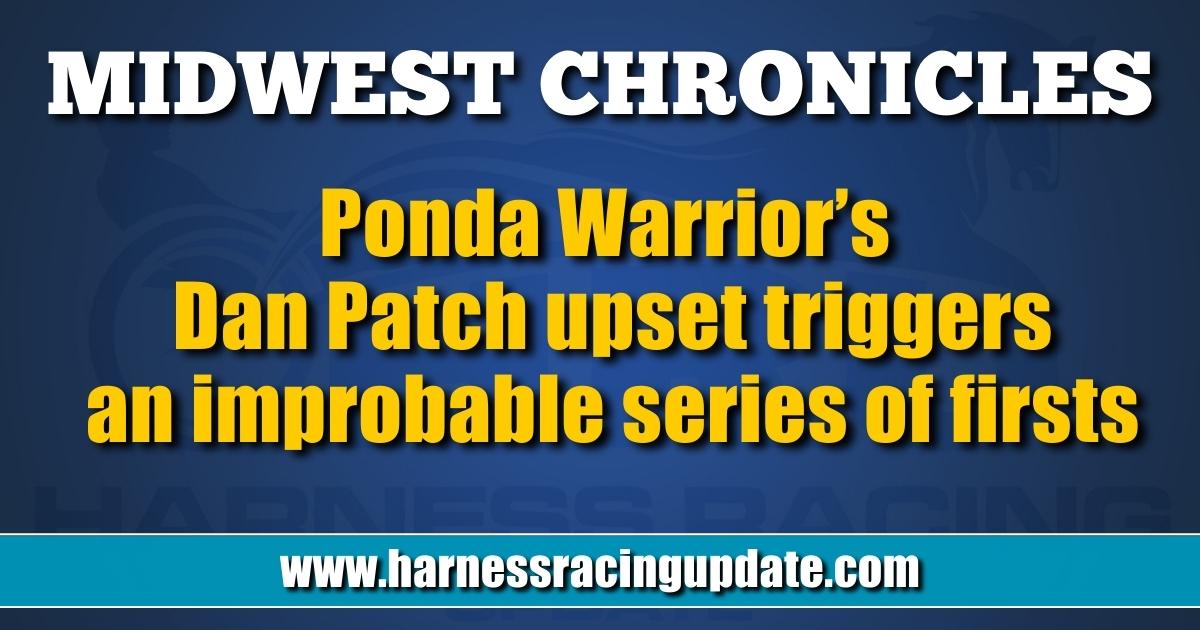 Ponda Warrior's Dan Patch upset triggers an improbable series of firsts
The popular hometown win came in trainer Jay Hochstetler and driver Kyle Wilfong's first start in the Harrah's Hoosier Park classic.
by James Platz
As the field turned for home in Friday night's (Aug. 11) $310,000 Dan Patch Stakes at Harrah's Hoosier Park Racing & Casino, trainer Jay Hochstetler hoped that his charge Ponda Warrior could just get a piece of the six-figure purse. When the dust settled, driver Kyle Wilfong and the 4-year-old had earned the winner's share using a blistering :25.4 last quarter to stun those in attendance and spring a 1:48 upset. While the winning margin was nearly two lengths, Ponda Warrior's rally in the stretch provided one of the more memorable finishes in the 30-year history of the race.
"I really just wanted a check," Hochstetler said from the Hoosier Park winner's circle. "He kept picking up steam. I started yelling and screaming and people started jumping on my back, and the next thing you know we've won the race. This is incredible."
Ponda Warrior's conditioner and co-owner targeted the track's signature race as a bucket list event to win. However, as he prepared the pacer in Hoosier Park's grandstand paddock, he was not optimistic it would come to fruition with his first Dan Patch starter. And who could blame him? The plan he had mapped out earlier in the year was scrapped when a chip was discovered in Ponda Warrior's ankle. Surgery kept the son of Rockin Image—Sweetnsinful out of competition until earlier this month.
"When he first got hurt, I didn't even have this race on my radar," Hochstetler said. "I didn't think it was going to happen; it would be too much too soon."
Last year, Ponda Warrior won six of 18 starts, capturing the $270,000 Indiana Sires Stakes Super Final before going on to finish fifth in the Breeders Crown final for sophomore pacers. He finished the year with back-to-back wins for the partnership of Hochstetler, Finkelberg Racing LLC and South Of The Tracks Rac Inc in open stakes at Hoosier Park, banking $360,275. Hochstetler had pointed his pupil to the Graduate Series as an early test for his talented pacer this year, but surgery took that option off the table. And while the Dan Patch Stakes seemed a longshot, Ponda Warrior made a compelling argument when he finally stepped on the track.
In his first qualifier, held July 19, he won by a neck in 1:51.2, kicking home in :26 seconds for John DeLong. Ten days later, he won again by a neck, this time flashing a :25.3 last quarter. Making his seasonal debut Aug. 4 in a $22,000 open pace, Ponda Warrior and DeLong won by a neck in 1:48.4.
"When I qualified him, I thought there's a chance," Hochstetler said. "Then, when he raced, I said 'There's a big chance.'"
He was set to enter Ponda Warrior in the Gregg Haston Memorial, a $40,000 invitational traditionally part of the Dan Patch undercard. Looking back at more recent editions of both races, Hochstetler noted that the winner of the Haston Memorial often turned in miles on par with Dan Patch champions.
"He's going to have to race hard no matter which race I put him in, so I might as well take a shot," he said. "I didn't even know if I was getting in on lifetime earnings. It might work out where I get my entry fees back and still go in the Haston."
Ponda Warrior's $487,475 career bankroll placed him safely within the field of 10 top money earners. Linedrive Hanover, one of the hottest horses in the open ranks, was nominated and entered, but fell less than $30,000 below the earnings of Captain Kirk, leaving him listed 11th. When Scott Peine, Hoosier Park's director of racing, exercised a clause in the race conditions and extended an invitation to Linedrive Hanover's connections, it created the largest field in the history of the event. As fate would have it, Ponda Warrior drew post 11, the second trailing position in the race.
"Nobody wants the 11-hole," Hochstetler said. "At the same time, if you don't use this horse early, he has such a vicious late kick."
With Little Rocket Man also entered, the conditioner suspected he may lose DeLong to another hometown favorite the driver regularly steers. He reached out to Wilfong, who has guided several of Hochstetler's horses to victory this season at Hoosier Park.
"The day before the morning line and the doubles come out, Jay texted me and said that if DeLong would happen to choose Little Rocket Man, you're first choice," said Wilfong, currently sixth in the Hoosier Park driver standings. "Just to get that text was cool. I think all I texted back was 'Awesome.' I couldn't even fathom it for a couple moments."
The odds were not in their favor. Second tier starting position. Second seasonal start against an all-star lineup including the likes of favored Charlie May, Abuckabett Hanover, Linedrive Hanover, Little Rocket Man and the Ron Burke-trained trio of Lou's Pearlman, Southwind Gendry and This Is The Plan. And Ponda Warrior would do so with a driver sitting in the sulky for the first time.
"I was lucky the last race he was in I got to basically watch him, I was right beside him, so I got a firsthand view," Wilfong said. "Just being able to see him. Jay told me some of the quirks that he has. It helps that he's such a classy horse to drive. He's two fingers. Everything is so simple; he's push button."
When the gate folded in the night's 13th race, Wilfong floated 17-1 Ponda Warrior out eighth, dropping in behind DeLong and Little Rocket Man. Lou's Pearlman and David Miller moved to the early lead from post 4, reaching the quarter in :26.1. Favorite Linedrive Hanover brushed to the top to take command on the backstretch before Scott Zeron moved Abuckabett Hanover to the lead from third. As the field marched to a :53.1 half, Brett Miller pulled the right line on Charlie May to start the outer flow, bringing with him Tellmeaboutit, Little Rocket Man and Ponda Warrior.
"I had hopes of following Little Rocket Man, but the chances of that happening were pretty slim," Wilfong said. "But that's how it lined up. It was the right horse."
Turning for home, Charlie May took the fight to leader Abuckabett Hanover. Wilfong angled out from his fourth-over spot and asked his charge. Ponda Warrior responded.
"Coming around the last turn, I tapped him once and he just swelled up," Wilfong said. "I can't say that I knew that I had it then, but I knew I had a fair shake at it. Coming off the turn and straightening up, I said, 'I've got it. I've got enough horse and I've got plenty of real estate.'"
Unleashing that vicious late kick, the 4-year-old reeled in the leaders and surged past both late in the lane to take the improbable win, the first for an Indiana-sired horse in the Dan Patch. Charlie May edged Abuckabett Hanover for second, with Little Rocket Man a fast-closing fourth. Ponda Warrior paid $36.60, $15.60, and $8.40 with the victory, and his career bankroll now stands at $642,475. The winning time established a new lifetime mark.
The emotions in the winner's circle were equal parts shock and elation. Smiles were abundant, as were the tears. Hoosier Park drivers have captured Dan Patch wins before, but this was different. Two young horsemen, both the next generation from families with deep Midwestern racing roots, claimed the coveted title. And the racing community was happy for them.
"I don't think you can put it into words," said Wilfong, a winner in his first Dan Patch drive. "All week long I've been going through all the bad scenarios that I figured would happen. For the one that we needed to happen come true, it's a dream come true."
Hochstetler did not get the opportunity to showcase his star earlier this season, but that did not matter Friday night. He would gladly give up other events for a Dan Patch win.
"Absolutely," Hochstetler said. "This is the race I wanted to win all year long. If it was just this and nothing else, that would be fine with me."
Hochstetler said the plan is to keep Ponda Warrior at Hoosier Park and race in the opens and invitationals leading up to the Hoosier Park Pacing Derby. The pacer will also have an Indiana Sires Stakes final prior to the Breeders Crown on home soil in late October. In discussing Ponda Warrior's injury back in May, Hochstetler pointed out that the setback may work in the horse's favor.
"It might work out for the best," he said at the time. "For one, we rectified a problem that we didn't really know was there. And two, he's not going to gut himself early on and maybe we'll have the freshest legs when the big money is on the line at the end."
If Friday's victory is any indication, perhaps Ponda Warrior is just getting started.