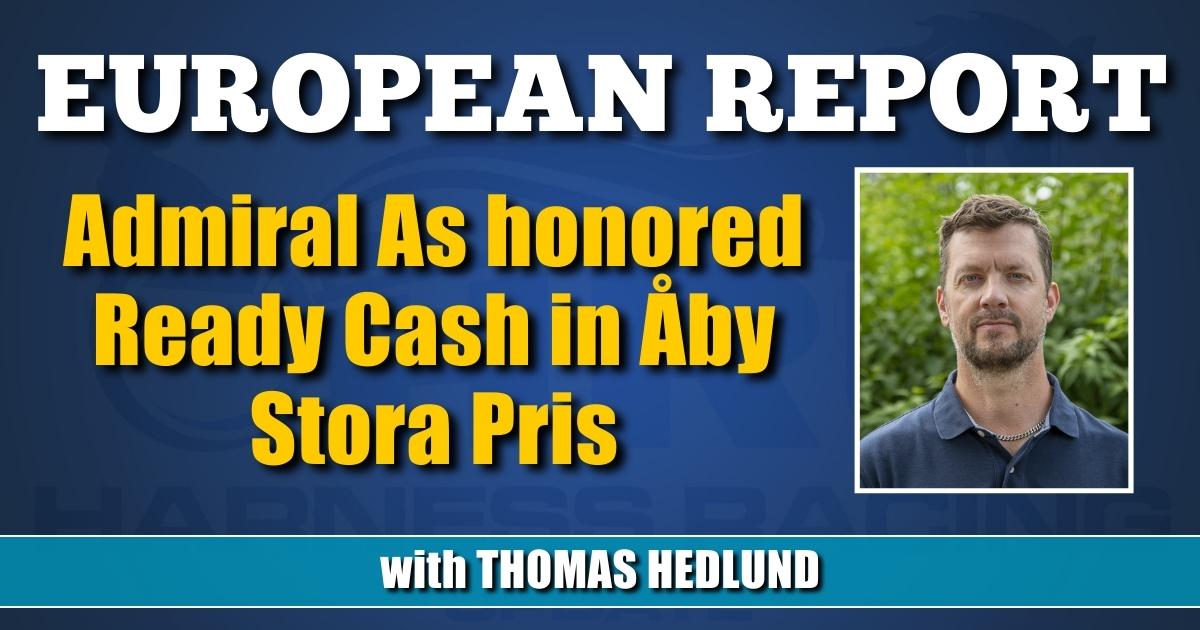 Admiral As honored Ready Cash in Åby Stora Pris
by Thomas Hedlund
Daniel Redén-trained Admiral As (Ready Cash) proved best when the $260,000 Åby Stora Pris over 3,140 meters was held at Åby racetrack on Saturday (Aug. 12) afternoon and what could be more fitting than the fact that a son of Ready Cash prevailed in the group 1-race on the same week the well-known sire died in his home country of France.
The Åby Stora Pris is a challenging race. Three laps requires a strong horse and a driver that disposes the race correctly. So, when Power and Admiral As formed the top duo with 2.5 lap to go, the pace decreased and it was hard for the top horses back in the field to be serious threats for the win.
First-over trotter Admiral As looked strong in the last turn, when Robert Bergh tried to shake off the outside trotter with his Power. As the wire approached, inside runner Bengurion Jet finished quickly in the open stretch, so quickly that he for a while looked to be the winner. But Admiral As not only disarmed Power, but also kept Bengurion Jet behind him at the finish and the 7-year-old gelding won in a mile rate of 1:56.3 over 1.95 miles.
Bengurion Jet was second, Power was third. For Admiral As' owner SRF Stable the past week has been something special. SRF Stable co-owns Hambletonian Oaks winner Heaven Hanover and now Lennart Ågren (SRF Stable) owns a winner in classic Åby Stora Pris.
CAPITAL MAIL BEST OVER THE MILE
Fabrice Souloy-trained Capital Mail (Nad al Sheba) took a safe wire-to-wire win in the $105,000 Criterium de Vitesse de Basse-Normandie in Argentan, France on Saturday (Aug. 12) afternoon. The Criterium de Vitesse de Basse-Normandie is a mile race and that distance is not common place in French races, so Italian-bred Capital Mail was probably not disadvantaged by the mile.
Gabriele Gelormini sat in the bike behind Souloy's trotter and Capital Mail won in 1:52.4, ahead of Happy Valley and Elie de Beaufour.
FRANCESCO ZET FROM POST 1
Daniel Redén's 5-year-old Francesco Zet (Father Patrick) will enter the track again and this time it will be in the $280,000 Margareta Wallenius-Klebergs Pokal over 2,140 meters at Solvalla on Wednesday (Aug. 16) night.
Francesco Zet, who was runner up in the E3 final in August 2021 and is undefeated in 16 consecutive starts after that, will start from post 1 behind the gate in the prestigious 5-year-old race.
Redén-trained Glamorous Rain (Muscle Hill) will start in the $190,000 European Championship for mares also on the menu at Solvalla, but there are several interesting horses in the field that will get attention from the bettors. For example, Alessandro Gocciadoro's Zeudi Amg (Ideale Luis), who raced three wide the entire race when she claimed her last win at Hagmyren on July 29. Post 11 for her part makes the race a little bit more open and there are some really nice mares that will try to be best in Europe.
MARGARETA WALLENIUS-KLEBERGS POKAL
2,140 meters
Horse — Driver
1. Francesco Zet — Örjan Kihlström
2. High On Pepper — Jorma Kontio
3. Castor The Star — Mats E Djuse
4. Jimmy Ferro B.R. — Magnus A Djuse
5. Clarissa — Alessandro Gocciadoro
6. Mellby Jinx — Erik Adielsson
7. Borups Victory — Daniel Wäjersten
8. Invictus Madiba — Björn Goop
9. Seven Nation Army — Bo Westergaard
10. Imperatur Am — Magnus Teien Gundersen
EUROPEAN CHAMPIONSHIP FOR MARES
2,140 meters
Horse — Driver
1. Glamorous Rain — Örjan Kihlström
2. Miss Pepper — Åsbjörn Tengsareid
3. Global Yankee — Jeppe Juel
4. Isla Jet — Björn Goop
5. Imhatra Am — Mats E Djuse
6. Great Skills — Daniel Wäjersten
7. Blackflash Bar — Alessandro Gocciadoro
8. Iceland Falls — Carl Johan Jepson
9. Golden C.N. — Bent Svendsen
10. Chebba Mil — Robin Bakker
11. Zeudi Amg — Magnus A Djuse
12. Barbro Kronos — Markus B Svedberg
FRONT WINS FOR GOCCIADORO
Alessandro Gocciadoro visited Ippodromo del Garigliano in Italy late on Thursday (Aug. 10) night and returned with two wins.
The $105,000 Gran Premio Criterium 4 anni, for 4-year-olds, became a comfortable wire-to-wire win for Diamond Truppo (Varenne) in a mile rate of 1:56 over 1.3 miles. Gocciadoro continued to be successful during the card and next up was Daughter As (Father Patrick) in the $70,000 Gran Premio Campionato Femminile, who was pushed to the lead after 500 meters and later came home in a mile rate of 1:58 over 1.3 miles.
The 3-year-old fillies battled in another division of $70,000 Gran Premio Campionato Femminile and the winner, Eloida (Napoleon Bar) was seen on the front in the race for driver Mario Minopoli Jr. and the mile rate for Eloida was 1:58.4 over 1.3 miles. Gocciadoro was second behind the winner with his Ete Jet, so it was a pleasant evening for the dominant Italian trainer.