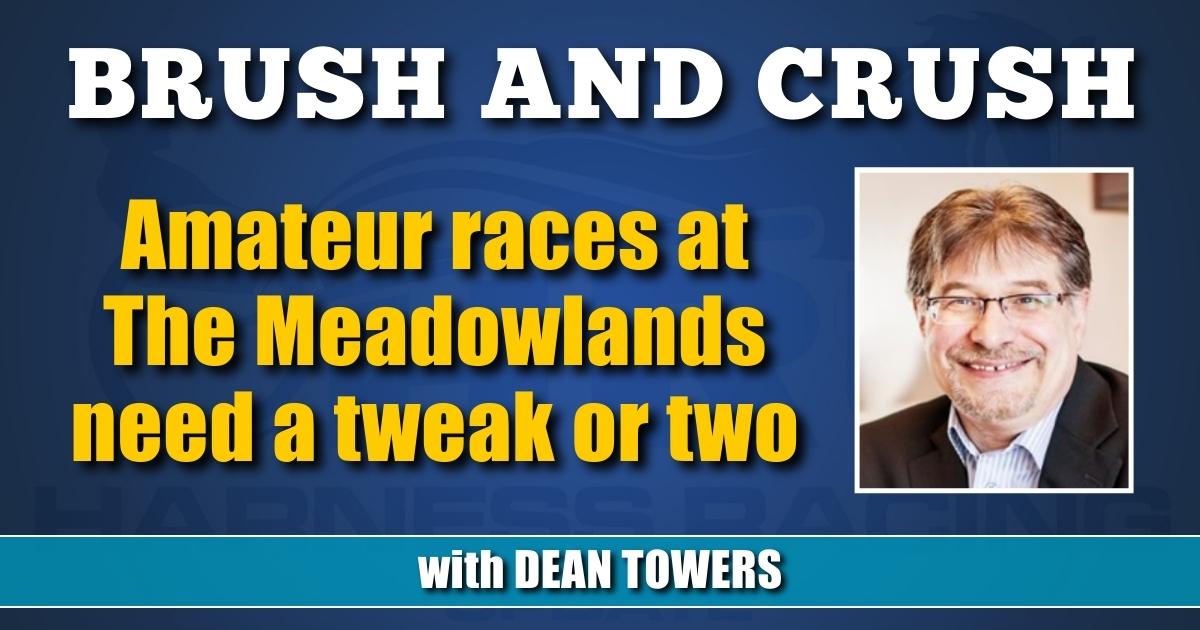 Amateur races at The Meadowlands need a tweak or two
For 2024, here are a couple of changes that I think can help the series remain a fabric of the betting landscape.
by Dean Towers
When someone brings up the Meadowlands Amateur Driving Club, you're sure to hear some strong opinions.
On the positive side, the races are contentious (some may say chaotic) and bring in the depth of field for bettors because so many horses can win. The amount wagered on these races is not poor, and they're an avenue for small-time hobby horsepeople to enjoy their craft, which is important for a grassroots game.
Unfortunately, in my view, many of these strengths are also weaknesses.
Chaos and contention are fine for any form of racing (single-file racing is never preferred) but amateur drivers on cheaper horses who are eight, nine, 12 or 14 years old often lay down a half in :54 or :55, and that's troubling.
These trips also confound bettors, and I think this is a bigger issue than some think it is. It's not like patrons can turn the page and not participate in the amateur races, because on a typical Friday they are a part of the popular Pick-5 and Pick-4 wagers. There's simply no way for a serious horseplayer to avoid them.
Can anything be done? I have a couple of ideas that I hope you'll allow me to share.
First, The Meadowlands made big news over the past 12 months with dictums for drivers. For example, the giving of "courtesy tucks" and passing up the inside were addressed in driver meetings.
I believe something similar should be done with the amateurs.
The amateur races sometimes don't look like harness racing at all. They're a parking ticket free-for-all. As one observer put it to me, "It's like nobody seems to think a pocket in a :56 half with an eight claimer is a good trip." Addressing this, in my view, is of paramount importance. Some normalcy has to be injected into the races because it's good for the drivers, trainers and the horses.
Second, The Meadowlands is the number one harness track in the world for bettors. It's the track with the best drivers, the best horses and the best handle. To keep that branding in place, I believe the amateur races should not be a part of the regular card.
I'd suggest the four amateur races a week should be raced in races 1 through 4 on Fridays. This would remove them from the first Pick-5, and would allow any driver who is driving at Harrah's Chester to make it in time for their Big M drives.
Creating a Pick 4 with this set of amateur races (with a possible seeded pool) should keep the handle strong, and it shouldn't hurt the bottom line too much, if at all. The way these races tend to go, we might even see some Pick-4 carryovers, which would triple or quadruple the first Pick-4 on the regular card.
The end result: Serious bettors would be able to fire on the serial bets with no amateur races and it should restore some order to those important pools. It would also signal to bettors that The Meadowlands is, was, and always will be a gambler's racetrack.
Don't get me wrong, I think the amateur racing series at The Meadowlands is a good thing. I love that people who enjoy this wonderful sport get to compete at the Mecca of harness racing. It's a part of what makes this sport unique. I just hope it can be done better; for the horse, for the horseplayer and for those who compete in it.