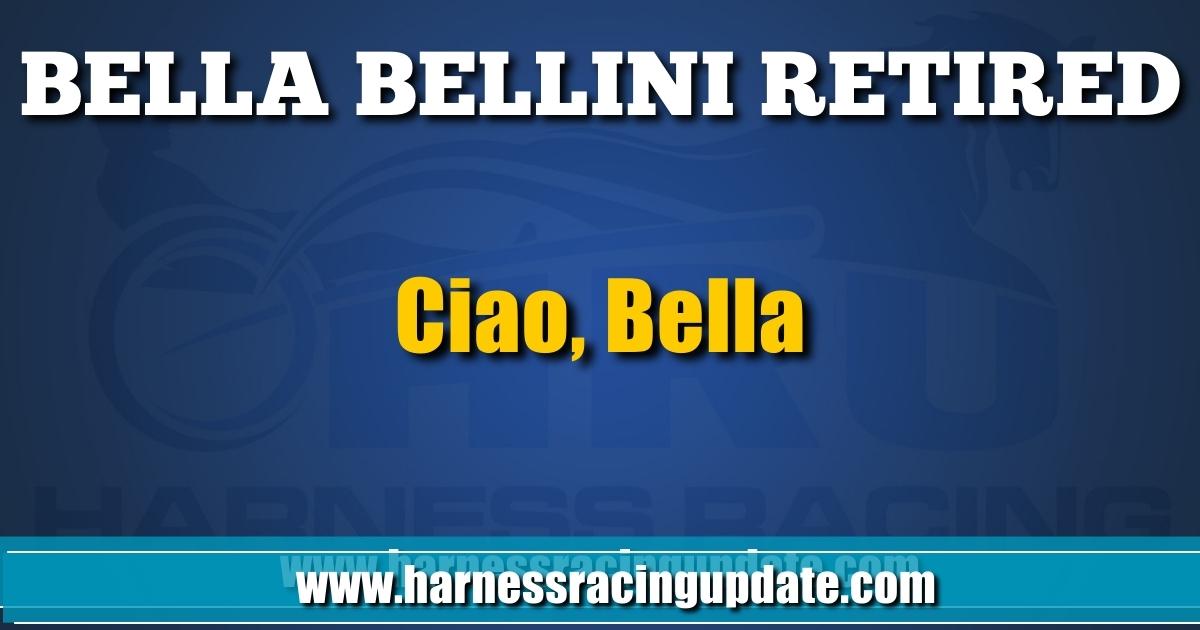 Bella Bellini has been retired from racing and will now transition to the next stage of her career.
by Debbie Little
The day after making the decision to retire Bella Bellini from racing, the connections of the 2022 Dan Patch Trotter of the Year spoke exclusively with HRU.
Both owner/breeder David McDuffee and trainer Nifty Norman said Monday (July 10) that this was a good time to get the official word out since they expect the rumor mill will soon be in overdrive.
"There's going to be a lot of questions about why she isn't in, because we were going to race her this Saturday [July 15, in the Miss Versatility at The Meadowlands]," McDuffee said. "My goal [is] to just publicly announce that we are going to retire her and she'll go into the next phase of her life."
The news was so fresh that as of Monday McDuffee and Norman had not, yet, told driver Dexter Dunn that Bella Bellini would race no more.
"It's hard to find a horse like that, and I know when you have one you don't want to let go, but at the same time I always said she will tell me what she wants to do and I think she's telling us," McDuffee said.
Norman didn't want to discuss Bella's future on the phone with McDuffee. So, on Sunday morning, he drove around 300 miles from Central New Jersey to McDuffee's home in New Hampshire.
"We have a little joke between us," Norman said. "He says 'If you call me at nine o'clock in the morning, I know it's not good news.' Well, in this case, it was arrive at your house at nine o'clock in the morning, so he knew. It's no fun giving that information, but I thought that was the best way to do it."
To avoid traffic, Norman left home at 4 a.m. and arrived while McDuffee was enjoying a blueberry cupcake baked by one of his neighbors.
"I had just started to eat it and I made the comment, 'Jeez, this guy did a nice job making these. This is pretty damn good," McDuffee said. "So, I ate about half of it and then Nifty said, 'Dave, I've got some bad news.' And then he told me and I ate the rest of the cupcake, but it didn't taste as good after that. The first half of it was good, the second half was horrible."
McDuffee and Norman started 2023 hoping that their daughter of Bar Hopping—Bella Dolce would pick up at 5 where she left off at 4.
"Basically, she hasn't really been herself coming back this year," Norman said. "I thought she might be able to work her way through it, but on x-ray she's got a lot of wear and tear on her knees. And, the last thing I ever want to do is hurt her or harm her.
"So, we just made basically a group decision to retire her. I think it's the best thing for the horse. I don't ever want to see her, you know, go lame at the track or hurt herself in a race. She doesn't owe anybody anything. She's been fantastic. We just decided to not risk hurting her."
Bella fought some minor soreness at 2 and even though she went on to be a world beater at 3 and 4, the soreness returned.
"It's like trying to patch up an old quarterback," Norman said. "The time comes you just can't play anymore."
As a 2-year-old, Bella made just seven starts and hit the board only once — a second-place finish — with no wins. McDuffee said normally he would have gotten rid of such a poor performer, but something about her intrigued him.
"I guess probably because I'd had the family for so long," said McDuffee, who bred Bella Bellini's dam, Bella Dolce, and owned her granddam, Pizza Dolce. "And the most amazing thing is that I staked her to everything at 3, even though she hadn't done anything."
When asked if he had a favorite memory or favorite race, Norman couldn't single one out.
"I think she's kind of unique in that her racing style isn't typical of today's good horses," Norman said. "Most of the good horses win their races on the front and she never won any races on the front. I think that's something that a lot of people enjoyed watching about her because her sheer speed was overwhelming. I mean, she could outsprint all of them.
"Even in the Hambletonian Oaks at the top of the stretch, it didn't look like she could win and then she won going away. And she did that a lot. If you look back at pictures of her in the winner's circle, she looks right at the camera and pricks her ears like she almost poses for the photo. She's brilliant at that sort of stuff."
The Oaks was definitely a top memory for McDuffee.
"I'll never forget how far back she was at almost the half," McDuffee said. "And I just thought to myself, 'My God, there's no way this mare is going to catch these things.' And, man, she put on her patented run and Dexter had her figured out. He knew exactly where he could move her and she loved racing off a helmet and if he could keep her covered up, which he was a master at, she would do the rest.
"I think that's probably to me the one race I remember as just like, 'Wow, that's an incredible mile.' And I still have the recording of it. You know, you can pull it up all the time and I do once in a while to watch it because, I mean, I have all of her races but to me that one was kind of special."
Dubbed "The Great Pursuer" by The Meadowlands' TV host Dave Little, Bella had an enviable career winning 21-of-51 lifetime starts while hitting the board on 42 occasions. She was only off the board once each year at 3, 4 and 5 with over $2.1 million in earnings.
In a time when Bulldog Hanover was grabbing the headlines, Bella made ones of her own, and, just like Bulldog, got people to come out to the track.
"I went out to Dayton [Ohio] last year for the Dayton Derby and I'd never been to Dayton and I pulled up and, of course, they got that casino out there. Like most casinos, they're the attention getter and the racetrack is kind of stuck out behind the casino," McDuffee said. "And I couldn't find a parking space and I couldn't figure out where the hell the track was. I didn't even see the track."
McDuffee finally found parking and asked the guy parking next to him how to get to the track.
"He says, 'Follow me.' I said, 'You came for the races?' and he says, 'Yeah, I'm going in. We came to see a horse that we've been following all year, Bella Bellini, and we came all the way from Kentucky. I said, 'Well, I own the damn horse and that's amazing.'
"The way she races coming from behind and all of that, I think it makes it a little bit more exciting than just going to the top and letting them try to catch you. [Going wire-to-wire] is a great way to win, but it's not very exciting."
There is no official retirement ceremony planned because McDuffee and Norman aren't looking for all the pomp and circumstance. However, if The Meadowlands wanted to show a highlight reel, they would be appreciative.
As for exact plans for Bella's future, McDuffee has decided that he's not ready to make that decision yet. Although he made it clear that there had been tons of inquiries.
"I don't know if I'll do the breeding myself or I'll make some kind of an arrangement where I'll be involved with her in some capacity," McDuffee said. "I mean, I got two messages just last week from two major, major players, one of them in Europe, just wanting to make sure that I keep them in mind. Right now, I'm going to give her a nice turnout and a little rest and then we'll figure out where we're going and how we're going to get there.
"As you know, you never know until they get behind the gate [what you've got]. Some of them disappoint you, and once in a while, one will step up way beyond your expectations, which she certainly did. You know, I've had a lot of good horses, but I think she's probably the best horse I've ever had."