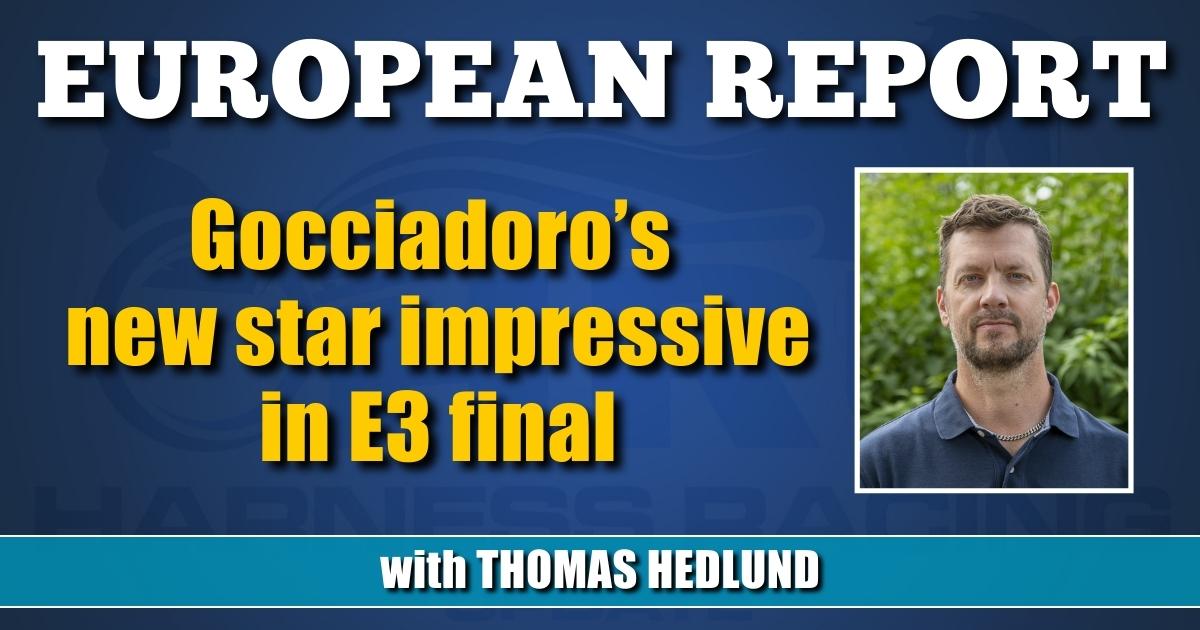 Gocciadoro's new star impressive in E3 final
by Thomas Hedlund
Alessandro Gocciadoro had the heavy favorite when the $200,000 E3 final over 2,140 meters was on the schedule at Bergsåker racetrack on Saturday (July 1) afternoon and his Expo Wise As (Ready Cash) impressed a lot since Gocciadoro hit the lead at an early stage.
Expo Wise As really didn't have to show all his potential in the first E3 final of the year. The Italian-bred trotter is out-racing his opponents in the European 3-year-old crop at this moment. So Gocciadoro could just put Expo Wise As on the lead, let the horse do the work and relax in the bike during the rest of the race.
Expo Wise As is predicted to have a bright future and the victory was emotional for trainer/driver Gocciadoro, who claimed his first group 1-win in Sweden.
Expo Wise As won his sixth consecutive race in a mile rate of 1:56.2 over 1.3 miles. Roger Walmann's S.G.Dracarys was second and Reijo Liljendahl trained Epsom As third.
Swedish bred trotters in the final raced for a purse of $400,000, if they had abstained the premie-race as a 2-year-old, but that was not the case for the winner in the fillies division of the E3.
Ola Åsebö trained Coral Coger (Ken Warkentin) did finish her premie race (as the only one among Swedish bred horses in the race), which means that she cannot race for double purses in any of the big stakes races as a 3- and 4-year-old, but still, she was the best lady in the final on Saturday afternoon. Driver Rikard N Skoglund placed Coral Coger in third over and when the horses in front began to be tired it looked good for Skoglund and his drive.
Coral Coger claimed the E3 final in a mile rate of 1:57.1 and behind her Knickers Sisu followed as runner up. Willa Explosive took third place while leader Kinglet Bird finished fifth.
RUN FOR ROYALTY AGAIN IN LAHTI
Traditionally, the $215,000 Suur-Hollola-ajo is determined after races two days in a row and after Saturday's (July 1) elimination heats, where Run For Royalty (R.C.Royalty) won in 1:57.3 over 1.3 miles, Pekka Korpi's trotter had all opportunities to defend his title in Suur-Hollola from 2022.
And the final on Sunday (July 2) afternoon became undramatic when driver Antti Teivanen hit the lead after 500 meters with Run For Royalty. The mile rate was 1:56 for the winner in the final and let's see if trainer Korpi can prepare his horse for another title defending race. Run For Royalty claimed the St Michel Race in Mikkeli last year and the 9-year-old trotter seems to be in great shape this season.
Korpi drove American Hero in the Sunday's final and finished second to stablemate Run For Royalty while Yolo Savoy was third.
St Michel Race is scheduled in Mikkeli on July 16 and some strong names are already invited to the race. Run For Royalty will face Bengurion Jet, Hail Mary, Hierro Boko and Stoletheshow. More horses will join them and St Michel Race is often named as one of the most high-paced races for the elite in Europe.
EAST ASIA IN NAPLES
Mauro Baroncini-trained 3-year-old East Asia (Ready Cash) proved to be best when the $167,000 Gran Premio citta' di Napoli was on the card in Naples on Sunday (July 2)
night.
A first over trip didn't stop East Asia, driven by Andrea Farolfi, in claiming the big title in a mile rate of 1:56.2 over 1.3 miles. Besides getting the trophy in this race, East Asia qualified for the Derby del Trotto later on this season.