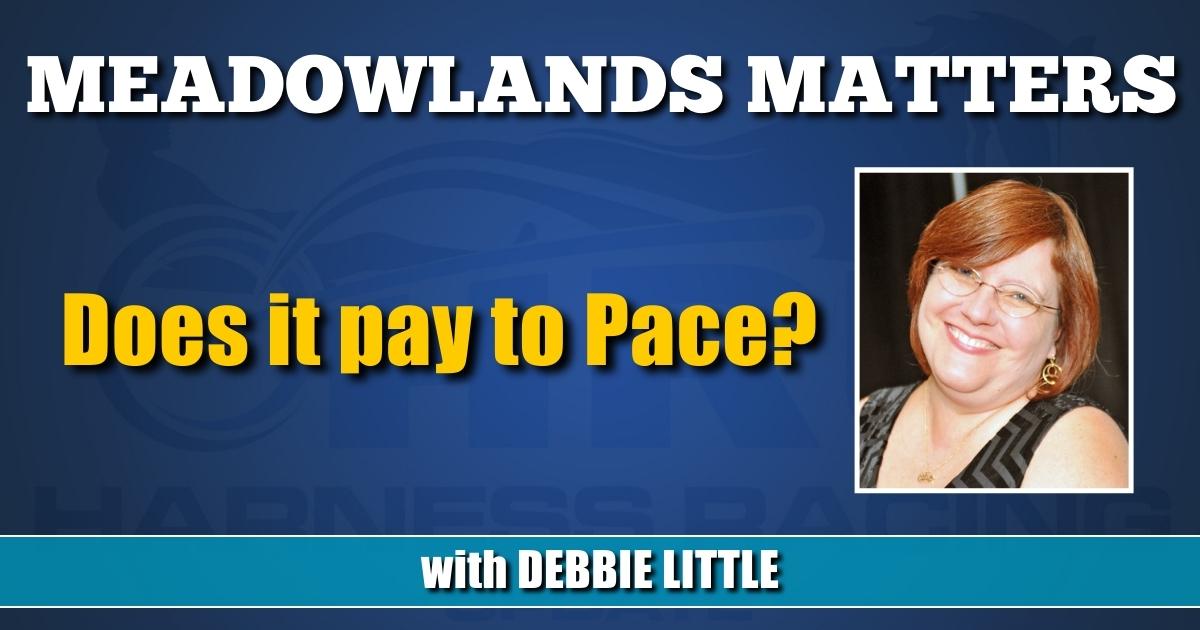 Supplementing to the Meadowlands Pace could be too much of an investment.
by Debbie Little
When It's My Show hit the wire first in the North America Cup on Saturday (June 17) at Woodbine Mohawk Park, a question was on many people's minds: Would the gelding be supplemented to the Meadowlands Pace?
There were even social media posts questioning why it wasn't asked in the Cup's post-race interview.
For co-owner Richard Young, that question was kicked around long before last weekend.
"Strangely enough, I've given it a lot of thought," Young said. "Well before the race, I thought I was going to win the North America Cup, and because I thought I was going to win it, the question was, 'Would I go to the Meadowlands Pace and pay that kind of money?' And it came down to, 'Did he dominate? Was he so much better that going [to the Pace] is a more or less a foregone conclusion?' And the answer to that is 'No, he was not that good.' So, I have to think about it some more.
"Confederate was closing and if there was another four or five strides, he might have gone by us and I look at that and I go, 'Okay, but we raced real tough. And [Confederate] was coming, but he made the big one move and if that's the way that horse races, he'll lose more often than he'll win. But when you go into a big race like [the Meadowlands Pace], that could be the one he wins.'"
Adam Bowden's Diamond Creek Racing owns Confederate, who finished second in the Cup beaten a head. And he understands the conversation when it comes to supplementing.
"It depends if you think you can win, obviously," Bowden said. "And I think we're talking about Richard Young; I think he loves to race and I think he loves to win big races. So, it wouldn't surprise me if he [supplemented to the Meadowlands Pace].
"We supplemented [Creatine, owned by Bowden's Big C Racing] into the Breeders Crown and paid $62,500 to do it back in 2015. He ended up winning, so it ended up making sense. If it were me, I would have a really difficult time doing it for a gelding."
Young was under the impression that the dollar amount to supplement to the Pace would be similar to what Bowden paid to put Creatine in the Crown, but unfortunately, that amount isn't even in the ballpark of the actual ask.
"Pace conditions state the cost of a late supplement to be ٢٠ per cent of the total money collected via nominating and sustaining payments, plus the entry fees," Nick Salvi, The Meadowlands' director and administrator of stakes races, said via email. "That payment is due at time of declaration, which is the time that entries are normally taken for the race."
Interest in the Pace was up this year, with 57 horses making the initial payment in February, a 36 per cent rise from last year. While those making the final payment in April was up 42 per cent, with 47 this year over 33 in 2022.
The total amount paid into the 2023 Pace was $380,375, so 20 per cent of that amount is $76,075; the entry fee for the elimination is $2,500 and for the final is $5,000 for a total cost of $83,575. Obviously, the $5,000 is only paid by a supplementing horse that reaches the final and that $83,575 does get added to the purse for the final.
To not lose money by supplementing — based on the $700,000 estimated purse — It's My Show would have to finish third or better, and finishing third is basically breaking even. It should be noted that the purse for the Pace final has only hit $700,000 or better twice in the previous five years. It was $700,000 in 2021 and $701,830 — bolstered by two $61,690 supplements — in 2018. Last year's purse was just $600,000.
Obviously, if the purse for the final is below $700,000, then finishing third would also be a losing proposition.
Part of the reason It's My Show was not made eligible to the Pace to begin with was his less than impressive 2-year-old season.
"I had a winless horse," Young said of It's My Show, who was zero-for-eight as a freshman prior to being gelded. "He didn't show me any real ability to beat the best. And I thought, do I enter the horse in every race — the most expensive race being the Meadowlands Pace — that has not won a race? So, I more or less was choosy as to where I wanted to go."
What also played into Young's staking decisions for his winless horse was the fact that he is Canadian and had never won the North America Cup, whereas he did win the Meadowlands Pace, in 2019 with Best In Show, a half-brother to It's My Show out of Young's mare Put On A Show.
Young remembers talking with It's My Show's trainer Linda Toscano about staking prior to the horse ever putting a hoof on the track to race in 2023.
"I said [to Linda], 'You know, I'm going to put him in the NA Cup,' and she says, 'Well, if you're going to gamble on anything, I guess that's the best one to gamble on.'"
Bowden had to make similar staking decisions for his 3-year-old pacers earlier this year and all of them are not Pace eligible, either.
"We have a gelding with [trainer Brett] Pelling named Command and we didn't stake him to the Meadowlands Pace or the North America Cup because they're stallion-making races and he's a gelding," Bowden said. "Now, most years I would have staked him to those races and raced him but we had four other colts — Cannibal, Christchurch, Combustion and Confederate — that we felt were as good or better, so why take the chance that he would beat them?"
Bowden added with a laugh: "I have three kids, and I don't know if I'd ever tell my wife this, but winning those big races might be better than anything else on the planet. So, I can see the allure of winning and paying to do so, especially when you think you've got the best horse. I never put it past anybody, nor do I question it, because a lot of people put a lot of money into the sport and you have very few opportunities to win those big races and when you have a chance, hell, go for it. It's only money at the end of the day. You can't take it with you when you go."
For Young, the gelding or colt situation isn't a factor in his decision-making process.
"I'm not sure that breeding will ever enter my mind as to what I was going to do, because that horse would race next year," Young said. "If I was offered millions of dollars, I would not take it. That horse would race next year. So, I don't look at one race as the reason why I'm, you know, breeding or not breeding."
Young hopes that as a gelding, It's My Show will continue to do well this year and, in the future, perhaps one day be included in the conversation with Gallo Blue Chip or Foiled Again.
"Believe it or not, that is part of my thought process as to why I wouldn't just jump into the Meadowlands Pace, because he has a lot of races where he could go to for a lot of money and this isn't the end of the year and he's not going to race anymore," Young said. "He's going to keep racing."