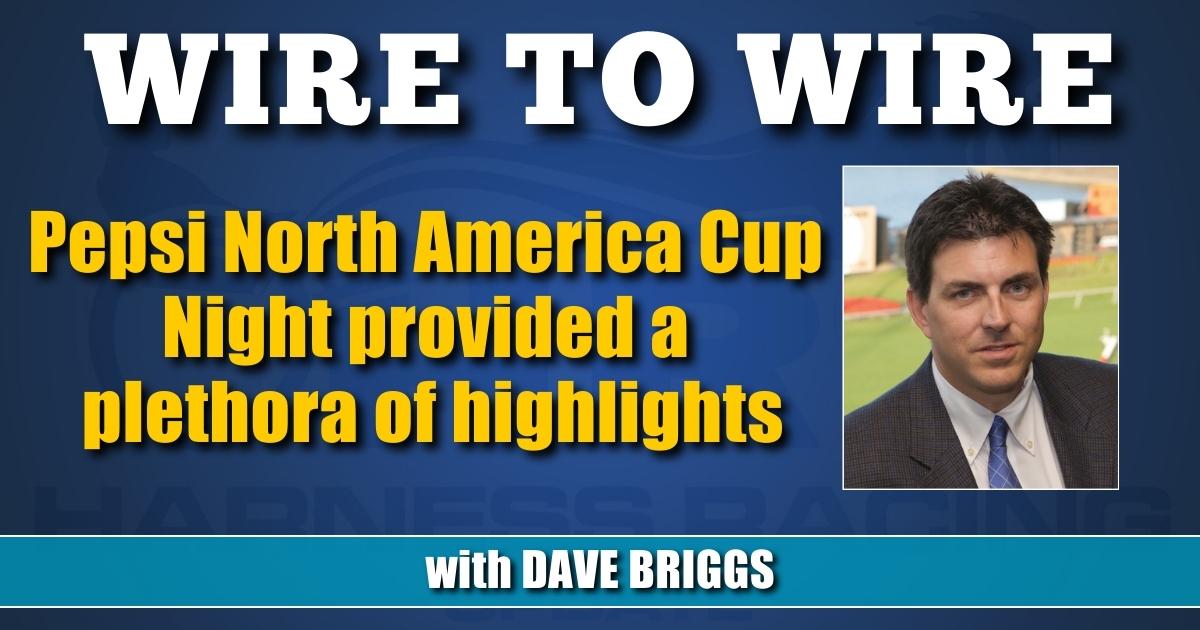 Pepsi North America Cup Night at Woodbine Mohawk Park provided a plethora of highlights, led by It's My Show's victory in the 40th edition of Canada's richest 3-year-old pacing event.
by Dave Briggs
If we learned anything from the 40th edition of the Pepsi North America Cup it is to never underestimate the following: A Hall of Fame trainer with a rock-solid belief in her horse; a driver with golden hands, particularly when the pile of gold is highest; pedigree, pedigree, pedigree and the sometimes magical powers of the big snip.
Thanks to a crafty steer from Scott Zeron on Saturday (June 17) at Woodbine Mohawk Park, Richard and Joanne Young's homebred It's My Show — out of their $2.4-million winning mare Put On A Show — held off a prodigious late charge from Confederate to win the $1 million race for 3-year-old pacers by a head in a career-best 1:47.4.
The victory left It's My Show, a gelded son of Sweet Lou, perfect in six starts in 2023 a year after the then fully-intact colt was winless in eight.
For winning trainer Linda Toscano, her first NA Cup victory came from never giving up on extracting the talent she knew It's My Show possessed in spades, even if that extraction meant taking the pacer's testicles.
"He's an amazing horse," Toscano told the Woodbine broadcasting crew. "He disappointed me so much last year and at the end of the year I said, 'Let's castrate him. I can't be this wrong about this horse.' And he's come back, and he's been nothing less than perfect. When you can win these kinds of races, this is what you do it for."
Toscano is the sixth woman in the last nine years to train a Pepsi North America Cup winner to go along with Joann Looney-King in 2015 (Wakizashi Hanover), Casie Coleman in 2016 (Linedrive Hanover), Nancy Takter in both 2019 and 2020 (Captain Crunch and Tall Dark Stranger, respectively) and Kathy Cecchin in 2021 (Desperate Man).
For Richard, who like Zeron is a native Canadian, it was one of his greatest triumphs in his home and native land. It also ended a four-year major stakes drought. The long-time Floridian's last taste of the harness racing high life came in 2019 when It's My Show's half-brother Best In Show (sired by Bettors Delight and also trained by Toscano) won the Meadowlands Pace after finishing sixth in the NA Cup.
"It means a lot," Richard said. "I've been in the business for 30 some-odd years. His brother won the Meadowlands Pace four years ago and he was in the North America Cup and finished sixth. I haven't had a horse between them, so coming back and winning this one is almost like back-to-back. So, it feels really cool."
For Zeron, it was his second Pepsi North America Cup triumph to go with the one he earned in 2019 with Captain Crunch.
"This is my favorite race," Zeron said. "It always has been."
It's My Show, one of four NA Cup eliminations winners in one of the deepest finals in recent memory, started from post 2. Off the gate, it was Save America, with Yannick Gingras in the bike, who crossed over from post 9 to take an early lead as Zeron settled It's My Show into second spot, followed by Cup elimination winners Christchurch and Fulton.
After marching the field through a brisk opening panel in :25.4, Save America was overtaken by It's My Show who reached the half in :54.
"Well, the thing is my horse can leave faster than anything I've ever driven, and then at the same time I can calm him down if I ask him to," Zeron said. "I was confident that I could start him up as hard as I did and was able to seat a bunch of horses. I knew Yannick would be leaving from a better angle from out there and honestly, to get away second was best case scenario for me. So, to be able to remove and control from there was great for me."
Ahead by a 1 ¼ lengths through three-quarters in 1:20.4, It's My Show looked to power away from the pack as a host of hopefuls soon set their sights on the pacesetter. Zeron called upon the gelding for his best as Fulton attempted to reel in the leader while fellow elimination winner and slight choice on the tote board Confederate began to make headway to the far outside.
It's My Show was able to repel the fast-closing Confederate and Tim Tetrick. Fulton held on for third. Voukefalas was fourth.
"Fulton was giving me a hell of a run in the last turn, and I figured Timmy [Tetrick] had to be right behind him with how great Confederate is. I knew it was going to come right down to the finish," Zeron said.
It was far from the only stirring victory on a beautiful early-summer evening at the beloved Campbellville plant that, too, is celebrating a milestone anniversary — 60 years to the NA Cup's 40.
In the Goodtimes Trot, there was a decided passing of the torch. A little more than six months after the race's namesake died at age 31, John Bax, the trainer of the legendary WEG-circuit warhorse and Canadian Hall of Famer, handed the trophy to his son, trainer Matt Bax. The younger Bax trains Southwind Coors, who, with Zeron at the reins, edged a just-as-game Gaines Hanover by a nostril hair in 1:52.
How about driver Doug McNair, who just one race after being slammed to the track in a scary-looking spill in the $100,000 Mohawk Gold Cup, came back to set a 1:47.4 track stakes and Canadian record with Grace Hill in the $305,000 Roses Are Red final for 3-and-older pacing mares?
Immediately afterward, Grace Hill's owner Tom Hill went pro wrestler, grabbing the winner's circle microphone from Woodbine's John Rallis and chastising the weekly Hambletonian Society poll voters for not including his mare among the 10 best in the Week 1 tally. Hill, who is from England, went so far as to accuse the harness racing press of being Anglophobes.
If nothing else, it was great spectacle from a passionate harness racing devotee with a lot of skin in the game. It also provided a nice distraction from the accident in the race prior. Fortunately, at press time, it appears all horses and people involved escaped serious injury. But given the challenges the thoroughbred industry has faced of late with horse deaths — a virtual epidemic in that breed that some are rightly worried could unfairly take down standardbred racing, too — seeing horses go down at the top of the stretch on one of our biggest nights was downright heart-stopping.
Yet, despite a gut-wrenching visual, kudos to Woodbine for not reshowing the race and for addressing the accident both via audibly-shaken race caller Ken Middleton, Jr. and the simulcast team of Elissa Blowe and Randy Waples.
Fortunately, the accident was about the only blemish on an evening in which McNair and Grace Hill's trainer Virgil Morgan, Jr. also teamed up to win the $210,000 Armbro Flight for older trotting mares with Refined powering to a late victory over reigning Trotter of the Year Bella Bellini in 1:52.
Meanwhile, Sylvia Hanover was as dominant in the $420,000 Fan Hanover as Grace Hill was in the Roses Are Red. The former was driven to a 1:48.2 victory by Bob McClure for trainer Shawn Steacy. Sylvia Hanover did it with ease, but it appears as if she has much more to give in the weeks ahead.
All of which makes a great night — in which over $5.2 million was bet — even greater.
Stakes season is just getting started for all of these talented standardbreds. If North America Cup Night is anything to go on, this year promises to be a doozy.
with files from Chris Lomon / Woodbine communications