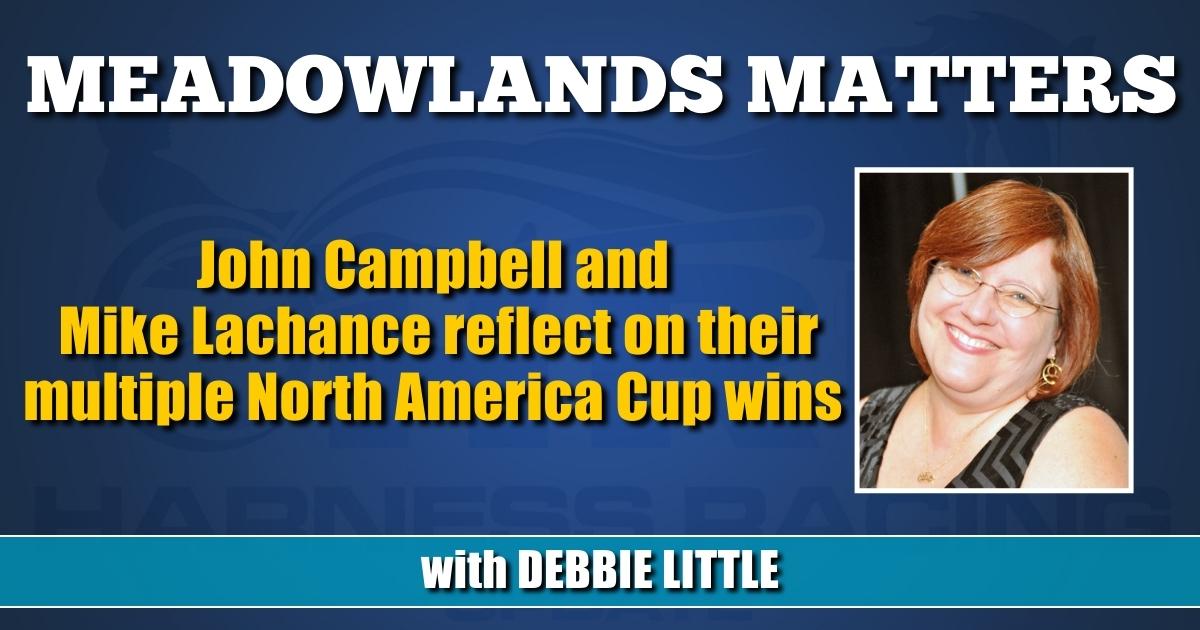 John Campbell and Mike Lachance reflect on their multiple North America Cup wins.
by Debbie Little
Saturday night (June 17) is the 40th edition of the North America Cup. Since 1991, the eighth year of Canada's oldest million-dollar race, drivers from The Meadowlands have made their mark on the event, winning 24 of the 32 contested (75 per cent) or 62 per cent overall.
That year, John Campbell won his first NA Cup, which started an incredible run of dominance. He won a total of six during a nine-year span from 1991-99, including four straight from 1994-97: Precious Bunny (1991), Cam's Card Shark (1994), David's Pass (1995), Arizona Jack (1996), Gothic Dream (1997) and The Panderosa (1999).
It's no surprise that Campbell's half-dozen is the most by any Cup-winning driver, or that the man currently in second with three victories, is someone he battled nightly at The Big M, Mike Lachance.
What did Campbell like most about driving in the Cup?
"If you look down that roster of winners that's what I liked the best, those horses I had were really good and they really factored in the race at the time," Campbell said. "The horses I had and them being in top form and sharp at the right time was the whole key to the success."
Most of Campbell's winning mounts if not the favorite were certainly among them, but the same cannot be said for Lachance.
The majority of Lachance's million-dollar victories came with non-favorites, including two of his Cup wins. He almost didn't drive either of those two longshots — Safely Kept (1992, 30-1) and Straight Path (1998, 29-1) — since he had prior commitments on Cup Night at The Meadowlands.
Lachance remembers getting the call from trainer Joe Holloway to drive Safely Kept.
"I had a bunch of good mounts that night at The Meadowlands, but he said, 'If you drive Safely Kept, then you'll get McCluckey in the Yonkers Trot and he'll be one of the favorites,'" Lachance said. "He said, 'You'll get a check with Safely Kept.'"
Lachance weighed his options: Safely Kept had the rail in a million-dollar race but at The Meadowlands he had 10 or 12 drives.
"I was going to drive Artsplace that night at The Meadowlands [in a Driscoll elimination]," Lachance said. "But I thought, 'Nah, I'm going to take my best shot in the million-dollar race and get the drive on McCluckey.' And I won both races. I won the Yonkers Trot, too [in a dead heat with Magic Lobell]."
Lachance also remembers getting the call from trainer Bill Robinson about Straight Path, who Campbell had driven and won with in the elim, before choosing to drive Pearl River Matt in the final. Lachance was away in Canada fishing when he realized he had missed a call from Robinson.
"I had a message from Bill Robinson and he asked me if I would drive in Toronto on Saturday," Lachance said. "I said, 'No, I'm driving at The Meadowlands on Saturday night. So, he said 'Not Saturday night, Saturday afternoon.' Because the North America Cup was in the afternoon at that time. And he said, 'He's a longshot, but it's a million-dollar race.' So, I started to laugh and said, 'A million-dollar race driving for Bill Robinson? Any time.' And that was Straight Path."
Both Campbell and Lachance won their first Cups at Greenwood Raceway, which played host to the event from 1984-93.
"I was there when I was a kid long before I drove at Greenwood," said Campbell, a native of Ailsa Craig, ON. "So, it was a special place for me. Greenwood was unique in that the fans were all around you when you were in the paddock. They could walk right up to the paddock and talk to you or yell at you; whatever they'd choose to do. The horses had to walk right out through the people through a walkway to get to the track. It was just fun to race at Greenwood back then. They drew big crowds all the time at Greenwood, so it was kind of an electric place and a fun place and certainly it was part of where I grew up.
"I looked forward to [the Cup] every year. I got to go home. My parents were there every year I raced in it."
Lachance, born in St. Augustin, QC, also spent time at Greenwood prior to competing in the Cup.
"I raced at Greenwood in my younger days when I was at Montreal," Lachance said. "In the summer we would do Greenwood, when Richelieu Park closed."
For the '92 Cup, Lachance's reception at Greenwood was chilly but it had nothing to do with the crowd.
"The North America Cup with Safely Kept was in June and I went there with my summer suit," Lachance said. "It was so cold [53 degrees] I put my mud suit on over my suit and it was in June.
"There were thousands of people there. They could shake your hand or tap you on the shoulder when you went by with the horse. It was a very special place."
When you look at the list of drivers for the 2023 North America Cup, for the most part, it looks like a typical night at The Meadowlands. In fact, eight of The Big M's current top nine drivers are in the Cup final. But that's nothing new when you consider that 24 of the 39 Cups have been won by 13 different Meadowlands' regulars.
"I think I was very fortunate because I had a shot at one of the best horses in the country almost every year for 20 years," said Lachance, who won his third Cup with Bettor's Delight (2001). "But today, it's much tougher than that. I had such good customers like Brittany Farms and [Ron] Gurfein; I was very fortunate."
Campbell said for drivers and trainers to go up for the North America Cup they had to feel that they had a good shot to win.
"You just don't ship up there with a horse that's 20-1 very often," Campbell said. "There were likely four-to-seven [Meadowlands] drivers that would go every year and they're going with horses that they think were good. There's a good chance out of those four-to-seven drivers that one of them is going to win.
"The year Cat [Manzi] won it [with Mantacular in 2004] I don't think that horse was one of the favorites but Cat knew he was a good horse. And the trip worked out and he won [at 26-1]. It goes back to if it was a horse that didn't even figure Cat wouldn't go."
According to Campbell, unlike the last couple of years where the 3-year-old pacing colt nominations have been down, they were up across the board this year. That and no current division standout contributed to the 33 elimination entrants.
"Obviously, there isn't that dominant horse that scares anybody away," Campbell said prior to the Cup eliminations. "But there are a ton of really good colts in there. And the thing about the North America Cup each and every year, is they haven't all gotten together yet. It's an unknown who the top three or four are.
"[By the Meadowlands Pace], the picture doesn't get crystal clear but it certainly shows the ones that are going to be contenders and there are unfortunately some that are going to be pretenders. And we won't know definitely on all of them but we'll have a much clearer picture after the North America Cup final."